Who Is Buying Bonds With Negative Yields? JPMorgan Answers
ack in June, when bond duration hit an all time high and total negative yielding debt hit a record $13.4 trillion for the first time (it recently spiked to $17 trillion), we warned that a "monstrous" VaR shock loomed as all bond investors had been forced on the same side (the deflationary) of the boat. It didn't take long for this prediction to start coming true: just 48 hours later, following a much stronger than expected June payrolls number which beat every sellside forecast, 10Y Treasury yields exploded higher in a 6-sigma move that saw massive paper losses for those who were long the curve as government bond yields soared.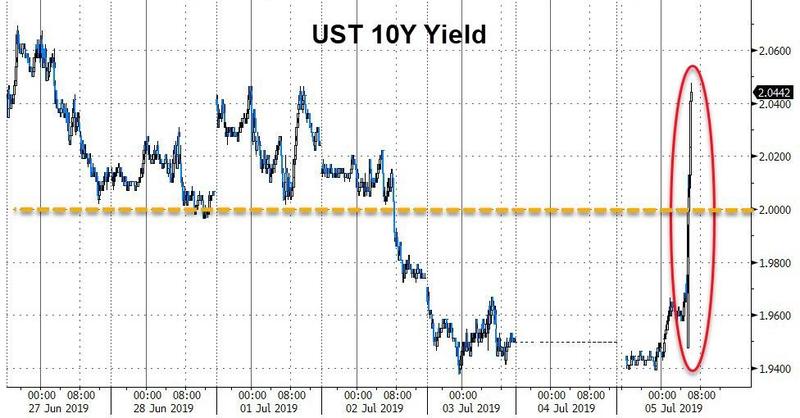 Indeed, as JPM said at the time, "the rise in bond volatility coupled with very strong momentum and elevated positions was raising the risk of a large bond selloff or tantrum."
And yet, something odd happened after: even though bond volatility surged, and vol-sensitive investors such as hedge funds, mutual fund managers and risk parity funds cut their duration positions as the Value-at-Risk exceeded their limits and stop losses are triggered, the widely anticipated bond selloff didn't materialize in the summer despite the VaR shock as an unexpected re-escalation of the US-China trade war on August 1st renewed the bond rally with the yield on JPM's Global Government Bond Index falling by another 30bp during the month of August. Crushing conventional wisdom, the yield on global debt dropped to new 5000-year lows (if only those Roman emperors had cut rates more)...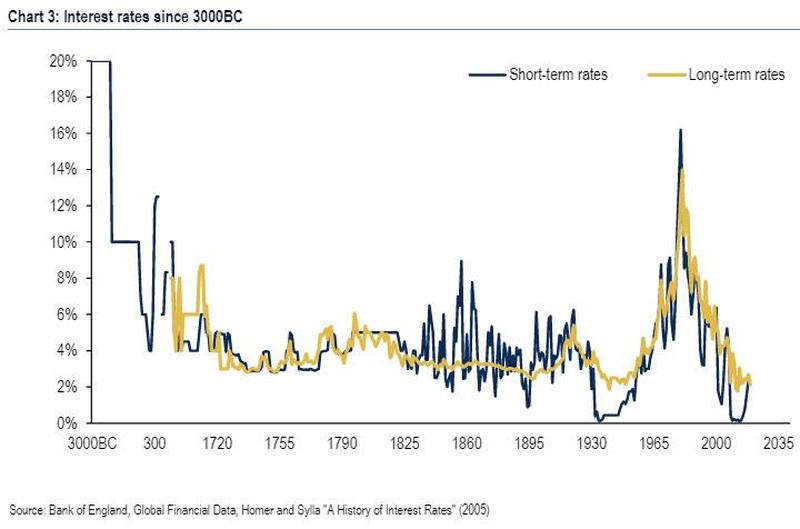 ... even as a major cross-section of the bond investing public puked, resulting in a bloodbath for bond shorts, while as we noted last week, vol-insensitive CTAs benefited from the relentless momentum in the bond market, which resulted in CTA and momo funds - which trade based on trends and momentum chasing - to be the best performing group, returning 19.41% YTD.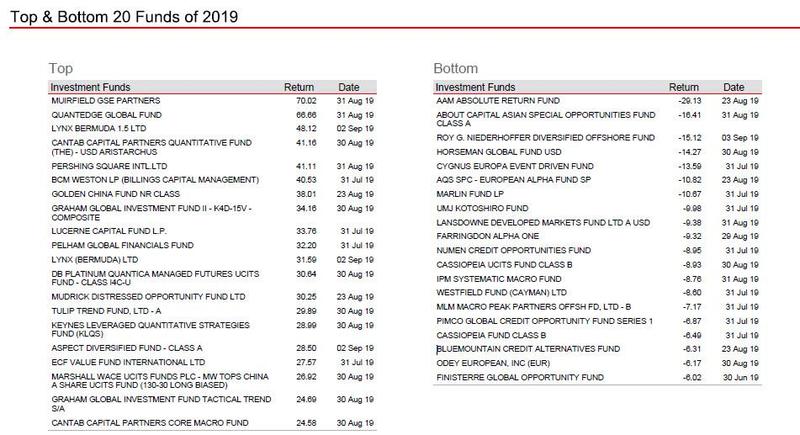 Meanwhile, bond yields continued to sink ever lower, and as recently as two weeks ago BofA calculated that the average non-US sovereign bond yield had turned negative for the first time ever, sliding to -0.03%.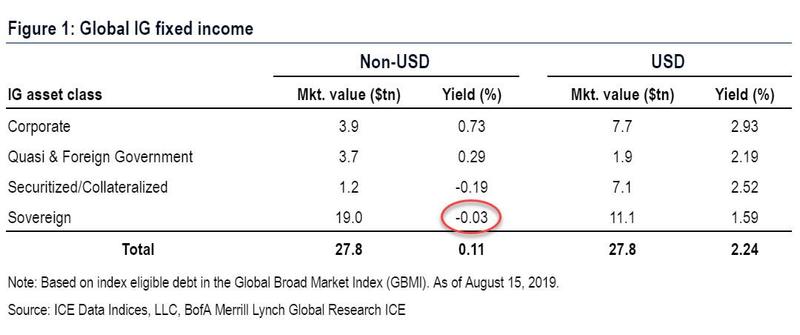 Which leads us to two key questions:
i) who is buying bonds with negative yields, and ii) has the bond rally in August made bond markets more or less vulnerable, or in other words, is the risk of a bond tantrum or VaR shock higher or lower relative to last July?
Conveniently, these are the two questions asked by JPMorgan's Nikolaos Panigirtzoglou in his latest Flows and Liquidity. who first addresses the recent surge in bond volatility, and the July VaR shock, noting that "when the volatility shock arrives, VaR sensitive investors cut their duration positions as the Value-at-Risk exceeded their limits and stop losses are triggered. This volatility induced position cutting becomes self-reinforcing until yields reach a level that induces the participation of VaR-insensitive investors, such aspension funds, insurance companies or households."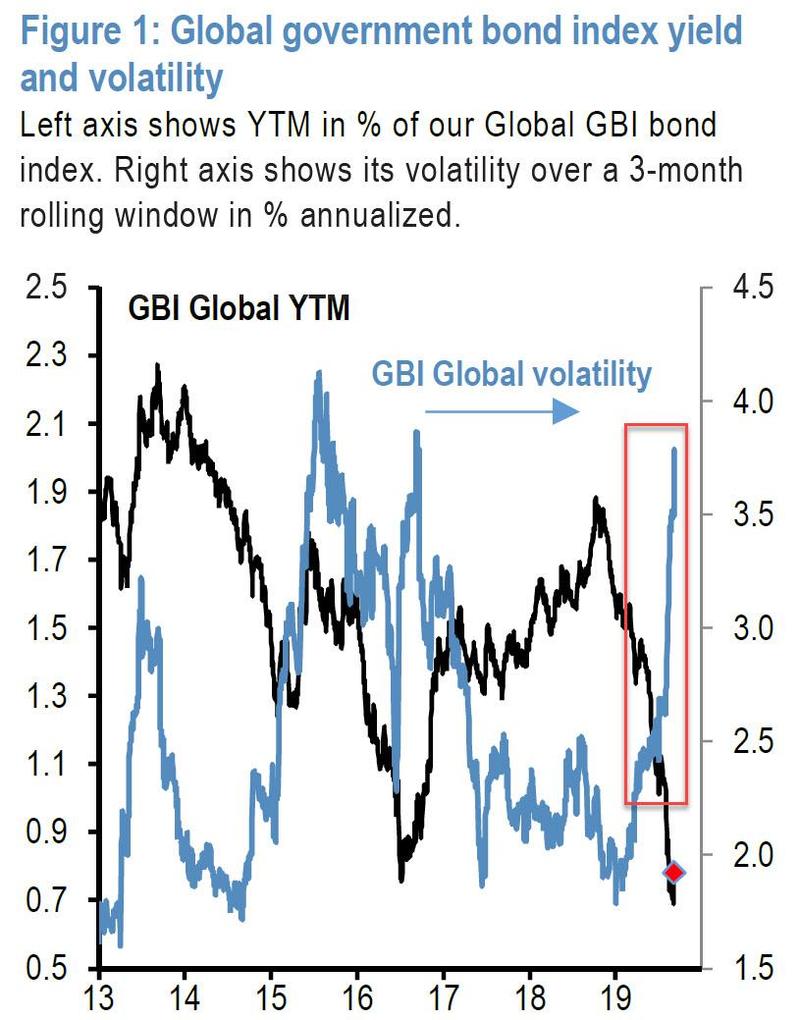 A common feature of bond tantrums or VaR shocks is that bond volatility starts creeping higher ahead of the shock, which once unfolded causes volatility to spike to even higher levels. As shown in the chart above, bond volatility has been creeping up for months now and rose further in recent weeks to very high levels currently, last seen immediately after the US presidential election of 2016 or during the Bund tantrum of early 2015. As Panigirtzoglou writes, "this sharp increase in bond volatility must have already put some pressure on VaR sensitive investors to cut their bond positions." And indeed, some position indicators such as the betas of active bond mutual fund managers appear to have declined over the past month.
Disclosure: Copyright ©2009-2018 ZeroHedge.com/ABC Media, LTD; All Rights Reserved. Zero Hedge is intended for Mature Audiences. Familiarize yourself with our legal and use policies every ...
more