What Wall Street Thinks Are The Biggest Risks For 2021
While the most interesting part of the monthly Bank of America Fund Manager Survey is the question of what Wall Street's professionals think is the biggest "tail risk," there is a certain sense of predetermination to a survey that everyone on Wall Street reads. In any case, as the latest FMS revealed, for the past eight months, BofA found that COVID-19 was viewed as the biggest tail risk.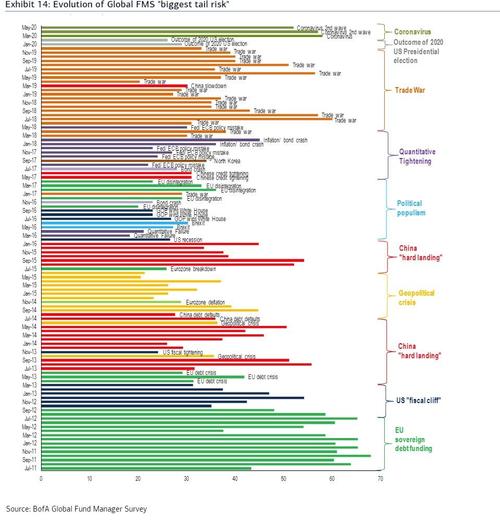 Similarly, Deutsche Bank's Jim Reid writes that a record 984 respondents participated in the bank's latest monthly market survey. And while the German bank will release full results on Monday, it offered a sneak preview of what respondents saw as the biggest market risks for 2021 from the list that we provided.
Interestingly, all the vaccine-related concerns filled out the top 3, which according to Jim Reid, suggests that although consensus roots for a positive 2021, a successful vaccine roll out could still bring upside surprise relative to expectations. As for Reid's own top pick, he said that it was a tech bubble bursting, which made number four on the list followed by central banks pulling back too early. An early inflation surprise rounded out the top 5 risks.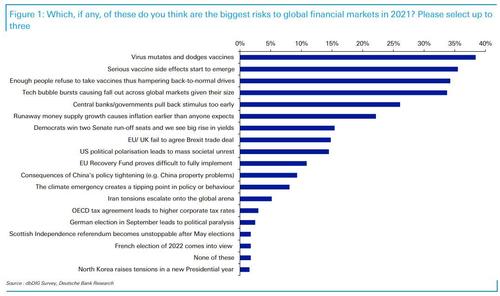 Disclaimer: Copyright ©2009-2020 ZeroHedge.com/ABC Media, LTD; All Rights Reserved. Zero Hedge is intended for Mature Audiences. Familiarize yourself with our legal and use policies every time ...
more