What Are E-Mini S&P 500 Futures?
What are E-mini S&P 500 futures? Well, they are probably the single most important contact in the financial world. So, what are they and why are they so important? Let's start with the S&P 500 index.
The S&P 500 index measures the strength of 500 of the largest stocks in the United States. These stocks are chosen by rating agency Standard and Poor's and are weighted by market cap. This index is arguably the single most-followed index in the world.
As the U.S is by far the world's largest and most influential market, an index of 500 of its largest stocks is an exceptionally good barometer for how the United States and, therefore, the world markets are performing.
E-Mini S&P 500 Futures
The E-mini S&P 500 futures are contracts that allow traders to speculate on the future price of the S&P 500 index. Each E-mini contract has the right to buy 50 times the S&P 500 price at its future expiration date. Recently, the S&P 500 index has been at 4,000, so one S&P 500 e-mini contract would be worth approximately $200,000.
So, how popular are these contracts? Let's have a look.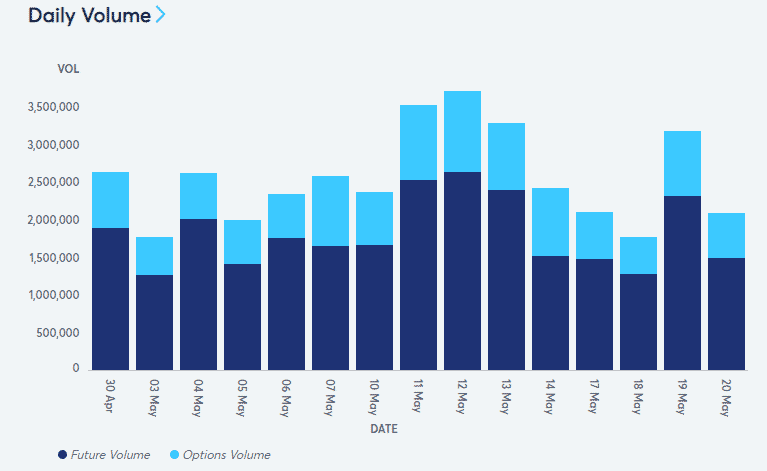 Source: CME Group
Here is a snapshot of the daily volume for the E-mini S&P futures. We can see that the futures trade almost 1.5 million contracts a day. While that volume may not seem large compared to some ETFs, remember that each contract is worth $200,000. That is around 300 billion dollars being traded every single day.
How Do E-Mini S&P 500 Futures Work?
So how do these contracts work? If a trader buys an E-mini future, they have the obligation to buy the S&P 500 index at the expiration of the contract.
Despite this, that statement is somewhat deceiving. The investor does not receive the index directly, nor do they receive all 500 stocks in their portfolio. These E-mini futures are cash settled, meaning the investor will gain or lose the amount their future contract has changed till the point of expiration. At that point, the future will cease to exist.