Using Leverage With Futures
Obtaining leverage with futures is one of the most appealing aspects for investors and traders. This can allow investors to maximize returns for a limited amount of capital. It can also allow the deployment of more complex strategies in a portfolio. This article will look at some of the practical ways investors can use futures as leverage in their portfolios.
What is Leverage on Futures?
Leverage is the ability to control a large amount of interest in an asset with a small amount of capital. In the futures markets that interest is the notional value of the future's contract. The initial margin is the capital required to trade that asset.
What makes a futures contract unique is the degree of leverage that it offers over other financial instruments. The reason for this comes down to the nature of the contract itself.
How Do Futures Have Leverage?
When a trader buys a futures contract, they are buying the right to purchase an asset in the future. They are not buying the obligation to buy the asset right now. It's almost similar to a handshake agreement. The key problem with the handshake is that there is no enforcement to honor a handshake (aside from social credit).
You probably have that one friend who owes you $5 on the Superbowl outcome years ago that has never paid up. Or maybe you are that friend. Thankfully a futures contract solves this problem by going through a clearinghouse. This is an intermediary between both parties that makes sure both the buyer and seller are able to fulfill their obligations.
In terms of collateral, the intermediary requires you to post an initial margin. For most futures contracts, this initial margin is extremely low. Let's take a look at the S&P mini contract (ES).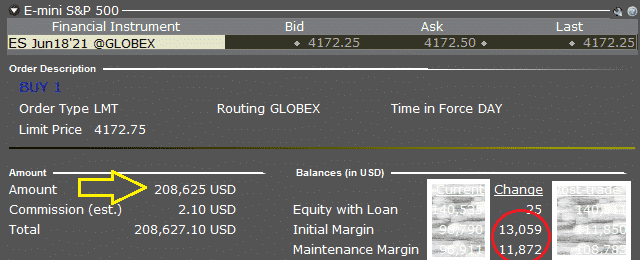 Here we are able to buy over $208,000 notional of the S&P 500 with only $13,000 in initial margin. Only 6%. Now, a lot more capital is needed to actually maintain this contract. This is because as the price of the S&P moves, our margin requirements change, as well.