Will The ECB Deliver The Fuel For New All-Times Highs In The DAX30 CFD?
This week's market outlook will provide insights for DAX30 CFD, the US Dollar, the Euro, the Pound and Gold.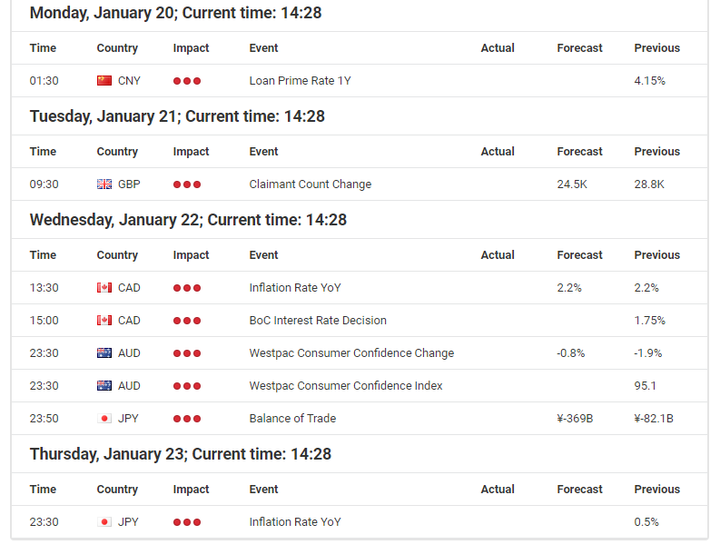 Source: Economic Events Calendar 20 January – 24 January 2020 - Admiral Markets' Forex Calendar
DAX30 CFD
After the short push below 13,000 points in the DAX30 CFD, resulting out of rising geopolitical tensions between the US and Iran, the German index hasn't seen a push back up to its all-time high around 13,600 points.
But in our opinion the picture stays very positive, and a push higher in the days to come is a serious option.
With the sign-off of the Phase 1 trade deal between the US and China last Wednesday, and the FED continuing to flood markets with liquidity to avoid a funding crisis, the downside should be limited as long as the German index trades above 12,900 points.
But with the ECB rate decision on Thursday, and new speculations around fiscal stimulus (especially from Germany) making rounds, a push up and above 13,600 points to a new all-time high is a serious option.
In regards to a potential fiscal stimulus from Germany, it is noteworthy that one main reason for publishing the slowest economic growth in six years in 2019 is because the German government opted for a consistent surplus on its budget, last having a budget deficit in 2011.
With that in mind, the ECB building pressure here to see her monetary stimulus bearing fruits should be taken into account, and hints at the press conference with Christine Lagarde should be carefully watched in regards to their impact on equities.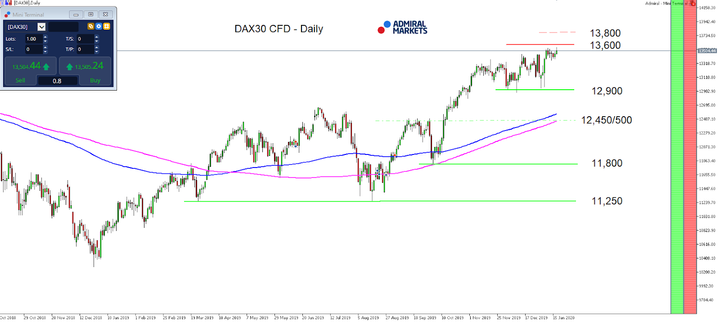 Source: Admiral Markets MT5 with MT5SE Add-on DAX30 CFD Daily chart (between 05 October 2018 to 17 January 2020). Accessed: 17 January 2020 at 10:00 PM GMT
Please note: Past performance is not a reliable indicator of future results, or future performance.
In 2015, the value of the DAX30 CFD increased by 9.56%, in 2016 it increased by 6.87%, in 2017 it increased by 12.51%, in 2018 it fell by 18.26%, in 2019 it increased by 26.44% meaning that after five years, it was up by 34.2%.
Check out Admiral Markets' most competitive conditions on the DAX30 CFD and start trading on the DAX30 CFD with a low 0.8 point spread offering during the main Xetra trading hours!
US dollar
The picture for the US dollar is nearly the same as it was two weeks ago. That said, it also means that our mid-term USD scepticism remains.
Technically, the bullish picture stays intact as long as the USD Index Future stays above 95.00 points on a weekly time frame, this region is likely to be in our focus in the days to come.
Disclaimer: The given data provides additional information regarding all analysis, estimates, prognosis, forecasts or other similar assessments or information (hereinafter "Analysis") ...
more