Why Miners With Positive Cash Flow Deserve Your Attention: Philip Ker
TM editors' note: This article discusses a penny stock and/or microcap. Such stocks are easily manipulated; do your own careful due diligence.
Cash flow. Cash Flow. Cash flow. That's where investors should focus in 2015, says Philip Ker, mining analyst with PI Financial. Ker says that Canadian and Mexican gold producers are generating greater cash flow owing to a stronger U.S. greenback and more finely tuned mine plans. In this interview with The Gold Report, he shares his top stock pick for 2015 and some equity stories that could unlock further shareholder value with the drill bit.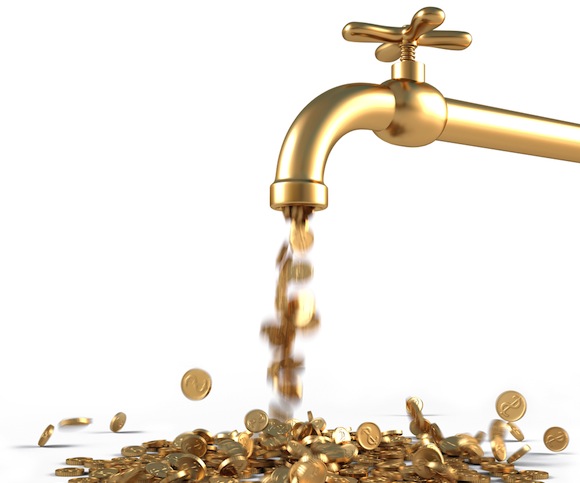 The Gold Report: The U.S. dollar is worth about CA$1.20. In percentage terms, how is that translating to the margins of Canadian precious metals producers?
Philip Ker: Margins are obviously a function of revenues minus costs. Our model currently uses $1,250 per ounce ($1,250/oz) gold and a $0.90 or CA$1.11 exchange rate. This means we're forecasting CA$1,388/oz for Canadian producers, but a favorable strengthening of the U.S. dollar toward $1.25 or CA$0.80 would allow Canadian producers to realize gold prices around CA$1,560/oz—a 12.5% increase.
More recently, gold has risen alongside the U.S. dollar. Typically these two have a negative correlation but the opposite trend has provided a boost to many equities with Canada-based operations. In late January, a $1,300/oz gold price and CA$1.25 exchange rate meant a gold price in excess of CA$1,600/oz—a potential 17% increase to margins. For example, a low-cost gold producer like Lake Shore Gold Corp. (LSG:TSX), which is projecting all-in sustaining costs of US$950–1,000/oz, could see profit margins reach greater than CA$350/oz on 170,000–180,000 oz (170–180 Koz) of production. This is just remarkable leverage.
TGR: Are margins like those enough to revise your investment thesis for 2015?
PK: You can't build an entire investment thesis just on an exchange rate but some names will benefit more than others. Investors should always consider a company's assets, management and any political or operational risk that may exist.
TGR: Is the current U.S. dollar/Canadian dollar exchange rate sustainable?
PK: We should continue to see a stronger U.S. dollar in the near term, particularly with the Canadian economy's heavy exposure to oil. That sector has sold off considerably, thus putting negative pressure on the Canadian dollar.
TGR: The strong U.S. dollar is also helping companies with operations in Mexico. What are some companies you follow that are benefiting from a weaker peso?
PK: Timmins Gold Corp. (TMM:TSX; TGD:NYSE.MKT) and SilverCrest Mines Inc. (SVL:TSX; SVLC:NYSE.MKT) are two companies that come to mind. Timmins has been trimming costs at its San Francisco gold mine in Mexico at every corner possible over the past year. It has brought down cash costs to ~US$800/oz in order to offset the decreasing grades the company expects to experience in the coming years. Additionally, exploration costs across Mexico have dropped since a new tax regime was established last year and scaring off junior explorers from testing prospective ground. This makes negotiation of drilling contracts much easier as drillers and equipment become underutilized. This helps stretch exploration dollars much, much further and is more favorable to explorers who pursue drill testing targets and advancing projects.
Furthermore, Timmins recently acquired the Caballo Blanco project from Goldgroup Mining Inc. (GGA:TSX), and is in the process of acquiring Newstrike Capital Inc. (NES:TSX.V), which owns the Ana Paula project within the Guerrero Gold Belt. With these two pipeline growth projects in its portfolio, we expect Timmins to endure an extensive amount of exploration and development work in the coming years to help advance them into production.
TGR: In Q4/14 SilverCrest saw its silver production increase 49%, while gold production dropped 11% year over year. Should investors be concerned about declining gold production?
PK: No, there's no need to be concerned at all. Over 2014, SilverCrest transitioned itself from an open-pit heap-leach producer to an underground conventional milling operation. Late in 2013, the operation was targeting higher-grade zones from deeper within the open pit as its reserves were becoming depleted and still it utilized a heap-leach recovery method prior to the commissioning of the new Merrill Crowe plant. So, although gold production came down slightly from Q4/13, the real story is the increased growth of silver production as a result of the higher recovery levels attributed to the new mill compared to heap leaching. We continue to be bullish on SilverCrest as it expands underground development into additional stopes of the ore body and possesses multiple sources of mill feed from the heaps or within the pit bottom to offset any potential lag in ore feed. 2015 is positioned to be another banner year for SilverCrest Mines.
Disclosure:
1) Brian Sylvester conducted this interview for Streetwise Reports LLC, publisher of The Gold Report, The Energy Report, The Life Sciences Report and The Mining Report, and provides ...
more