Why Are The Chinese Stockpiling Silver? Big Price Move Coming?
It looks like something big may happen to the silver market and the Chinese are preparing for it. After China launched it's new Yuan Gold Fix today, the prices of the precious metals surged. At one point today, silver was up 5%. Silver is now trading at the $17 level, a price not seen in over a year.
Even though gold has taken center stage today due to Chinese rolling out there new Yuan Gold fix, something quite interesting has been taking place in the silver market over the past six months. While Comex silver inventories have been declining from a peak of 184 million oz (Moz) in July 2015 to 154 Moz today, silver stocks at the Shanghai Futures Exchange have been doing the exact opposite. And in a BIG WAY: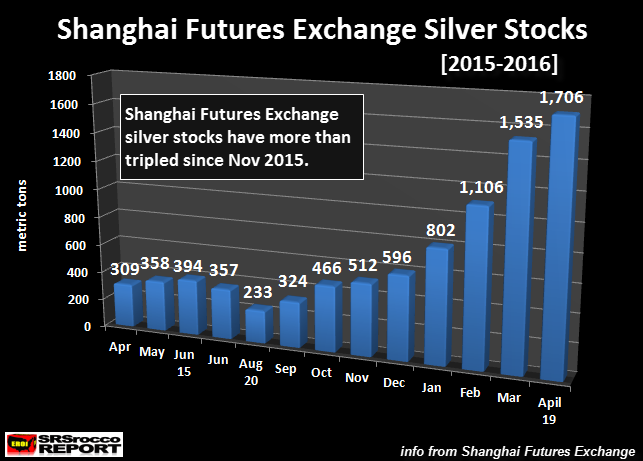 Shanghai Futures Exchange (SHFE) silver inventories bottomed on August 20th 2015 at 233 metric tons (mt), or 7.5 Moz. However, silver inventories at the SHFE began to really pick up in 2016 as they surged to 802 mt in Jan from 596 mt in December. This continued at a more rapid pace during the next few months reaching a staggering 1,706 mt today (54.7 Moz).
Thus, silver inventories at the SHFE have more than tripled in less than six months. Why have the Shanghai Futures Exchange silver inventories jumped this much in such a short time? Do the Chinese know something we don't?
To give you an idea just how much the SHFE silver inventories have grown, let's compare it to largest bullion bank Comex silver inventories in the world… JP Morgan (JPM). There's been a lot of talk about the huge buildup of silver on JP Morgan's Comex inventories. Here a chart of JP Morgan's Comex silver inventories, courtesy of Nick Laird at Sharelynx.com: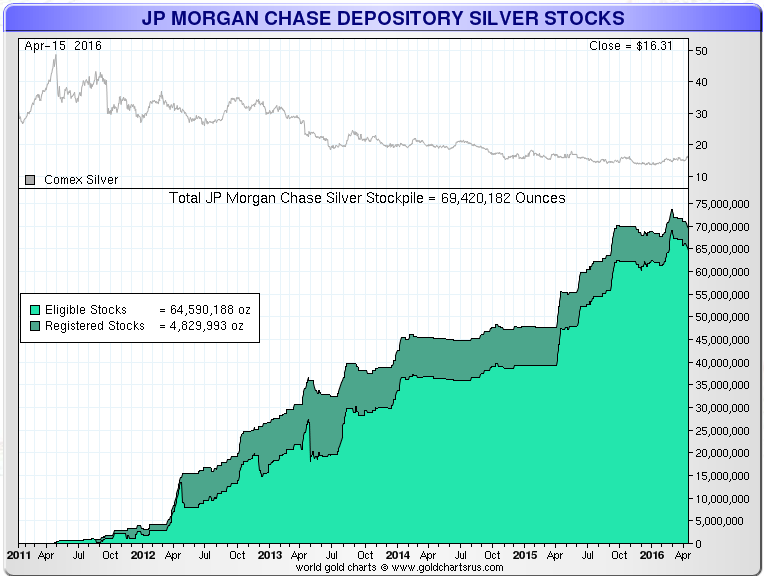 JP Morgan started accumulating silver right at the price of silver topped at $50 in 2011. In April 2012, JP Morgan had about 4 Moz of silver in its inventories. JP Morgan's silver inventories continued to grow as the price of silver declined to a low of $14. Today, JP Morgan holds 69.4 Moz of silver in its Comex warehouses.