Why A Fed Rate Hike Could Be A Blessing For Gold Prices: Brien Lundin
TM editors' note: This article discusses a penny stock and/or microcap. Such stocks are easily manipulated; do your own careful due diligence.
Like a true contrarian, Gold Newsletter publisher Brien Lundin looks beyond the headlines to understand what is really moving precious metals prices. He has concluded that the mainstream media may have it all wrong. Suspected anchors on the gold price, such as an interest rate increase and devaluation of the yuan, could actually be a rallying cry for commodities, he says in this interview with The Gold Report. And, he points to a baker's dozen of companies poised to take off when the arrows turn.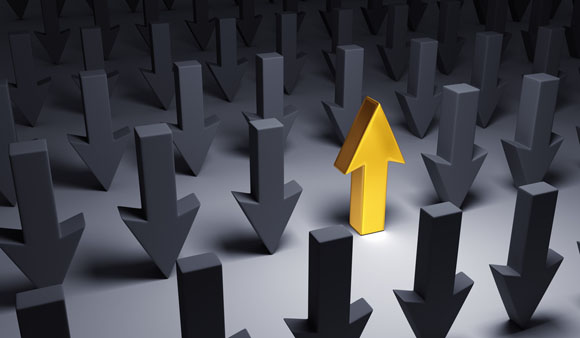 The Gold Report: You recently implied in an article titled "The Cocked Trigger" in Gold Newsletter that the current prevalence of short gold positions is actually a good thing for gold prices, especially if the Federal Reserve raises rates. That goes against everything we've been led to believe. Why do you say that?
Brien Lundin: We have an unusual situation in the gold market right now in that in the Commitments of Traders reports by the U.S. Commodities Futures Trading Commission, for the first time, the managed money sector has a net short position in gold. Typically, speculators have a net long position, and the commercials—jewelers, bullion dealers, etc.—have a net short position because they have to hedge. But the speculators are now net short, and the commercials have their lowest short position ever. It is a set up for a short covering rally at some point.
Add to that the possibility of a Federal Reserve rate hike at some point, and we could see a big, unexpected move upward in gold. I think the timing of a rate hike has been overhanging the gold market for well over a year. Relieving that issue could actually prompt a short covering rally. It would be kind of a sell-the-news event where the shorts figure that the trade is over and this is a good time to begin covering, more and more head for the door, and we have the rally underway.
New Orleans Investment Conference
October 28-31, 2015
Balmoral Resources Ltd. has an extraordinary exploration team."
TGR: A recent Barron's article classified commodities as the most out-of-favor industry group in the global stock market and then concluded it's time to buy commodities. Does the fact that a mainstream publication is making this prediction mean we're not yet seeing what Rick Rule calls complete capitulation?
BL: I think we saw something very near to complete capitulation in gold on July 20 when speculators attacked the entire metals market through orchestrated flooding of short sales onto the futures exchange. Due to greater demand from China and now greater safe-haven demand from Western buyers, gold prices should continue to rise.
TGR: As we move into the fall busy gold equity buying season, you seem to be shifting your portfolio to companies with proven resources. Why now?
BL: Because there is no need at today's price levels to accept exploration risk. There are a few special cases in exploration that I like and will still recommend going forward, but I have been shifting our portfolio more toward companies that have proven world-class resources, some of them with economic studies in hand. I think these will be the first movers in a metals price rebound. Companies with large-scale resources offer the same upside potential that an exploration play would have provided a few years ago, and they're selling for about the same price with a lot less risk.
TGR: Give us some examples of companies that are nearing production but are still bargains in this market.
BL: A number of them have kept working even during the market decline and made some really good progress. Almaden Minerals Ltd. (AMM:TSX; AAU:NYSE), Auryn Resources Inc. (AUG:TSX.V) (GGTCF), Balmoral Resources Ltd. (BAR:TSX; BALMF:OTCQX),Columbus Gold Corp. (CGT:TSX.V; CBGDF:OTCQX), Gold Standard Ventures Corp. (GSV:TSX.V; GSV:NYSE), Kaminak Gold Corp. (KAM:TSX.V) (KMKGF), Lion One Metals Ltd. (LIO:TSX.V) (LOMLF) and Rye Patch Gold Corp. (RPM:TSX.V; RPMGF:OTCQX) fit that description.
TGR: Let's start with Columbus Gold. Were you surprised by the economics outlined in the company's preliminary economic assessment (PEA) for the Montagne d'Or project in French Guiana?
BL: It was along the lines of what I expected, but I think there's still upside remaining because of the geometry of the deposit and the drill program that will be ongoing. The key with Columbus is that it was able to strike a remarkable deal with Nordgold N.V. (NORD:LSE) that will carry the project through to a bankable feasibility study on a 50/50 basis. That's real value for Columbus Gold and is not being adequately recognized by the market. The company also has a suite of highly prospective exploration projects in Nevada, including the Eastside gold project, which offers a good bit of upside potential, the value of which is not reflected in the market cap right now.
Disclosure:
1) JT Long conducted this interview for Streetwise Reports LLC, publisher of more