Who Will Be The Next 'Exit'?
In my last article, I explained why I believed Brexit would happen, how I positioned for it, and why I believed it would benefit the UK in the long run.
My conviction in the Brexit, some luck, and proper positioning allowed me to amass a small fortune. In an attempt to avoid hubris like many traders and poker players sometimes do after a successful run, I sold all of my "Brexit" positions Monday June 27th about thirty minutes before market close. Again, with some luck, I avoided what would have been devastating to my short positions, in a snapback rally Tuesday June 28th.
If you don't feel like (re)reading my other article, I'll sum it up for you:
I shorted the GBP against the USD
I went long the USD against the GBP
I bought VOD on the 6% dip.
After the article was published, however, I realized that I could maximize my earnings potential by aggressively allocating capital to some regular and leveraged ETFs as well as shorting all the major Euro banks that would be affected and that's exactly what I did.
Here is a list of the additional positions I had added to my Brexit Portfolio:
SG GBP USD X5 Daily Short USD (SGB5)
ETFS 3x Daily Short EURO STOXX 50 (UES3)
PowerShares DB US Dollar Bullish ETF (NYSEARCA:UUP)
VelocityShares 3x Long Gold ETN (NASDAQ:UGLD)
VelocityShares 3x Long Silver ETN (NASDAQ:USLV)
db x-trackers Stoxx Europe 600 Banks Short Daily UCITS ETF (XS7S)
Short (BCS, CS, DB, UBS, HSBC)
Short
iShares MSCI Europe Financials (EUFN)
As some of my followers know, I am really big on geopolitical analysis. I have begun looking at which countries will be next to leave the EU as right-wing, Eurosceptic populism grows in Europe and will then recommend an area of the world to invest in.
Netherlands/Nexit:
Geert Wilders is both the founder and leader of the Dutch Party for Freedom (Partij voor de Vrijheid) also known as the PVV. They are a right-wing, anti-EU, anti-immigration, populist group like the other groups on this list. Following the UK referendum, Wilders was one of the first people to congratulate them on their victory, and proclaimed that they would be next. A recent TV survey indicated that a majority of the Dutch wanted a similar referendum to leave the EU.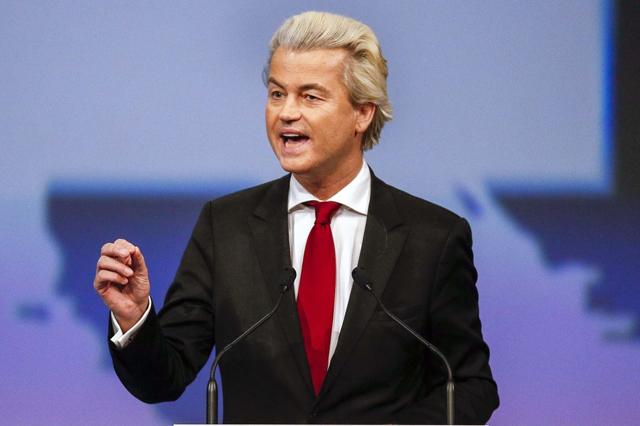 Austria/Auxit:
The Freedom Party of Austria (Freiheitliche Partei Österreichs) or FPÖ has been growing rapidly. Heinz-Christian Strache is the Chairman of the party who has been instrumental in the growth of the party. Norbert Hofer, a member of the FPÖ ran for the presidency in May and narrowly lost by 50.3% to 49.7%. I was confident that Hofer was going to win, but his opponent was able to edge out the more controversial candidate. I believe that if these elections were held today, Hofer would win. The FPÖ is currently in the process of disputing the election in the Supreme Court, and may end up getting a recount. Hofer is also calling for a referendum for an exit from the EU, and although as president he would not have the power to do so, he would have a lot of influence. What is interesting, is that Marine Le Pen, leader of the National Front (a right-wing/populist/Eurosceptic party), is coming to Vienna to meet with Strache about cooperation in fighting the EU and helping each other's goals.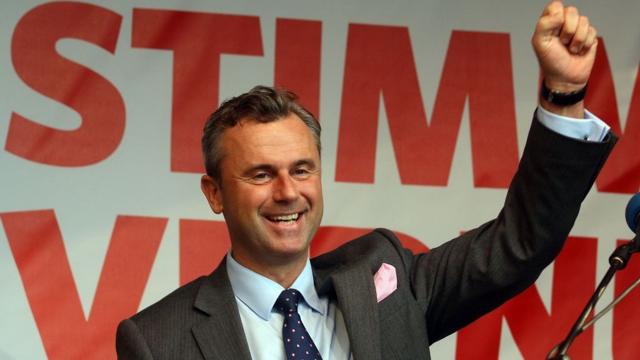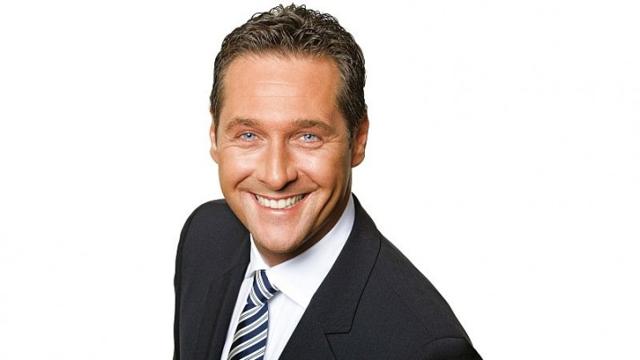 France/Frexit:
As mentioned earlier, Marine Le Pen is head of National Front (Front National) or FN which is a Eurosceptic, far right, anti-immigration, populist group very similar to the Dutch PVV. Le Pen has called for a French referendum to leave the EU and may get that chance if she becomes the Prime Minister of France next year. Her chances are increasing daily as her popularity has more than doubled current PM Hollande.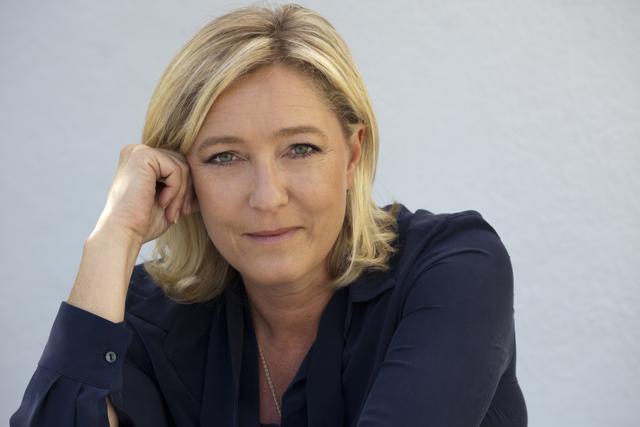 Italy/Italexit:
Beppe Grillo founded the Five Star Movement (Movimento Cinque Stelle) or M5S in 2010 as a primarily Eurosceptic party similar to Nigel Farage's UKIP party. Party popularity has grown with new leader Luigi Di Maio, and recently Rome's first female mayor was elected - Virginia Raggi, a member of the Five Star Movement. Together, with support from an even more far-right party Northern League (Lega Nord), they are pushing for a referendum to leave the EU at the behest of Prime Minister Matteo Renzi.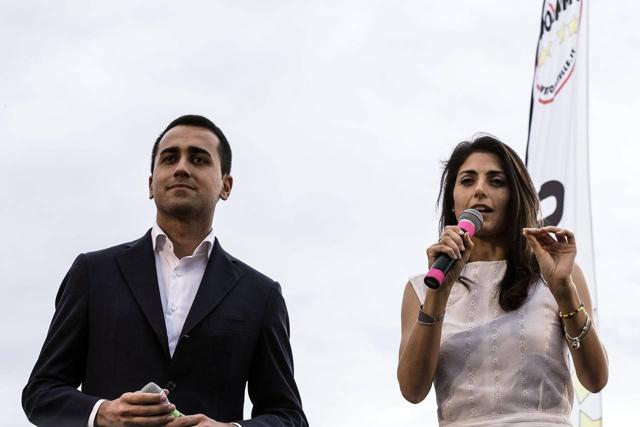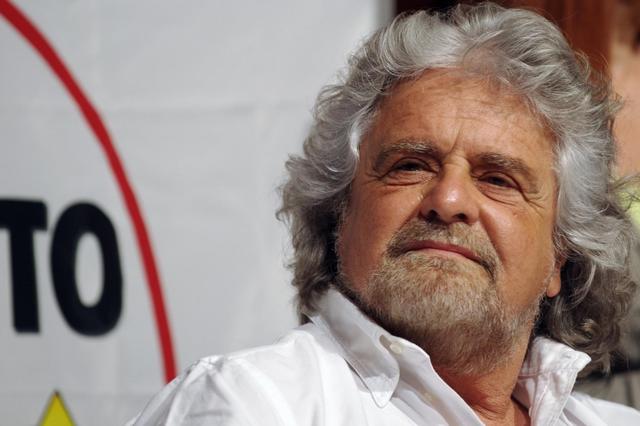 These are the most likely exits to occur in the next 18-24 months.
Other candidates that are possible but much less likely are:
Greece / Grexit
Sweden / Swexit
Denmark / Dexit
Czech Republic / Czexit
Hungary / Hexit
If you are pro-Brexit like I am, then you have to believe it will be good for trade and the economies of these newly sovereign nations. While I think the markets will be very turbulent in the short-medium term, and the UK and other global economies may enter a recession, the long-term outlook now looks promising as the UK (and countries that follow) have the ability to tap into markets outside of the EU, that they were previously unable to do.
Out of all the prior colonies (and countries) in the world, I believe India stands to benefit the most. The UK and India have a long history together, and could re-negotiate trade deals to lower tariffs respectively for both countries. Pundits might point to the fact that the UK only accounts for 3% of Indian Exports.
(Source: Wikipedia)
I would argue that India is de-incentivized from doing trade with the UK because of the strict regulations within the EU and the high tariffs for non-EU members. That will change.
India has been trying to strike a trade deal with the EU for the last decade but finds it consistently difficult as the EU demands stronger governmental, legal and societal changes. However, the EU may begin to speed up Free Trade Agreements [FTA] if they see the UK rapidly approaching deals with India.
Regardless of Brexit, India is still one of the top 5 growing economies in the world with a GDP of 7.5%. I, like many others, believe that India is the new China.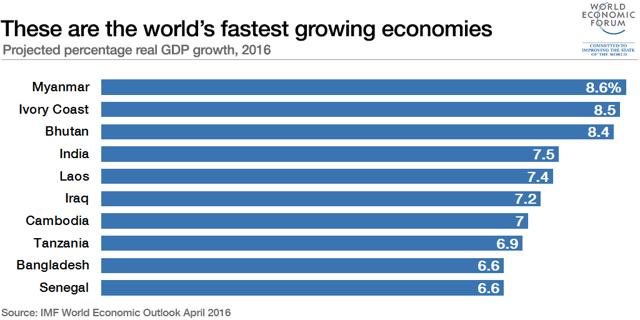 While I like India the most, I believe the whole South Asia (no, not Southeast Asia!) region will lead the world for fastest growing economies. For those who are unfamiliar with the term South Asia, it incorporates Afghanistan, Bangladesh, Bhutan, India, Nepal, Maldives, Pakistan and Sri Lanka. I have actually been looking for a South Asia mutual fund, closed end fund or ETF for quite some time, but all I seem to find are Southeast Asia stuff. If anyone happens to know of any, I would greatly appreciate you writing about it in the comments below or directly messaging me.
The Brexit hit many of the emerging markets stock markets and currencies hard, but Indian Sensex as well as the rupee have really fared well.
(Click on image to enlarge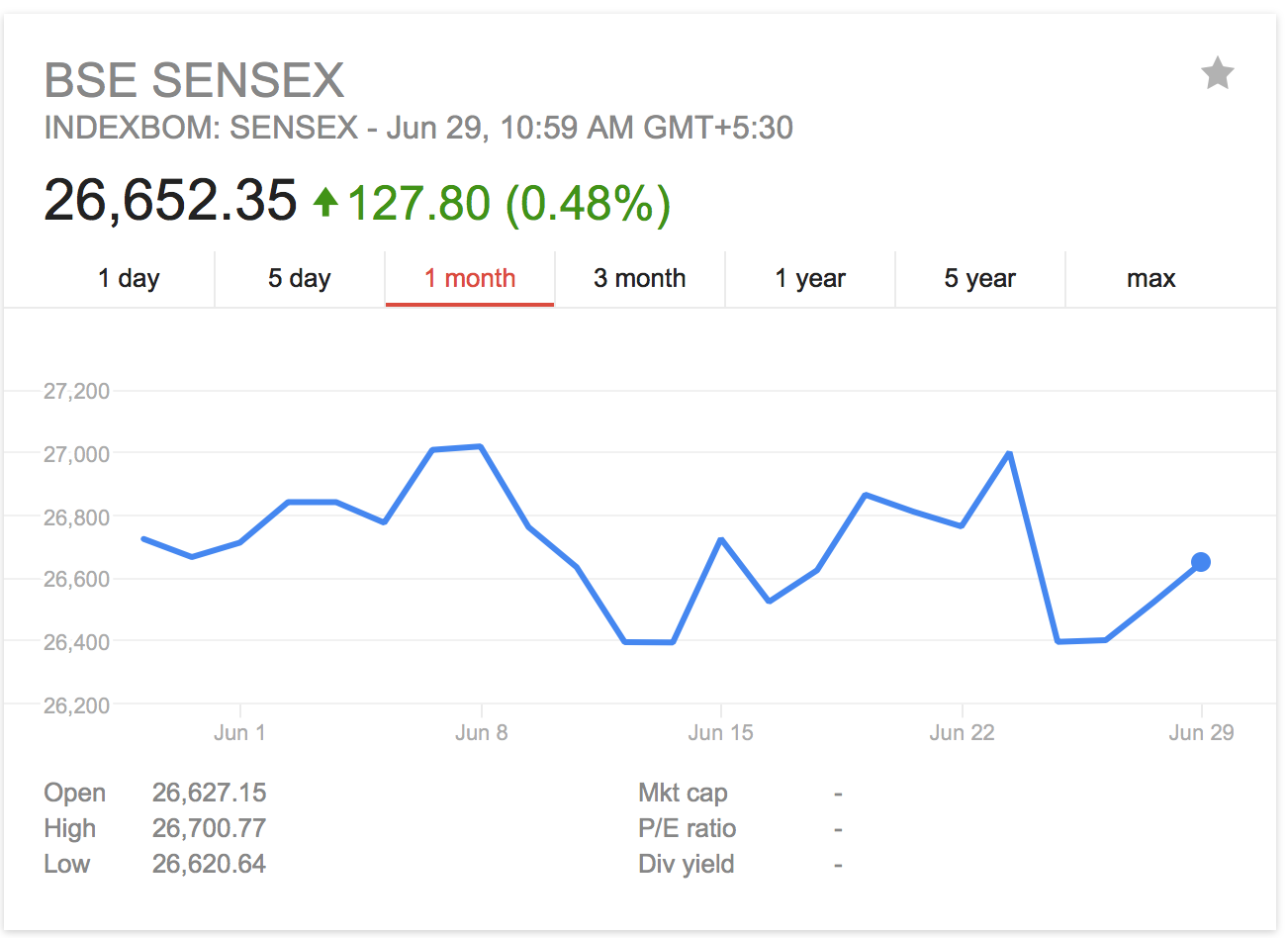 If you take a look at June 23rd, it makes an identical fall from the one it did around June 6th to June 12th. It looks like there may be support forming as the Sensex double-bottomed at 26,400.
Since March, the Sensex has been on a tear and it looks like it's finally getting ready to break through 27,000. If it does, that will be really bullish for the Indian stock market.
(Click on image to enlarge)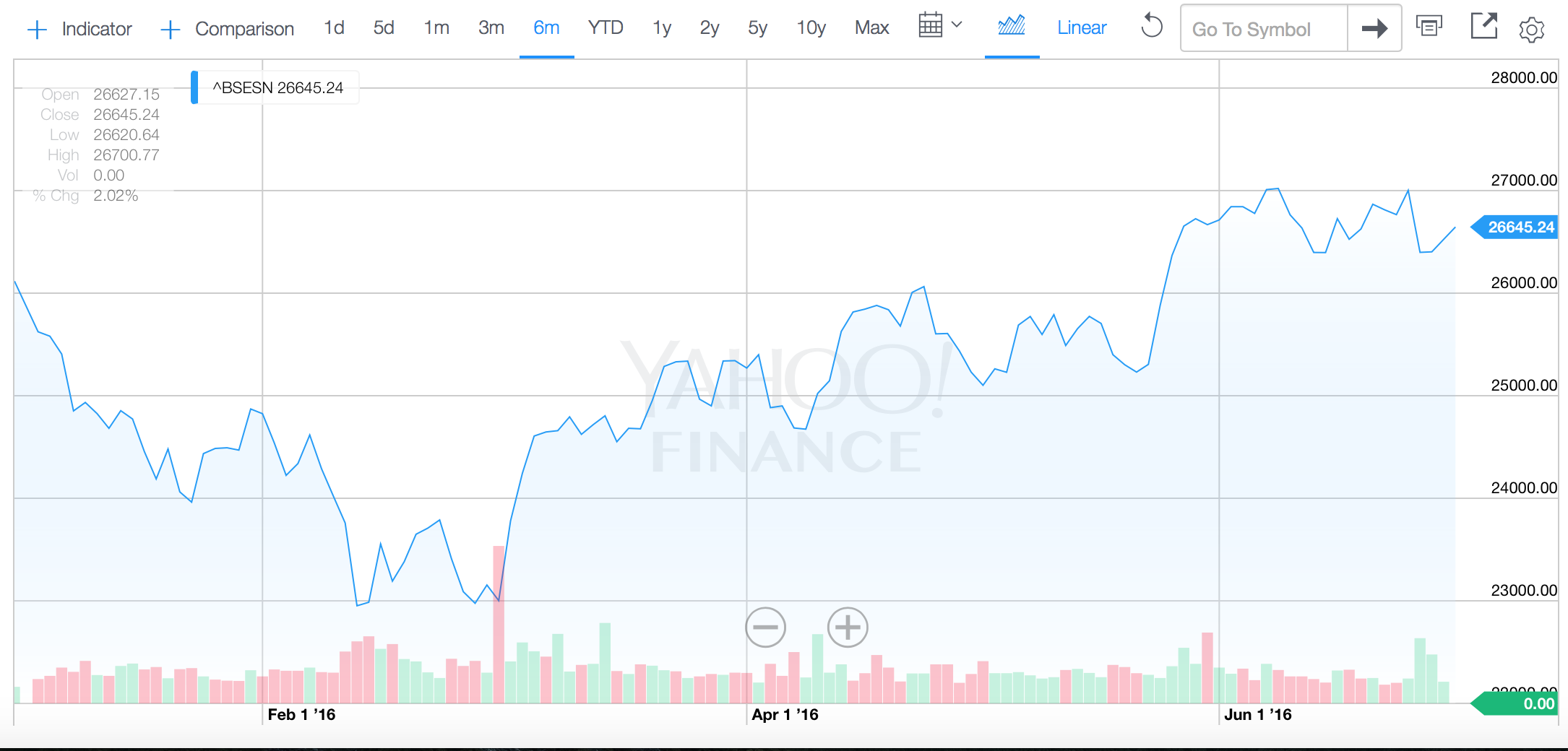 For long-term investors, I believe there are three great ways to invest in India.
1) iShares MSCI India (BATS:INDA)
INDA is a great way to invest in the total economy. It is comprised of IT companies, banks, pharmaceutical companies, tech companies and energy companies. It has a 1.2% yield, 4B AUM and trades at decent volume with around 2M shares traded and has an expense ratio of .68%.
2) WisdomTree India Earnings ETF (NYSEARCA:EPI)
While EPI is a diversified play on the Indian economy, it has a much stronger focus of financials than INDA. If you believe that the Indian banks stand to benefit from a growing middle class through loans, financing and selling debt internationally, then it may be for you. It has 1.35 AUM, 1.1% dividend, and trades with much greater volume of around 4.5M daily, but it does have a higher expense ratio than INDA at .83%.
3) Fairfax India Holdings Corp (OTCPK:FFXDF)
Last but not least we have FFXDF which is a mutual fund unlike the prior two options. This fund is run as part of a large conglomerate known as Fairfax Financial Holdings, very similar to Berkshire Hathaway (NYSE:BRK-A) (NYSE:BRK-B). The man who runs it, Prem Watsa, has even been referred to as the "Canadian Warren Buffett." This fund has advantages over the other two ETFs in that it will be investing in both public and private equity. This means that Mr. Watsa may have access to or may be buying into companies that may turn into future Indian Alibabas, etc. While you could point out that he is not investing with the large public companies that will benefit from a rising middle class and foreign direct investment [FDI], he will hopefully be buying into companies with extraordinary future free cash flow potential whose market value is not susceptible to main street investors. A focus on long-term growth will help bring in outsized returns as Buffett has done over the years.
Disclosure: I am/we are long VOD, INDA, FFXDF.
I wrote this article myself, and it expresses my own opinions. I ...
more