What Is The Fed's Number One Fear?
In its inaugural Financial Stability Report (FSR), the Federal Reserve warned of 'elevated' corporate debt levels in the US economy. While the report detailed several risks that could adversely impact financial stability, corporate indebtedness appears as the headline concern. The concern was also echoed by ex-Fed Chairwoman Janet Yellen who backtracked on her belief that the occurrence of another financial crisis would not happen "in our lifetimes" which she stated in an interview June of last year.
Several metrics depict that the recent run-up in leverage could pose a major threat while others contend that current levels of corporate debt are justified with correspondingly high profits. While analysts and economists alike find themselves at odds debating the topic and its implications on the financial landscape, investors are left to strike balance between risk tolerance and downside protection. Ultimately, this begs the question: how big of a risk does corporate debt pose to financial stability?
LEVERAGE ON THE RISE
(Click on image to enlarge)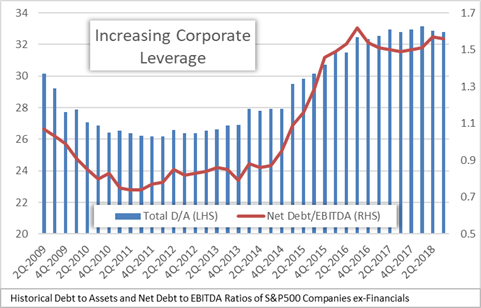 One of the most commonly referenced metrics for evaluating leverage is the debt to assets ratio which shows how much debt a company has for every $1 in assets. With the most recent debt to asset ratio of 33x surpassing that of 30x notched during the last recession, it is no surprise that the Federal Reserve would mark corporate debt as a risk to financial stability. Another measure frequently used for analyzing leverage is the ratio of net debt to earnings before interest, taxes, depreciation and amortization (EBITDA). This gauge presents a more alarming message with the ratio of net debt to EBITDA nearly doubling from a post-crisis low of 0.8x to a staggering 1.5x at the end of 2Q2018.
DETERIORATING BALANCE SHEET COMPOSITION
(Click on image to enlarge)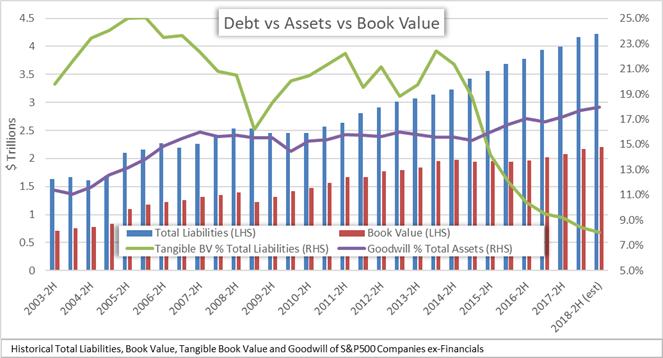 Evaluating capital structure is another way to look at corporate leverage since it breaks down the composition of assets, debt, and equity. Taking the difference between total assets and liabilities yields a company's net book value which is widely used in assessing capital structure. Conceptually, net book value is the residual owner's equity that remains of a company's assets after satisfying all its obligations. With the absolute level of debt already sounding the risk alarm, plummeting tangible book value as a percent of total liabilities is even more troubling.