Weekly Fundamental US Dollar Forecast: Rise In US Treasury Yields May Not Help Greenback; April NFP Due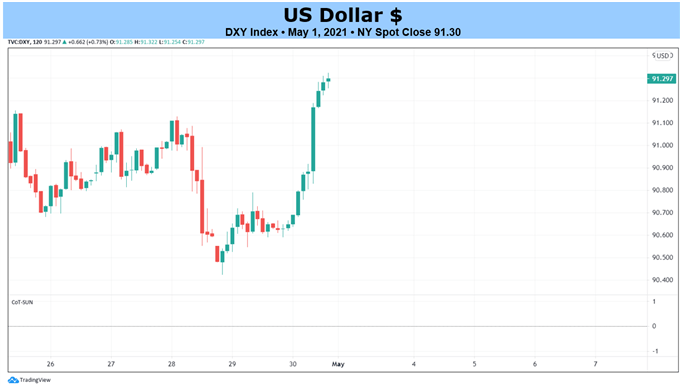 Fundamental Forecast for the US Dollar: Neutral
The drop in the US Dollar has occurred even as US Treasury yields have stabilized (if not turned higher), suggesting that rising inflation expectations – not real US yields – are behind the move, which has historically been bad for the greenback.
The main economic event of the week will be the April US non-farm payrolls report due out on Friday, May 7.
According to the IG Client Sentiment Index, the US Dollar has a mixed bias heading into the first week of May.
US Dollar Stumbles into May
The US Dollar (via the DXY Index) was able to turn higher at the end of the week perhaps due to end-of-month rebalancing flows. It was a much needed relief for the DXY Index, which otherwise closed the month of April down by -2.08% -- surpassing average seasonal trends over the past five years. With US economic data outperforming and commodity prices going higher, there has been a rise in both US nominal yields (Treasuries) and inflation expectations (breakevens).
In a sense, the rise in US Treasury yields has been a 'false flag,' seeing how the emergence of deeper negative real US yields in 2020 went hand-in-hand with a weaker US Dollar. The backdrop that facilitated those US Dollar losses at the end of 2020 appears poised to remain in place for the foreseeable future.
Staying on the Narrow Path
Federal Reserve policymakers met this past week for their April meeting, and there quite possibly couldn't have been a more mundane market reaction. But that's a good thing as far as the FOMC is concerned, as little to no volatility around their meetings and Fed Chair Jerome Powell's press conferences means that, in effect, policy is priced-in; markets still believe that the Fed has its hands on the proverbial wheel.
Federal Reserve Interest Rate Expectations (April 30, 2021) (Table 1)