VIX Futures Have Been Running Flat All Night
7:00 am
SPX futures made a new high at 4217.50 after 10:00 pm last night. Since then the futures have been hovering near that level. Wave (v) of [c] of 2 is still incomplete and a move to 4220.00 would satisfy the shortage. The Cycles Model infers that the May 7 high may be the top, while the Elliott Wave (looser) guidelines allow a move from 4217.00 to 4244.00. Today may be the last day of a positive seasonal rebound from an early May low, according to the Stock Trader's Almanac. It is also day 431 from the March 23, 2020 low. The Master Cycle low bottomed on May 12. The only way the Master cycle gets extended is with a new all-time high, which is not favored here.
ZeroHedge reports, "S&P futures rose on Friday after solid economic data and Joe Biden's leaked $6 trillion federal budget plans spurred a Wall Street rally in cyclical shares ahead of a closely watched inflation report offsetting recent worries about a spike in prices put the S&P 500 on course for its smallest monthly gain since February. At 7:15 a.m. ET, Dow e-minis were up 177 points, or 0.5%, S&P 500 e-minis were up 16 points, or 0.38%, and Nasdaq 100 e-minis were up 48 points, or 0.35%. Treasuries were steady and the dollar strengthened. Markets will be shut on Monday for Memorial Day holiday"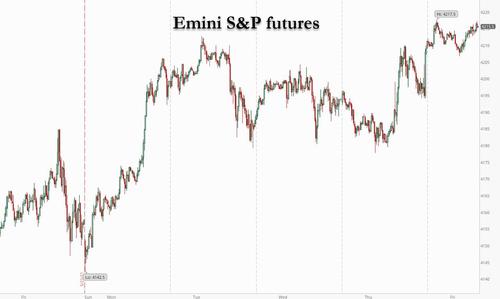 NDX futures made an overnight high of 13725.75 and may also be missing a final probe higher. This could be complete in the first hour of the day, which is generally positive.
ZeroHedge observes, "By now everyone has seen some iteration of this chart (most recently discussed here), which shows that whereas stocks are generally flat over longer periods of time during the regular "cash", or day session, they tend to melt up during the overnight hours when liquidity is far lower and when the "pajama trades" come out and play.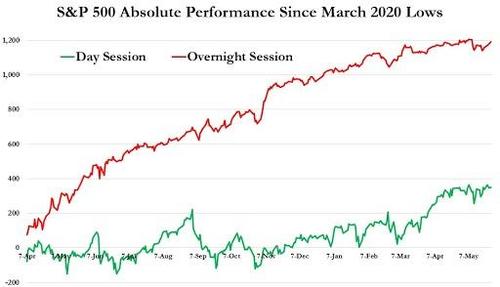 And while there is no single, widely accepted reason for this "overnight drift", the post-closed meltup phenomenon has been one of the most popular and recurring strategies in equity markets, with many traders selling spoos when the day session begins and then re-buying at the market close in pursuit of scarce alpha."