Valuations Remain In Normal Range (Barely)
We now calculate that 40% of the stocks we can assign a valuation are overvalued and 13.19% of those stocks are overvalued by 20% or more. These numbers have declined-- slightly-- since we published our valuation study in May-- when the overvaluation was at 44.04%.
Not much has changed since our last valuation study, except we now know for certain that the US presidential election will feature Trump vs. Clinton. But, that news creates an uncertainty for sure, as Trump continues to make headlines almost every day--seemingly every time he opens his mouth. Clinton offers a continuation of Obama-era policies (which have generated booming markets, reduced deficits, and economic recovery. It's tough to tell what Trump offers, because he has made so many contradictory statements-- and his policies are often roundly panned by analysts and economists.
Good news since our last report includes the recovery in the energy markets, with oil prices now above $50/barrel. Bad news includes a May jobs report that showed bad numbers and some questions about what many thought was a stronger, ongoing recovery.
The Central Bank is not giving any certainty to investors that they will refuse to hit the brakes on growth yet again. The last move still seems premature, as the labor market hasn't really benefitted from recovery in wages and inflation remains nowhere to be found.

As always, the balancing act between the dual mandate of control inflation and foster full employment creates tension. we currently have low inflation and a job market which is near "full employment" according to past standards, but it sure doesn't seem that workers are benefitting from the recovery.
Regardless, our valuation figures still show a "normal" market--albeit just barely.
The chart below tracks the valuation metrics from June 2015. It shows levels in excess of 40%.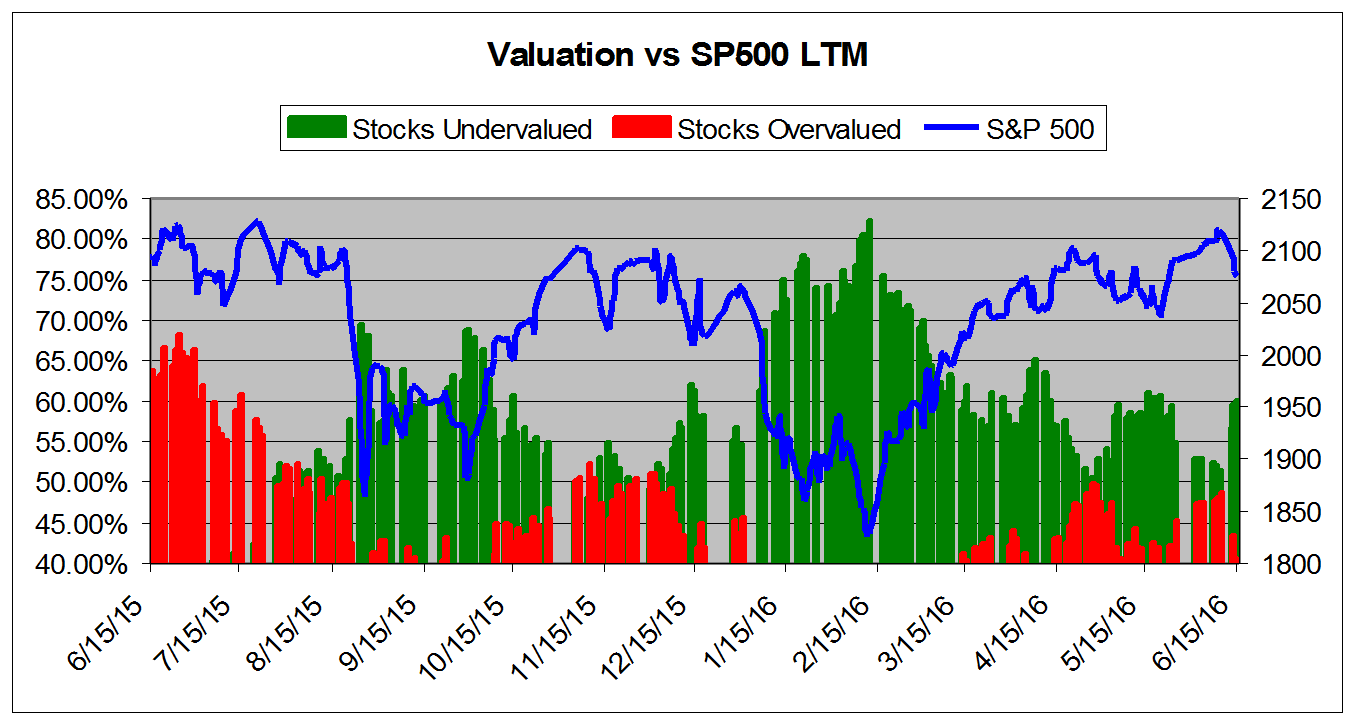 This chart shows overall universe over valuation in excess of 40% vs the S&P 500 from June 2013
Disclosure: None.
Disclaimer: ValuEngine.com is an independent research provider, producing buy/hold/sell recommendations, ...
more