US: Jobs Bonanza Has Much Further To Run
Opentable restaurant data and TSA airport security check numbers point to 1million+ April figure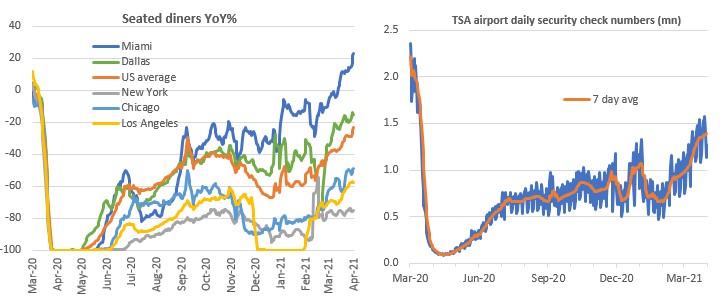 Source: Opentable, Macrobond
Fed behind the curve?
Despite this good news, we have to remember there are still 8.4 million fewer people in work than before the pandemic started. The Fed are currently signaling a first-rate hike won't come until 2024 and that they want to see "substantial further progress" before contemplating a change in their stance. Given their relaxed position on inflation it's clear that the focus is on the jobs market returning close to its pre-pandemic state.
Comments from officials suggest they believe the unemployment rate is giving misleading signals given so many people have left the labor force, for reasons including having to look after people at home or no job opportunities due to pandemic-related industry closures. Consequently, the employment ratio is probably the better number to watch.
Currently, just 57.8% of working-age (16-65-year-olds) are actually working. This is very weak as we are on a par with the early 1980s recession and when female worker participation was much lower than it is today. To get us to a jobs market that is on a similar basis to pre-pandemic levels we think the Fed would be looking for that employment ratio to get up above 60%. That requires just under 6 million more jobs being created based on the current labour force size.
Employment as % of working age population (1948-2021)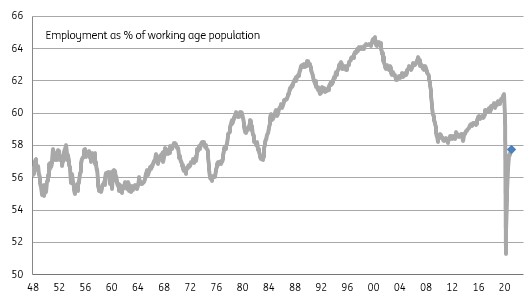 Source: Macrobond, ING
A 2022 rate hike is more likely than a 2024 first move
With a full re-opening by May/June, we believe that is achievable this year. As already outlined, we think we can see 1 million+ monthly readings in April and May before settling down in a 300-700k range for the rest of the year. On this basis, there is no reason to believe that "substantial further progress" can't be reached in 3Q. This would allow for a 4Q taper of the QE asset purchases and could conceivably open the door to a rate hike before the end of next year.