US Births Fall To Lowest Level In A Generation Amid Pandemic "Baby Bust"
"There are several factors that go into family planning, and an entire ecosystem of support that enables and empowers parents and parents-to-be," said Paris Wallace, chief executive of Ovia Health. "In 2020, nearly all of those factors were turned on their head, and many of those support systems came crashing down."
While birth rates fell for women in all age groups between 15 and 40, the declines were steeper in states that were hit the hardest by COVID-19, such as California and New York. And the exodus from crowded urban centers exacerbated the drop in birth rates in places like NYC, where the constant shriek of ambulance sirens over the summer likely made it difficult for couples to get in the mood.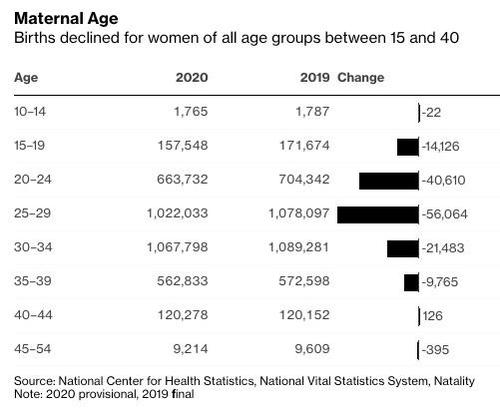 Source: Bloomberg
Interestingly, many pregnant couples in the city fled to give birth elsewhere (well, at least those who could afford to do so).
The percentage of births to NYC residents that occurred outside of the city increased for all months between March and November. Non-Hispanic White residents were 2.5x more likely to give birth outside of the city in April and May 2020 than during the same period a year earlier.
Here are some other key findings courtesy of Bloomberg.
Births in Florida surpassed those in New York last year -- by just 440. It's still significant given that the differential in favor of New York was about 1,500 and 5,000 in 2019 and 2018, respectively.
Fewer than 10,000 babies were born in Alaska, Vermont, Washington D.C., and Wyoming in 2020.
The number of births fell 3% for Hispanic women, 4% for both non-Hispanic White and non-Hispanic Black women, and 8% for non-Hispanic Asian women.
To sum up, a declining birth rate leaves the US with two options: either increase the inflow of immigrants, or risk a blowout in the per-capita level of America's exploding debt.
Disclosure: Copyright ©2009-2021 ZeroHedge.com/ABC Media, LTD; All Rights Reserved. Zero Hedge is intended for Mature Audiences. Familiarize yourself with our legal and use policies ...
more