TIC For September: Not Repo But 'Further Flaws'
The Treasury Department's TIC for September 2019 finally arrived yesterday. Two months in arrears, it's often torturous having to wait for the detailed cross border bank figures to show up for particularly noteworthy months. You might remember September for something going on in repo, and TIC is right where we've been tracking (trying to) global repo and collateral flows since the middle of last year.
The TIC data confirms all our suspicions.
To begin with the red side, there had been a growing if convoluted route for unspecified collateral via Foreign Official Institutions (FOI; basically overseas central banks) into the cross border repo channel. It clearly involves the foreign repo pool and you can read about it in detail here. What's pertinent for the September figures is this:
If, generally speaking, the red is US banks "borrowing" from offshore entities the blue is US banks lending into those same shadows. As I've noted several times previously, when in times of funding distress the level of repo (on the blue side that means US bank resales) usually jumps. The repo market, as noted here in TIC as well as in Z1, is the real lender-of-last resort to the global system (because the Fed's repo operations aren't really repo operations).
And in September, FOI's were…very quiet.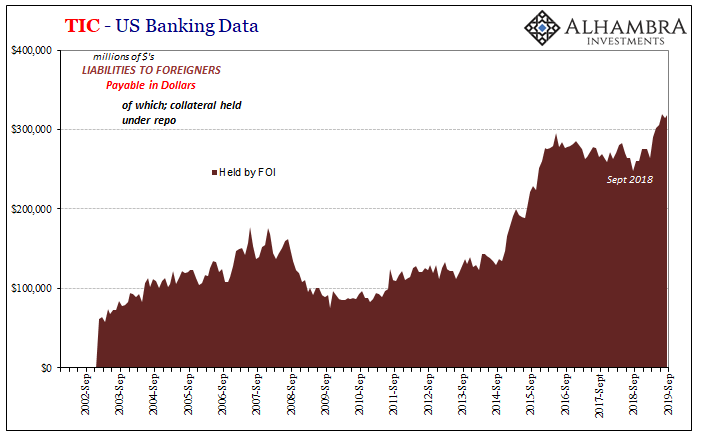 The level of repo collateral owed to FOI's from US banks dipped slightly in August and rebounded even less in September. Not much going on.
How about over in the blue, the level of resales? You can read more about this crucial piece of the cross-border situation here. The relevant part for September:
Given what we know went on during that period, as well as its consistency with the same pattern over the years, it's reasonable to infer offshore eurodollar tightness bleeding into demand for domestic resales. Increased cross-border repo would further suggest strong worldwide demand for safe assets particularly since last October.
Disclosure: This material has been distributed for informational purposes only. It is the opinion of the author and should not be considered as investment advice or a recommendation of any ...
more