This Week's Top Upgrade: NGL Energy Partners
NGL Energy Partners LP (NGL) is our top-rated upgrade this week and it is a STRONG BUY--as are FBP and MTOR. The rest of the components on our list are BUY-rated companies.
Below is today's data on NGL Energy Partners LP (NGL):
NGL Energy Partners LP is a limited partnership operating a vertically-integrated propane business with three operating segments: retail propane; wholesale supply and marketing; and midstream. The Retail Propane segment engages in retail marketing, sale, and distribution of propane, including the sale and lease of propane tanks, equipment, and supplies to residential, agricultural, commercial, and industrial customers through customer service locations. The Wholesale Supply and Marketing segment supplies propane and other natural gas liquids, as well as provides related storage to retailers, wholesalers, and refiners. The Midstream segment involves in the delivery of propane from pipelines or trucks to propane terminals and transfers the propane to third-party transport trucks for delivery to retailers, wholesalers, or other consumers. NGL Energy Partners LP is headquartered in Tulsa, Oklahoma.
Recommendation: We updated our recommendation from BUY to STRONG BUY for NGL Energy Partners on 2016-12-02. Based on the information we have gathered and our resulting research, we feel that NGL Energy Partners has the probability to OUTPERFORM average market performance for the next year. The company exhibits ATTRACTIVE Price Sales Ratio and P/E Ratio.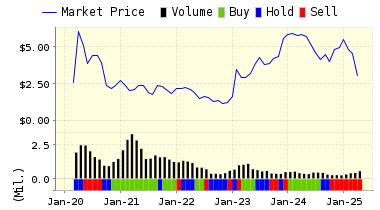 ValuEngine Forecast

Target
Price*

Expected
Return

1-Month

18.47
1.19%

3-Month

18.39
0.79%

6-Month

18.39
0.77%

1-Year

20.86
14.33%

2-Year

16.29
-10.74%

3-Year

12.56
-31.16%
Valuation & Rankings

Valuation

25.14% undervalued

Valuation Rank

86

1-M Forecast Return

1.19%

1-M Forecast Return Rank

99

12-M Return

20.14%

Momentum Rank

73

Sharpe Ratio

-0.07

Sharpe Ratio Rank

43

5-Y Avg Annual Return

-3.06%

5-Y Avg Annual Rtn Rank

41

Volatility

46.82%

Volatility Rank

37

Expected EPS Growth

-29.39%

EPS Growth Rank

7

Market Cap (billions)

1.63

Size Rank

71

Trailing P/E Ratio

10.80

Trailing P/E Rank

90

Forward P/E Ratio

15.29

Forward P/E Ratio Rank

58

PEG Ratio

n/a

PEG Ratio Rank

n/a

Price/Sales

0.15

Price/Sales Rank

96

Market/Book

0.81

Market/Book Rank

84

Beta

0.46

Beta Rank

66

Alpha

0.03

Alpha Rank

60