The U.S. Shale Oil Industry Bloodbath Spreads As Oil Price Meltdown Continues
There is no better way to describe what is currently taking place in the U.S. Shale Oil Industry, then a bloodbath. Unfortunately, if the situation wasn't bad enough for the shale oil industry when prices were 30-40% higher, today it's a complete disaster. While some might think that a bit of an overstatement, I can assure you that these low oil prices are doing serious damage to an already weakened shale industry.
The major problem with the U.S. shale oil industry from the get-go was that the huge decline rates, indicative of horizontal fracking, devour a massive amount of capital. Furthermore, capital expenditures that are used to frack a shale well is a much different animal than building a gold mine. Because shale oil wells experience a 75-80% decline rate in the first few years, the industry must continue to spend even more capital to offset oil production losses. However, capital spent on a gold mine will last for 15-20+ years before the deposit is depleted.
So, capital spent in the U.S. shale oil industry is not really a long-term investment as would be a gold mine. Thus, the capital expenditures in the shale oil industry behave more like "COSTS" than "INVESTMENTS."
The Oil Price Meltdown Continues
If energy analysts thought oil prices were getting a bit oversold last week, this week the market has now entered into a "Meltdown phase." A few weeks ago, I published this chart showing the change in various oil spot prices since the peak in early October: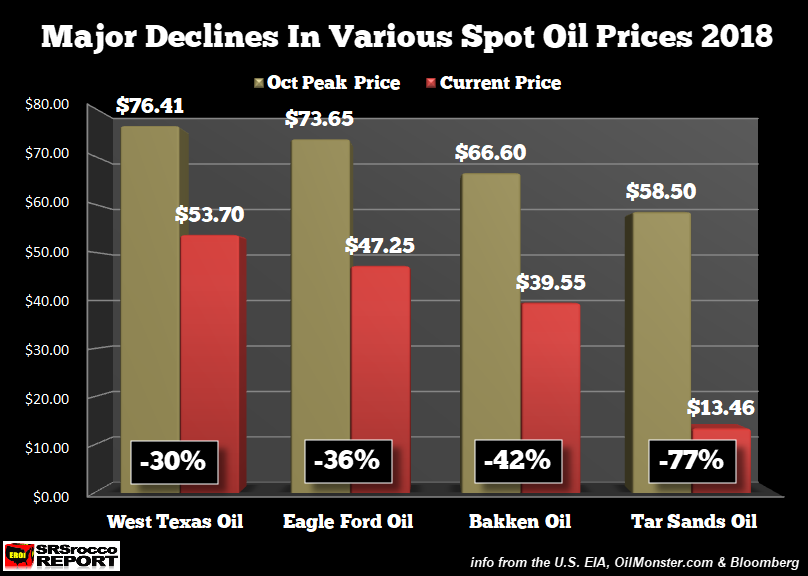 All across the board, oil prices fell considerably. The worst performer in the group was Tar Sands Oil (Western Canadian Select) when bottlenecks of too much oil in Alberta with no place to go pushed prices down to the low "teens." However, the Alberta government finally stepped in and announced a mandatory cut in production (insisted by the tar sands industry) which had a dramatic impact on the Western Canadian Select spot price. The very next day, the price more than doubled.