Last week President Trump tweeted, "Dow just broke 25,000. Tremendous news!" It wasn't the first time the Dow had risen through that threshold. On July 14th, the President tweeted, "The Stock Market hit 25,000 yesterday." A year ago, on January 4th, 2018: "Dow just crashes through 25,000. Congrats! Big cuts in unnecessary regulations continuing."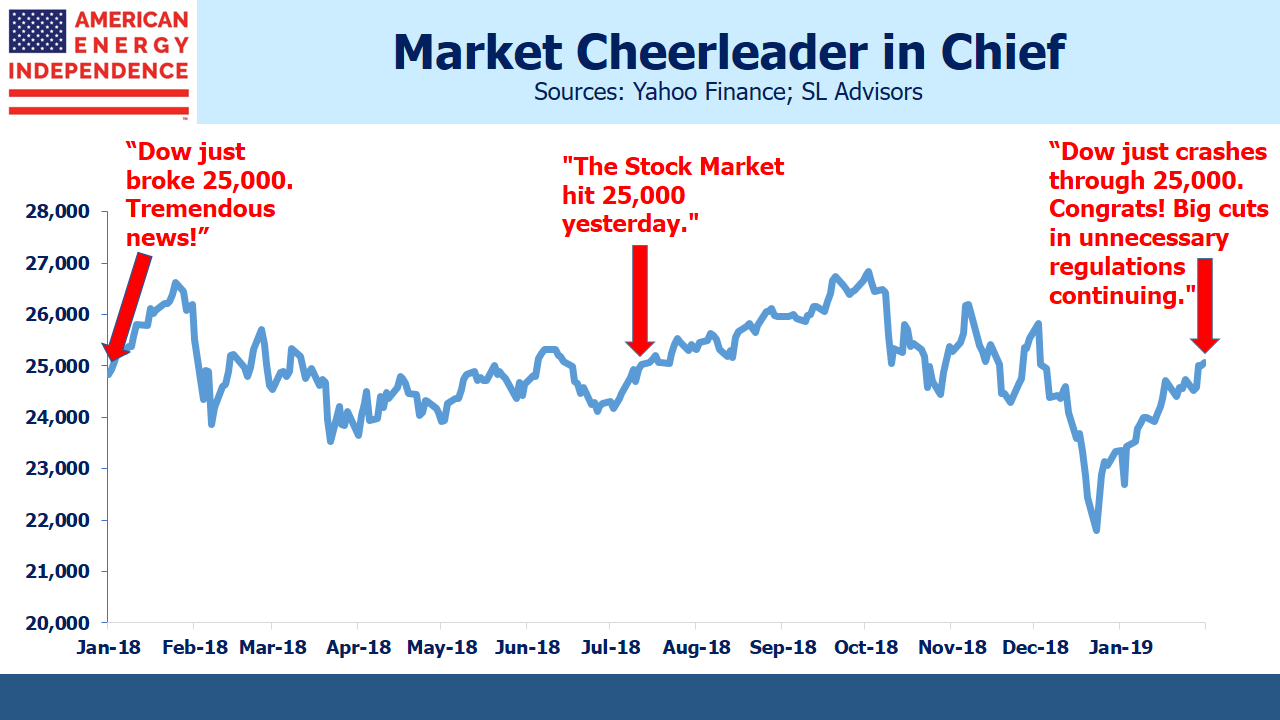 This president probably cares more about short term moves in stocks than any predecessor. He has adopted it as a report card of how his administration is doing. Past presidents have generally positioned themselves above the fray, concerning themselves more with economic data such as GDP growth and unemployment. These are important to President Trump too, but the Dow provides a real-time gauge of his performance, reflective of today's social media supported news.
His cabinet colleagues clearly recognize this. We winced at Treasury Secretary Steve Mnuchin's comments in December that banks had "ample liquidity". Stocks were very weak, largely because of problems caused by the government. The trifecta of growth –inhibiting tariffs, a looming federal government shutdown and Fed chair Powell's communication missteps were the main cause (see Problems Made in DC Can Be Fixed There). But nobody had questioned banks' liquidity until Mnuchin's amateurish intervention.
Compared with the Goldman colleagues who preceded him, this betrayed the absence of a deft touch, and briefly raised more concerns than it settled. But it reflected the attention this administration pays to any substantive moves in equities.
President Clinton's former campaign manager, James Carville, once commented that in his next life, "…I would like to come back as the bond market. You can intimidate everybody." He also coined "The economy, stupid." This phrase came to symbolize Clinton's campaign singular focus and its improbable victory over George H. W. Bush.