The PBOC's Involuntarily Enormous Bet
Central bankers are not nimble traders. By their very bureaucratic nature, they leave big muddy footprints all over markets. Sometimes that is by design, a show of force to scare some evil speculators into going straight. Other times, it just can't be helped.
The way it works in China, the autocratic structure doesn't leave much to interpretation – at least as to what may be going on. Why something is happening can be an entirely different matter.
The muddiest feet in the bunch surely belongs to Big Mama. It's not quite an affectionate nickname, though people do tend to see the People's Bank of China (PBOC) in that way for a lot of more selfish reasons. Cultivated by the regime of autocracy, and in a West allured by dreams of technocracy, once Big Mama is spotted it is immediately assumed that's the best thing.
By far the most openly audacious intervention came starting on March 2015. China's currency for reasons the mainstream just couldn't fathom had been falling and unsteady for over a year. At the same time, the Chinese economy had shown equally unsteady signs, the accumulation of shocking weakness.
There was no way Communist authorities would allow it go any further. The PBOC intervened first in February 2015 with a "double shot", rate and RRR cuts, followed in March by a CNY exchange rate that looked like it was purposely put under control. Many were relieved by what they saw as Big Mama very publicly and skillfully planting a green shoot at just the right time.
The problem, however, wasn't China it was dollar; as in eurodollar. This wasn't stimulus or even all that voluntary. This was an increasingly desperate monetary accident waiting to happen. I wrote at the end of April 2015:
Even the Chinese yuan has become far more stable despite the rash of nasty economic indications and even more uncertainty about what the PBOC might or might not do about it. In other words, forget what is happening in China, the yuan is all about the "dollar" in the purest financial sense.
Then, on June 3, as if to leave no doubt, CNY which had looked to be pegged by some unknown force before that day really looked pegged thereafter. Whoever was doing the pegging, as if it wasn't clear, had upped the ante.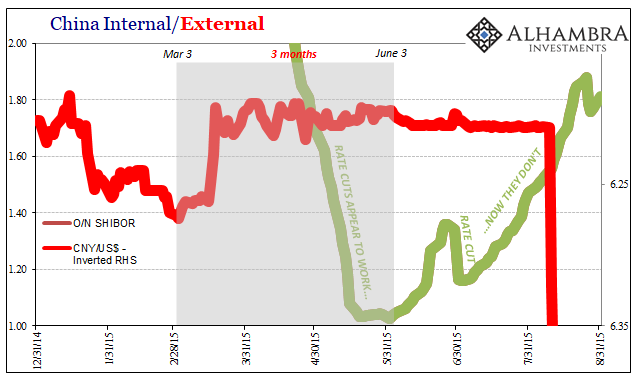 And it was also then that things really started to fall apart. Call it the law of unintended consequences if you want, but interventions are costly affairs regardless. Nothing is free in this world, not even for central banks. This is especially true when the central bank being forced into doing something is taking on the mightiest force in global finance – the eurodollar system.
Disclosure: This material has been distributed for informational purposes only. It is the opinion of the author and should not be considered as investment advice or a recommendation of any ...
more