The Most Popular Stocks Millennial And Gen-Z Are Investing In
Over the next 25 years Millennials and Gen Z will inherit nearly $70 trillion from their Baby Boomer grandparents and Gen X parents. But many of them are not waiting for the windfall to start investing in stocks. So what stocks are they investing in? And should you buy them too?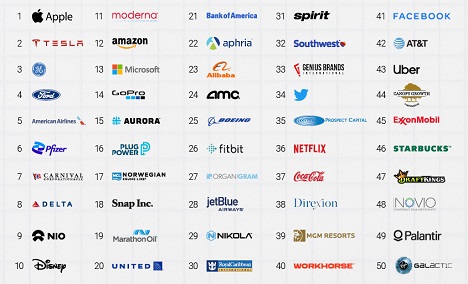 Millennials, born between 1981 and 1996, are saving more than ever. A Bank of America survey found that nearly a quarter of Millennials that are saving have at least $100,000, with 28% of them investing in the stock market.
To be sure, many Millennials and older Gen Z Americans are saddled with crushing student debt and other financial obligations. Yet, they are also saving for retirement and investing in the stock market earlier than previous generations. A CFA Institute study shows that 31% of Millennials with taxable investment accounts began investing before age 21, vs. 14% of Gen Xers and 9% of Baby Boomers.
Younger investors have a keen interest in socially and environmentally responsible companies such as electric-vehicle makers, tech firms and cryptocurrencies.
Younger adults tend to favor high-risk, high-reward stocks, such as Tesla, Advanced Micro Devices (AMD) and meme stocks such as AMC Entertainment. But they also like slower growth names such as Apple (AAPL) and Microsoft.
Top Millennial And Gen Z Stocks
In Q3, Gen Z investors turned to renewable energy stocks that focus on mitigating climate change and rising gas prices, according to the Apex Next Investor Outlook report.
Young investors also poured more money into alternative energy companies including EV startup Rivian (RIVN), EV charging network provider ChargePoint (CHPT), hydrogen fuel cell maker Plug Power (PLUG) and Enphase Energy (ENPH). Each of these companies rose about twenty spots to #35, #43, #56 and #58 respectively.
Income-generating dividend stocks continue to be a focus. As a result, Costco (COST), Abbvie (ABBV) and Chevron (CVX) were still widely held.
And the top 5 of the 10 most held stocks among Gen Z were unchanged from Q2: Tesla, Apple, Amazon, Google (GOOGL), and Microsoft.
Apex, which analyzes the holdings of more than 1 million Gen Z accounts and over 5 million accounts held by Millennials, Gen X and Baby Boomers, publishes a quarterly report that shows generational investing trends.
Popular Millennial Stocks: Tesla Stock
Tesla (TSLA) reported mixed results for Q3. It posted earnings of $1.05 a share, a 69% jump from a year ago and 5 cents above estimates. Revenue of $21.454 billion, up 56% from a year ago, fell short of estimates of $22.3 billion.
Automotive gross margin of 27.9% was flat from Q2, missing estimates of 30%. Excluding regulatory credits, auto gross margin was 26.8%, slightly below estimates.
TSLA stock has been weighed down by concerns over demand in China, the global economy and CEO Elon Musk's Twitter (TWTR) purchase and ensuing drama.
Amazon Stock
Tesla stock is trading well below its 50-day moving average. Its relative strength line, which compares a stock's performance vs. the S&P 500, is trending lower. Its RS Rating is just 14 out of a best-possible 99. Its EPS Rating is 75.
Amazon's second sales event this year, which was held Oct. 12-13, wasn't as big a deal as the company had hoped. It generated an estimated $8 billion in gross merchandise volume. That's 25% below Amazon's July "Prime Day," which raked in $10.7 billion.
Amazon (AMZN) reported Q3 results that missed analyst estimates. It posted EPS of 28 cents on revenue of $127.1 billion. With Cyber Monday sales set to rake in more than $11 billion, Amazon can look to the holiday shopping season to boost the bottom line.
Massive layoffs, however, could dampen the holiday spirit, as the e-commerce giant joins several other tech firms announcing staff reductions.
AMZN stock is not yet a buy. The stock is trading below its 50-day line. The stock has an RS Rating of just 16 and an EPS Rating of 51.
Top Millennial Gen Z Stocks: Microsoft Stock
MSFT stock is not yet a buy, as shares gapped lower after edging past Wall Street estimates in fiscal Q1 but guiding lower. MSFT shares are trading just above their 50-day line. The company earned $2.35 a share on sales of $50.1 billion in the quarter ended Sept. 30. FactSet analysts expected EPS of $2.31 on sales of $49.7 billion. On a year-over-year basis, Microsoft (MSFT) earnings rose 4% as sales increased 11%.
Microsoft credited its cloud-computing services for the better-than-expected results. However, its Azure infrastructure business grew at a slightly lower-than-expected rate.
For the current quarter, Microsoft expects sales of $52.35 billion to $53.35 billion. The midpoint of $52.85 billion was well below Wall Street's target of $56.2 billion for the December quarter.
AMC Stock
Meme stock AMC may be a favorite among young investors (AMC), but MarketSmith chart analysis says stay away. Shares have plunged from their May 2021 peak. AMC's relative strength line is trending downward. While revenue has rebounded from 2020 levels, when most theaters were closed, it remains well below pre-pandemic levels. AMC is expected to lose money through at least 2023.
AMC Networks CEO Christina Spade is stepping down after only three months on the job, as the company's streaming business went nowhere and massive layoffs are expected.
Bitcoin
While turbulent crypto market conditions persist, Millennial investors remained bullish on Bitcoin (BITCOMP) and other flagship cryptocurrencies, including Ethereum, the Apex report said.
Although the price of BTC vs. the U.S. dollar slumped more than 50% in Q2, investors continued to buy and hold flagship cryptocurrencies in Q3. Once again, millennials drove bullish behavior on BTC, making up over half (51%) of accounts invested in the asset. Gen X investors made up for 25% of accounts holding BTC, while Gen Z and Boomers made up 19% and 5%, respectively.
Let's see how they feel about crypto next quarter, given the recent collapse of exchange FTX and BlockFi's bankruptcy filing.
---
More By This Author:
SP500 Double Bottom or Market Mirage?
Using Breadth Indicators To Forecast The Markets
Dealing with Different Market Forecasts and Opinions
Disclosure: Financial Markets Risk Warning

U.S. Government Required Disclaimer - Commodity Futures Trading Commission Futures and Options trading has large potential rewards, but also large ...
more