The "Greatest Bear Market Rallies Of All Time," And Why This One Is Ending
After two consecutive weeks of declines in the Fed's balance sheet, the stock market has started to look especially wobbly. And after several days of steep declines, all June gains have vaporized.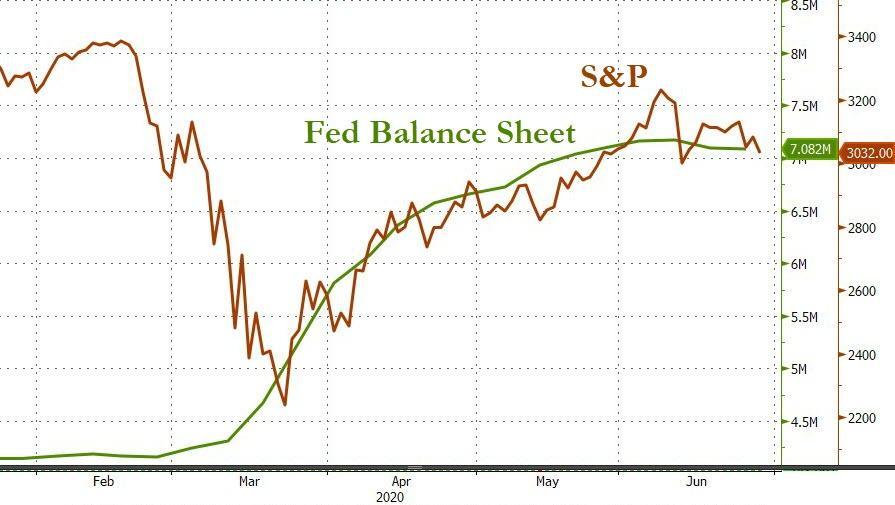 Of course correlation isn't causation, and the prevailing narrative is that the market weakness has been due to a spike in coronavirus cases across sunbelt states and fears that the V-shaped recovery is not coming. Although, as we have repeatedly said, the Fed will urgently need to expand its QE which is now running at "only" $80 billion per month for TSYs, an amount that will be insufficient to monetize the flood of new debt in the coming years.
To do that, however, the Fed needs a "shock" pretext to resume aggressive balance sheet expansion and a "second wave" is just that.
So, while we wait for the media narrative to "confirm" that the next escalation in the pandemic has arrived and is forcing states to resume shutdowns, it is hardly a surprise that on Wall Street strategists are taking a step back. And after bearish projections virtually disappeared in the past month, discussions of a bear market rally are once again front and center with BofA (BAC)'s Michael Hartnett taking the lead.

According to the BofA CIO, while Q2 is on pace to be the best quarter for the S&P 500 and oil, it's time to admit that the furious 50-day, ~40% rally may have been nothing more than a bear market rally.
To put it in context, Hartnett shows that the current rebound has largely been following the trajectory of the three "greatest bear market rallies of all-time" (1929, 1938, 1974), which would put the S&P at 3300-3600 sometime between August and January 21. Yet, what follows would be a far more painful move lower, as was the case after all these bear market rallies fizzled, resulting in lower lows.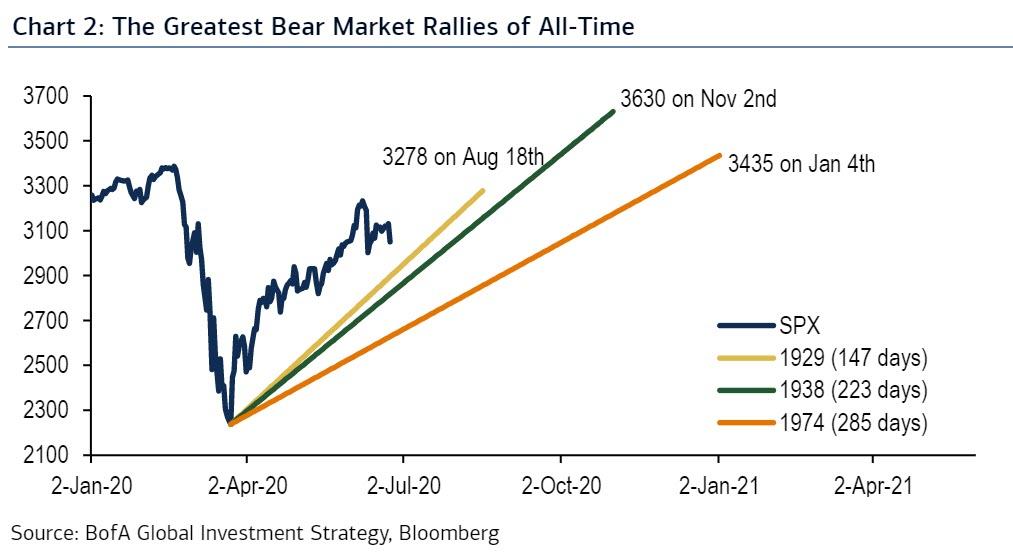 Hartnett is not the only one trying to predict how the bear market rally dies. Leuthold Group's CIO, Doug Ramsey, who in March told his clients to sit out what's coming and thus missed the $10 trillion surge in market cap, has a message: it isn't over yet.
Disclosure: Copyright ©2009-2020 ZeroHedge.com/ABC Media, LTD; All Rights Reserved. Zero Hedge is intended for Mature Audiences. Familiarize yourself with our legal and use policies every time ...
more