EC

The 2018 Decline In Precious Metals
The precious metals sector moved higher in the first days of this year, but based on yesterday's decline and the current price levels, 2018 is already a down year for silver and mining stocks. Gold is almost flat. This is a subtle clue that the rally may have already ran its course. The confirmation comes from what happened yesterday. Miners continued their decline, invalidating the previous breakout, while gold finally joined the rest of the sector and started its own decline as well. Is the rally indeed over?
Most likely – yes. Let's start today's analysis with a look at gold's performance (charts courtesy of http://stockcharts.com).
(Click on image to enlarge)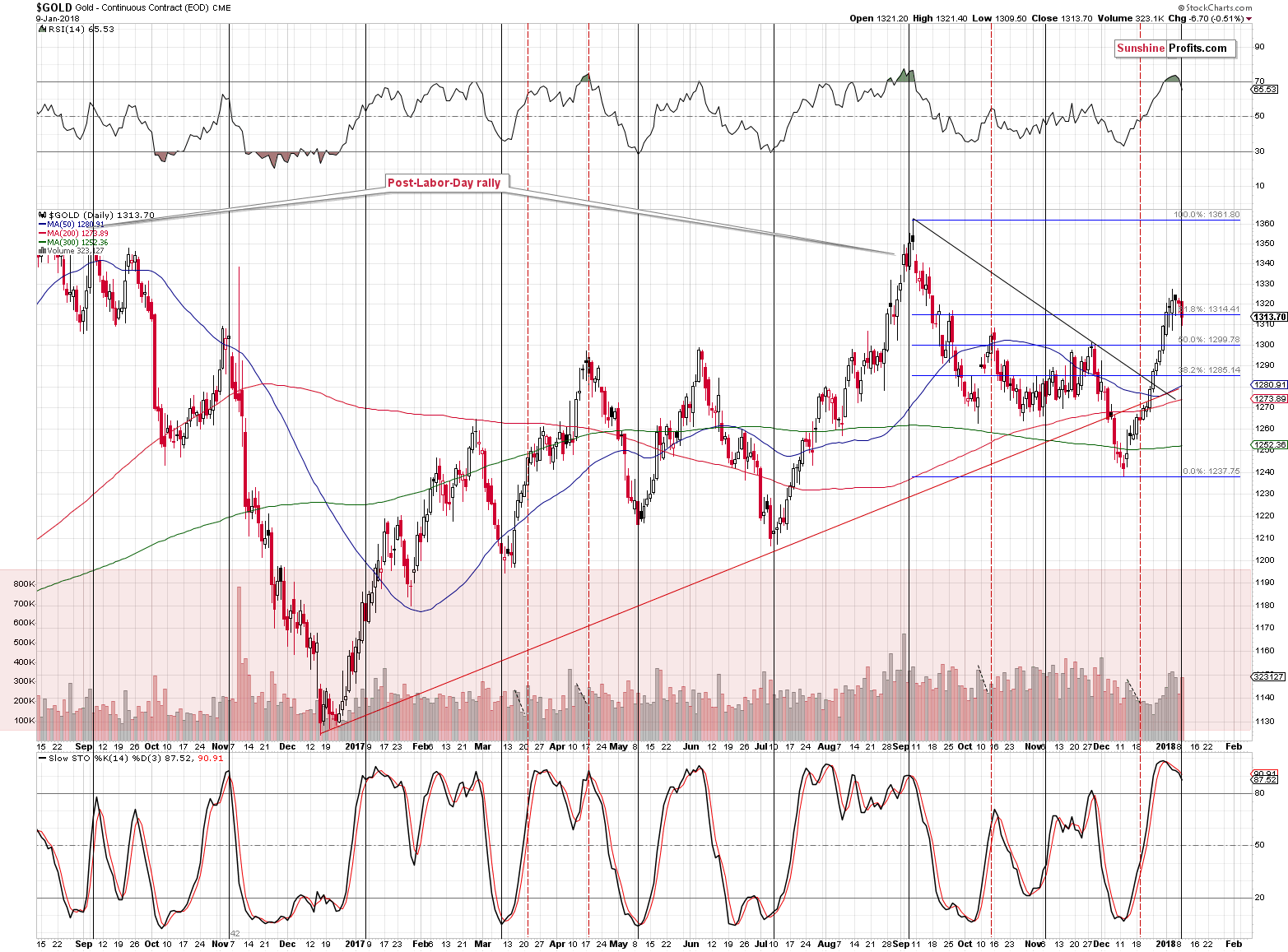 We previously commented on the above chart in the following way:
On the above chart, we see that gold is almost at its short-term turning point. This has bearish implications as the preceding move has definitely been up. Both useful indicators: RSI and Stochastic, point to lower gold prices in the upcoming weeks.
Let's take a look at the RSI's performance in greater detail. It had been trading above 70 for over a week, even moving temporarily to about 80, but then it moved visibly down. There were only two similar cases in the recent past: the April 2017 top and the September 2017 top. If the following action is going to be similar to the April slide, we can expect gold to move below $1,250. If the following action is going to be similar to the slide following the September top, we can expect gold to move to about $1,210. Either way, the implications are bearish.
The increase in volume during yesterday's downswing also has bearish implications.
Today's comeback to $1,325 or so doesn't invalidate the above. Both: April and June tops in 2017 were followed by a quick rally that didn't change the overall trend. Consequently, today's pre-market strength is not an anomaly – it can be viewed as something normal.
Naturally, the above is up-to-date at the moment of publishing it and the situation may – and is likely to – change in the future. If you'd like to receive follow-ups to the above ...
more