Stocks Reach New Highs Again, But Correction Looms
The U.S. stock market indexes gained 0.1-0.5% on Wednesday, as they slightly extended their short-term uptrend. The S&P 500 index retraced more of its October-December downward correction of 20.2% (2,713.88). It gets closer to the previous local highs along the 2,800 level. The Dow Jones Industrial Average gained 0.5% and the Nasdaq Composite gained 0.1% yesterday.
The nearest important resistance level of the S&P 500 index remains at around 2,785-2,800, marked by the previous medium-term local highs. On the other hand, the support level is at 2,745-2,750, marked by yesterday's daily gap up of 2,748.19-2,748.63. The support level is also at 2,720, marked by the Tuesday's daily gap up of 2,718.05-2,722.61.
The broad stock market broke below its two-month-long trading range in the mid-December, as the S&P 500 index fell below the level of 2,600. Then the market accelerated lower and it broke below the 2,400 mark. Since then, it has retraced more than 61.8% of the whole decline off the September high. The index got closer to its October-November local highs and the resistance level of 2,800 recently, as we can see on the daily chart: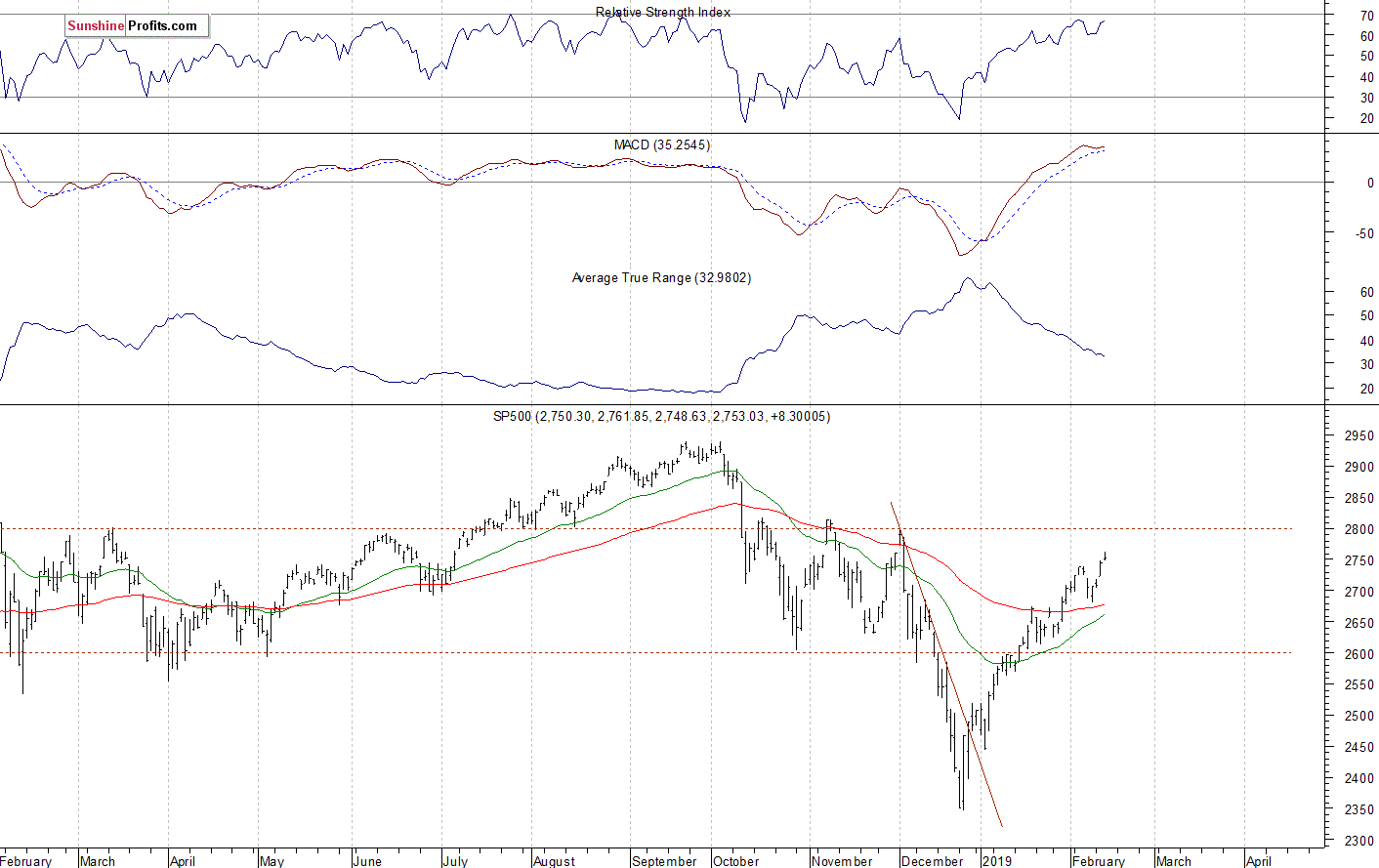 Positive Expectations Again
Expectations before the opening of today's trading session are positive, because the index futures contracts trade 0.3-0.4% above their yesterday's closing prices. The European stock market indexes have gained 0.3-0.6% so far. Investors will wait for series of economic data announcements today: Producer Price Index, Retail Sales, Initial Claims at 8:30 a.m., Business Inventories at 10:00 a.m. The broad stock market will likely fluctuate following the recent advance today. We may see some uncertainty, as the market gets closer to the medium-term resistance level.
The S&P 500 futures contract trades within an intraday uptrend, as it retraces it yesterday's late-day weakness. The nearest important level of resistance is at around 2,760-2,765, marked by the short-term local highs. On the other hand, the support level is at 2,745--2,750, among others. The futures contract continues to trade along the short-term upward trend line, as the 15-minute chart shows: