Stocks Rally After Shrugging Off Trade Concerns, Dismal German Data
It's a sea of green across global markets, which resumed their rally overnight with European stock and US equity futures following Asian peers higher, shrugging off softer numbers from tech giant Intel and weaker German IFO data, buoyed by strong earnings and optimism from some positive trade-related comments by U.S. officials ahead of next week's meeting, while tech shares rallied. Gold and oil climbed, while the dollar hit session lows following news Trump advisor Roger Stone was arrested for witness tampering.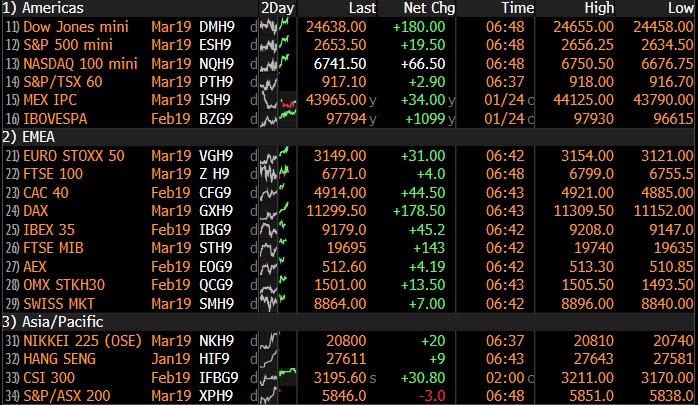 European markets opened higher, led by automakers and tech stocks which rose 1.5% and 1%, respectively. Europe's STOXX 600 index hit its highest since Dec. 4, up 0.8% on the day. Trade optimism received a fresh boost of optimism after Bloomberg reported that a Chinese delegation including deputy ministers will arrive in Washington on Monday to prepare for high-level trade talks led by Vice Premier Liu He.
The euro gained even as German business sentiment measured by the IFO Survey fell for the 5th month in a row to 99.1 its weakest level in almost three years, while the expectations component tumbled to the lowest level since 2012; confirming a recession in Europe's biggest economy is closer than most expect; core European sovereign bonds stabilized after rallying for most of the week.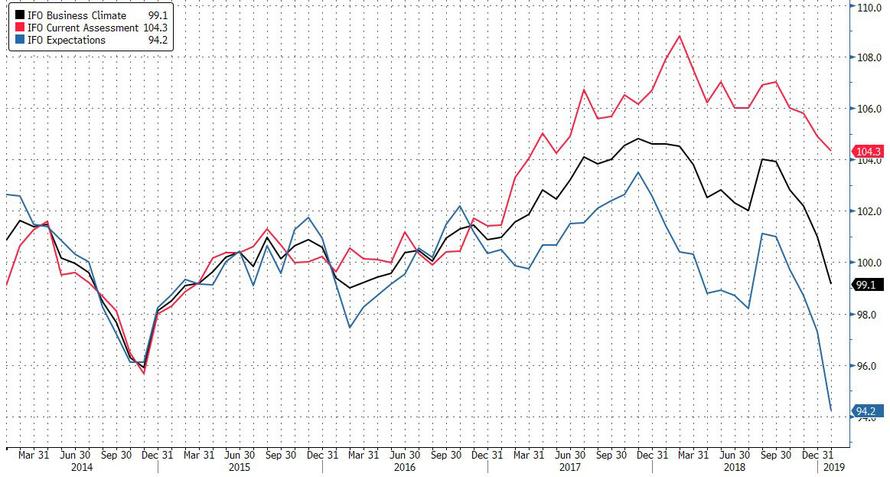 On Thursday, the euro fell to its lowest in six weeks following Thursday's European Central Bank meeting in which Mario Draghi painted an increasingly downbeat picture of the European economy.
Europe's gains came as stocks rose overnight in Asia and the United States on the back of strong earnings from U.S. tech firms. The MSCI All-Country World Index was up 0.3% on the day, but the gauge was set to break a four-week winning streak as weak economic data and cautious soundings from central banks pulled the index half a percent down on the week. Chipmaker and software stocks led the way in Asia, shrugging off weaker 2019 forecasts from Intel, which fell in pre-market trading.
Global stocks are poised for their first weekly drop of 2019, with investors questioning the validity of the post-Christmas rally as the earnings season rolls on. Traders are grasping at straws for hints at progress on trade ahead of discussions next week in Washington, while also assessing the economic impact of the 35-day government shutdown that's hampering the normal flow of official data: "I'm reasonably positive," Axel Merk, chief investment officer at Merk Investments LLC in San Francisco, told Bloomberg TV. "I don't think we have an imminent recession which is usually one of the key ingredients to a real bear market, but it's prudent to diversify."
Markets reversed losses from earlier in the week even though according to the latest Reuters polls of hundreds of economists from around the world, a synchronized global economic slowdown is underway and any escalation in the U.S.-China trade war would trigger a sharper downturn, and despite a downgrade of US stocks to Neutral by Citi.
Offsetting the economic gloom, in a note to clients, UBS Global Wealth Management's CIO Mark Haefele said that rhetoric on U.S.-China trade has become more positive and that Beijing has taken steps to stimulate its economy.
"While economic and earnings growth is slowing, we believe it is unlikely that growth will drop far below trend," he said. "At the same time, there are reasons to be cautious about policymakers' ability to follow through on their rhetoric."
Chinese Vice Premier Liu He will visit the United States on Jan. 30 and 31 for the next round of trade negotiations with Washington. The two sides are "miles and miles" from resolving trade issues but there is a fair chance they will get a deal, U.S. Commerce Secretary Wilbur Ross said on Thursday.
In US political news, President Trump said he wants a prorated down payment on the wall in any short-term government funding bill and that if Senate Majority Leader McConnell and Minority Leader Schumer can reach an agreement on government funding, he would support it. However, US House Speaker Pelosi said the idea of including a down payment on wall is a non-starter and Democrats were said to not support any kind of border wall funds which was made clear to McConnell, while Pelosi was later reported to postpone a press conference concerning counteroffer to President Trump.
In central bank news, ECB dove Benoit Coeure said he sees a lot of political uncertainty and that economic slowdown is a surprise to the ECB, adds jury still out on how persistent slowdown will be and that rate guidance may have to be adjusted at some point. While ECB's Villeroy (Dovish) stated they remain committed to keeping interest rates low and ECB will probably downgrade the GDP forecast in March. Finally, ECB's Vasiliauskas (Hawkish) stated that there is no reason to change ECB guidance at the moment.
In currencies, the dollar fell 0.2%, hitting session lows shortly after news that Trump advisor Roger Stone had been arrested by the FBI. The euro rebounded 0.36% at $1.1345, recovering from a six-week low hit in the wake of ECB President Mario Draghi's downbeat comments on Thursday. The ECB's post-meeting statement for the first time since April 2017 alluded to "downside risks" to growth.
The British pound was also higher, rising 0.2 percent to $1.3076 after brushing a two-month high of $1.3140, lifted after The Sun reported on Thursday that Northern Ireland's Democratic Unionist Party has privately decided to back May's Brexit deal next week if it includes a clear time limit to the Irish backstop.
10-year U.S. Treasurys yields were slightly higher at 2.729% after dropping to a one-week low as pessimism over global growth supported safe-haven government debt.
In commodities, Brent (-0.1%) and WTI (+0.2%) prices are mixed and off of session highs, just under USD 62/bbl and USD 54/bbl respectively; in spite of yesterday's unexpected EIA crude inventory build of 7.97mln vs. Exp. -0.042mln draw. Elsewhere, Russia was China's largest crude oil supplier for December and 2018; with Russia being the largest crude supplier to China for the third year in a row. Gold (+0.3%) is marginally higher on the weakness in the dollar, in spite of the positive risk sentiment reducing safe-haven demand for the yellow metal. Copper prices are benefiting from market sentiment, whilst palladium has lost over 8% since reaching a high of just under USD 1400/oz last week.
Today's publication of durable goods orders and new home sales is postponed by government shutdown. AbbVie and Colgate-Palmolive are reporting earnings.
Disclosure: Copyright ©2009-2018 ZeroHedge.com/ABC Media, LTD; All Rights Reserved. Zero Hedge is intended for Mature Audiences. Familiarize yourself with our legal and use policies every time ...
more