EC

Stocks Are The Cheapest Since 2012
Christmas couldn't come soon enough for investors – at least the market can't fall when it's closed. Record outflows from equity funds accompanied one of the worst Decembers on record (so far). So sharing traditional fare on Christmas Eve (fish) and Christmas Day (turkey) with family and close friends was especially enjoyable. We have much to be thankful for. Insignificantly low on that list but gratifying nonetheless is my children's disdain for Christmas pudding (also known as plum pudding). Years ago I tried to impart to them my love for this very English Christmas dessert of dark, rich fruit cake with heavy cream – but since portions are finite, I didn't press the issue. I now face little competition for a second slice. Appetite well sated, the convivial holiday period reminds that, in spite of falling stocks, long term optimism about America and our economic outlook remains overwhelmingly the only sensible posture.
In October we noted that the Equity Risk Premium (ERP) was still historically wide, meaning that the earnings yield on stocks is sufficiently high relative to bond yields that investors should favor equities (see Bonds Still Can't Compete with Stocks). Since then, stock prices and bond yields have both fallen. 2019 consensus earnings forecasts for the S&P500 have moderated somewhat, with growth of 8.8% versus 10.1% in October. As a result, the ERP has jumped, from 3.4 to 4.3. Stocks are now the cheapest they've been in six years, compared with bonds. In 2012 the ERP was 5.6, and the following year stocks rose +30%.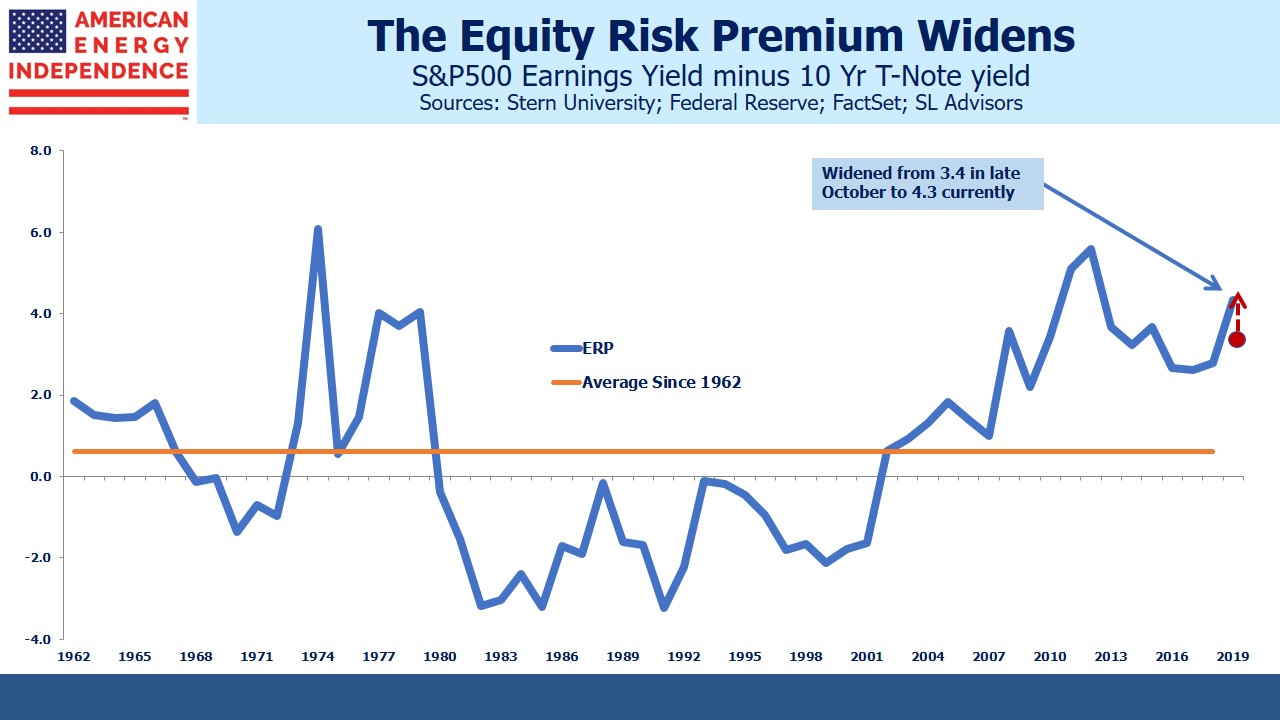 History shows that a relatively wide ERP is associated with above-average subsequent equity returns, and the more extreme the ERP the better stocks do. Today, bonds offer little value compared with stocks.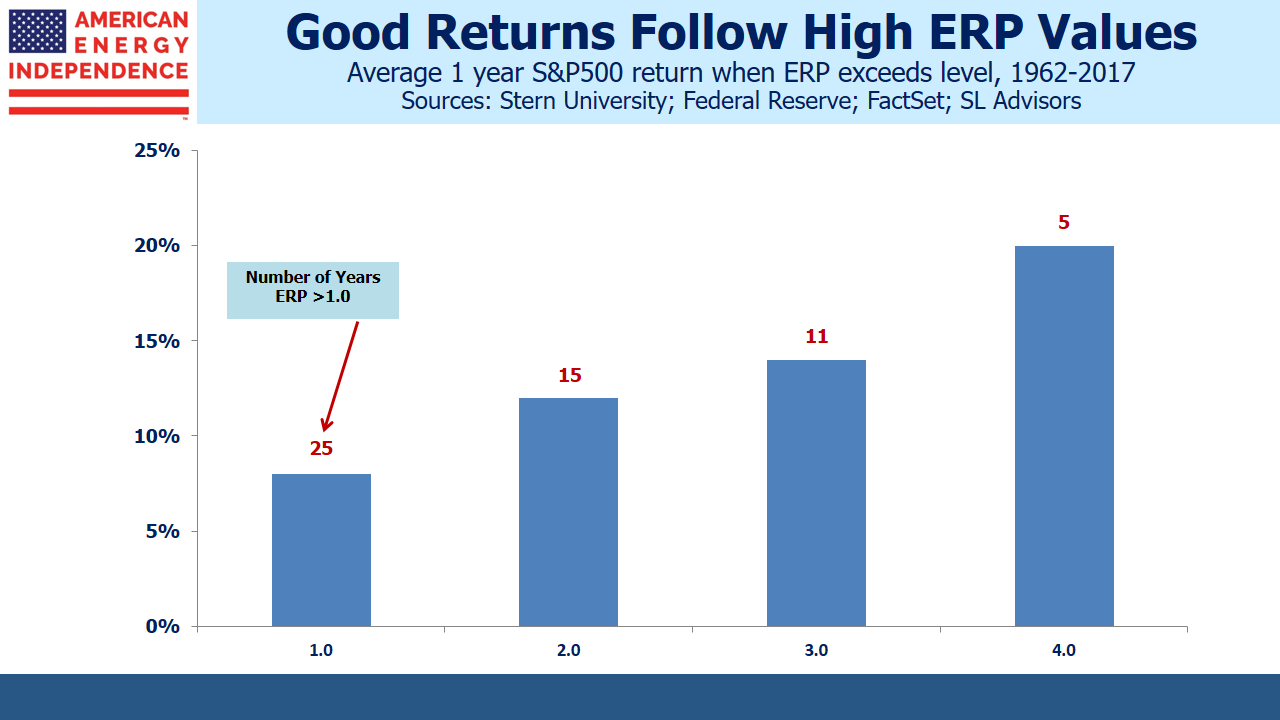 The inputs are bond yields, along with the level and future earnings of the S&P500. Shifts in any of these will alter the ERP. 2019 S&P earnings are currently forecast at $176 by Factset, down from $178 in October. The decline in earnings growth (from 10.1% to 8.8%) reflects developing concerns around global growth, and it's quite possible that downward revisions lag, meaning there's farther to fall. Treasury Secretary Steve Mnuchin interrupting his golf vacation to assure us that he'd made a few calls and can confirm banks are liquid didn't help either. However, stocks have fallen so far so fast that earnings forecasts would have to swing to negative to bring the ERP back to where it was in October.