SPDR S&P 500 Hit By Coronavirus Resurgence: Keep Calm And Buy The Dip
SPDR S&P 500 (SPY) suffered its sharpest decline ever during March, falling at record speed as investors panicked due to the COVID-19 pandemic. This abrupt selloff was then followed by a vigorous rally on the back of unprecedented economic stimulus programs and a favorable evolution of the sanitary crisis in key areas such as New York.
Unfortunately, there has been an increase in daily new COVID-19 cases in the U.S. over the past two weeks. This increase cannot be explained by new more testing alone, because the percentage of positive tests has not declined by much, so the most probable explanation is that we have both more tests but also more cases.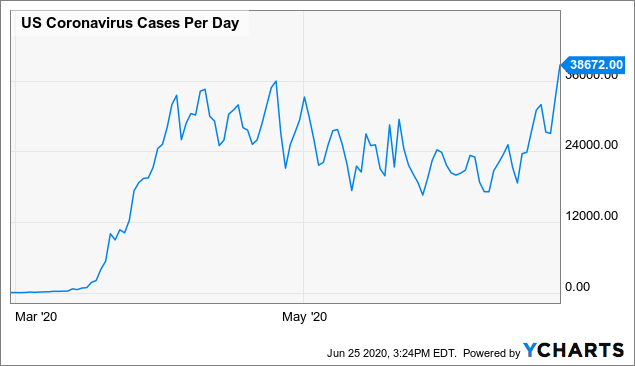 Data by YCharts
In this context, SPDR S&P 500 made a short-term top around $320 on June 8, and price action has been quite weak since them. Many investors are wondering if SPDR S&P 500 is just taking a rest after the strong rally from the March lows or if we are in the first phases of a new bearish move, perhaps even back to the lows of the year.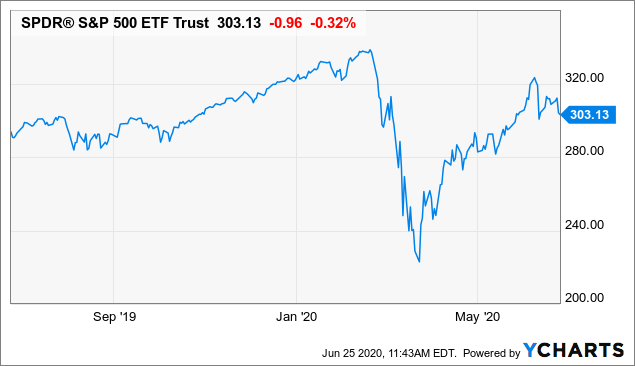 Data by YCharts
The future is always a matter of probabilities as opposed to certainties. We need to dynamically adjust our market view and our risk exposure depending on how the information evolves. However, based on the evidence currently available, a price correction looks much more likely than a new bear market for SPDR S&P 500.
How The Sanitary Crisis Is Evolving
As the economy gradually reopens, and also considering the recent protests and political rallies, new waves of contagions are not something completely unexpected. It is important to note that the increases in contagions have been concentrated in areas such as California, Texas, and Florida.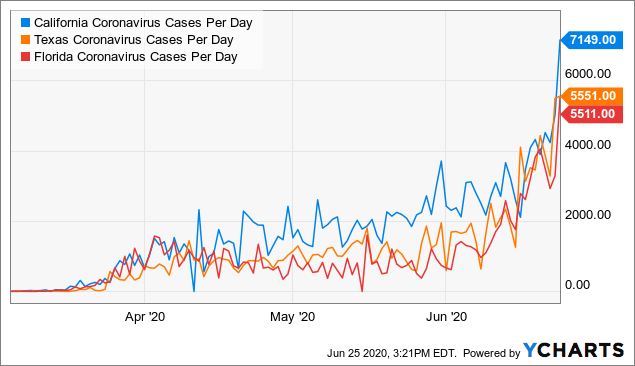 Data by YCharts
On the other hand, areas such as New York, which was the epicenter of the pandemic in the U.S. initially, are showing clear and consistent improvements.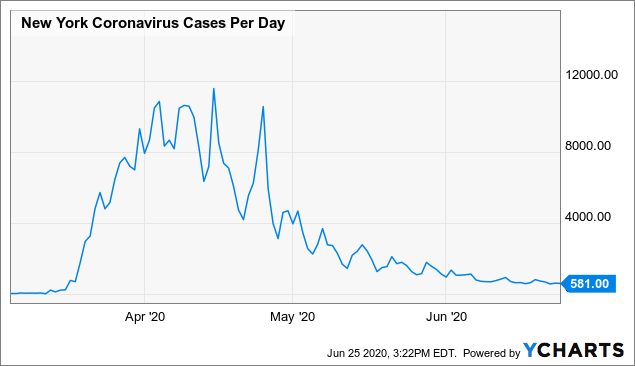 Data by YCharts
Hospitalizations have started to increase somewhat, and especially in the more affected states. This clearly deserves close attention, but the situation is not out of control at the whole country level.
Disclosure: I/we have no positions in any stocks mentioned, and no plans to initiate any positions within the next 72 hours.
Disclaimer: I wrote this article myself, and it expresses my ...
more