SP500 Intrinsic Value Update
"Davidson" submits:
The Value Investor Index for the SP500 shifted a little higher with the drop in recent 12mo Trimmed Mean PCE readings. The Value Investor Index is calculated with inflation in the denominator, lower inflation justifies a higher SP500. The drop in the SP500 to 2346 on Dec 26th made the premium to the Value Investor Index at 2317 less than 2%. This was a period of elevated buying by corporate insiders who are deemed the most knowledgeable of Value Investors. Since Dec lows, the SP500 has recovered just over 19%.
(Click on image to enlarge)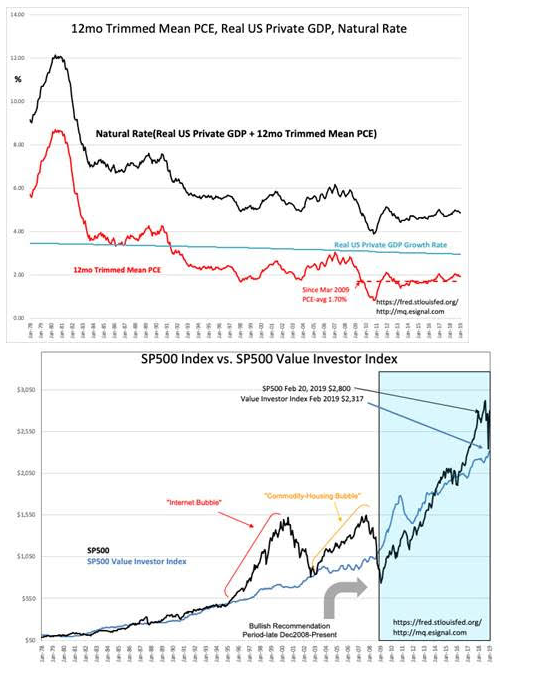 Fears of another 'Great Recession' flooding the media have evaporated with many companies reporting positive earnings' surprises. The 12mo Trimmed Mean PCE has recently fallen from slightly over 2% to 1.9%. Inflation has not accelerated even with the recent rise in government spending, the historical correlation. This may be due to government spending being monitored by the current administration for the benefit received. If so, careful spending is welcome, as it is not the historical pattern. Time will tell.
Currently, the SP500 is fairly valued and does not reflect levels of speculation associated with market and economic peaks which recent history places at a 60%-100%+ premium to the Value Investor Index. Note: the Value Investor Index is primarily used to identify market entry levels for Value Investors and not market tops.
Disclosure: The information in this blog post represents my own opinions and does not contain a recommendation for any particular security or investment. I or my affiliates may hold positions or ...
more