Soaring Inflation & Supply-Chain Disruptions Spark 'Surge' In US PMIs
After a 'mixed' picture in December (Services down but Manufacturing up - due to the fallacy of lockdown-disrupted supply-chains being a sign of strength?), analysts expected coordinated weakness in preliminary January data, catching down to the slump in 'hard' economic data in the last three months. However, amid drastic lockdowns across the nation and daily headlines about just how bad life is in America, both US Services and Manufacturing exploded higher in January
Markit US Manufacturing PMI 59.1 vs 56.5 exp vs 57.1 prior - a record high!

Markit US Services PMI 57.5 vs 53.4 exp vs 54.8 prior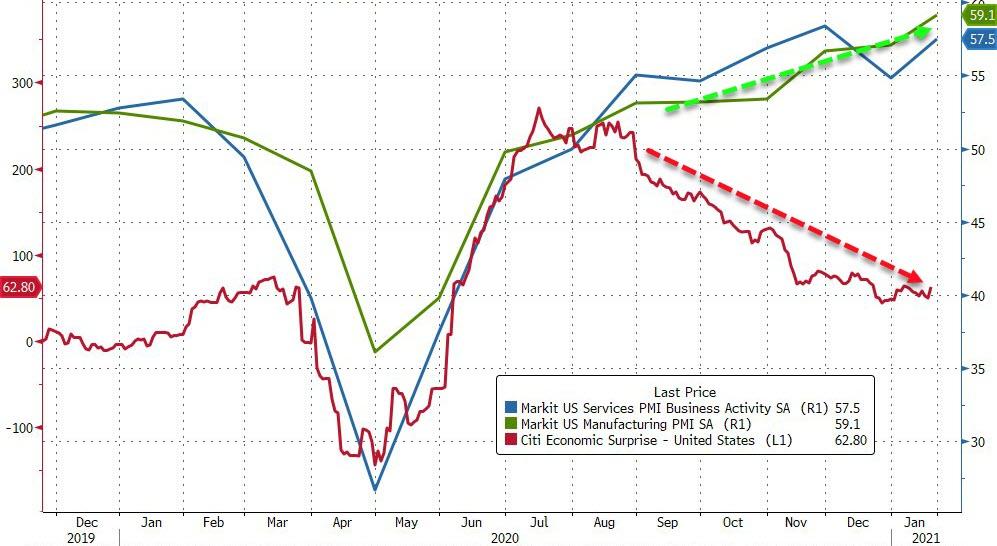 Source: Bloomberg
All driven by soaring inflation:
Meanwhile, inflationary pressures intensified as supplier delays and shortages pushed input prices higher. The rate of input cost inflation was the fastest on record (since October 2009), as soaring transportation and PPE costs were also noted. A number of firms were able to partially pass-on greater cost burdens, however, as the pace of charge inflation quickened to a steep rate. The impact was less marked in the service sector as firms sought to boost sales, but manufacturers registered the sharpest rise in selling prices since July 2008.

The rate of input price inflation ticked up further in January, amid higher transportation and PPE costs. The rate of increase was the fastest on record (since data collection began in October 2009)
However, the overall rate of growth eased from that seen in December, as service providers indicated a slower expansion in new orders following a rise in virus cases and greater restrictions on business operations. Nonetheless, the upturn among manufacturers accelerated and was the steepest since September 2014.
This pushed the US Composite PMI to the best in the world...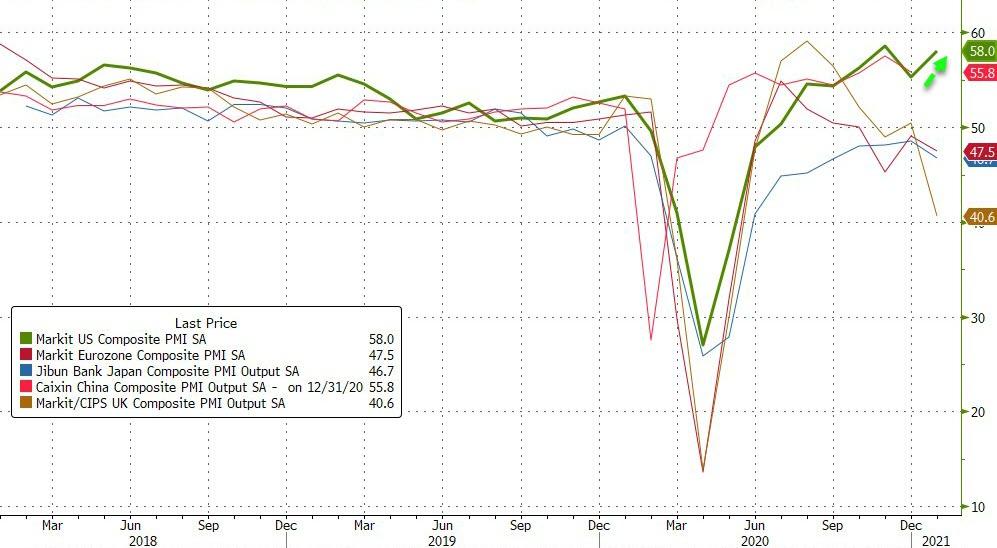 Commenting on the PMI data, Chris Williamson, Chief Business Economist at IHS Markit, said:
"US businesses reported a strong start to 2021, buoyed by hopes that vaccine developments will mean the worst of the pandemic is behind us, and that the new administration will provide a stable and supportive environment for stronger economic growth. Output growth accelerated in January to the second-fastest in almost six years, and business optimism about the year ahead surged higher. Over the past three months, business sentiment has been running at its highest since the start of 2015.

"However, capacity constraints are biting amid the growth spurt. Not only have the last two months seen supply shortages develop at a pace not previously seen in the survey's history, but prices have also risen due to the imbalance of supply and demand. Input cost inflation consequently also hit a survey high and exerted further upward pressure on average selling prices for goods and services.

"There was also disappointing news on the labour market, as near-term concerns over the impact of the pandemic, notably on demand for consumer-facing services, and rising costs led to the weakest employment reading since July."
Disclaimer: Copyright ©2009-2021 ZeroHedge.com/ABC Media, LTD; All Rights Reserved. Zero Hedge is intended for Mature Audiences. Familiarize yourself with our legal and use policies every ...
more