Seven Biotech Names On The Upswing: 2016 Small-Cap Biotech Watchlist Update
Biotech stocks—and the stock market in general—took a dive at the beginning of 2016, headed down on macroeconomic factors such as financial instability in China. The Life Sciences Report's 2016 Small-Cap Biotech Watchlist was not immune to that movement, heading into negative territory almost from the moment the selected companies were introduced. But as the market has shown signs of rebounding, so too has the Watchlist.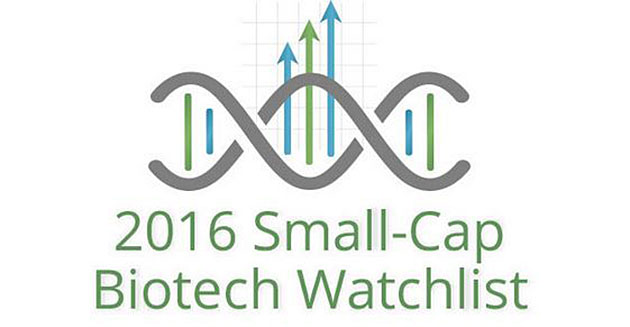 The Nasdaq composite index hit its lowest point year-to-date in mid-February, down ~15%; likewise the NASDAQ Biotech Index was off ~29% over the same time frame. As both indices have bounced back toward positive territory, so too has the Small-Cap Biotech Watchlist, posting an increase of about 17% from its low.
As can be the case with all biotech baskets, a single company posting a single loss can skew the big picture. Of the 22 companies on the Watchlist, seven have posted significant gains in spite of the overall market drop. The others have begun to climb back toward the black, regaining losses suffered in the overall winter downturn.
The 2016 Small-Cap Biotech Watchlist Portfolio Tracker
Watchlist companies that have shown marked improvement in share price from the mid-February low include Agenus Inc. (AGEN:NASDAQ), a company developing cancer immunotherapeutics, which has shown steady stock-price growth since the beginning of March. The stock of Asterias Biotherapeutics Inc. (AST:NYSE.MKT) has also been on the rise since the end of February, when the company, which is focused on stem cell therapies for spinal cord injury and cancer, announced a positive end-of-Phase 2 FDA meeting for AST-VAC1, a treatment for acute myeloid leukemia.
Evoke Pharma Inc. (EVOK:NASDAQ), focused on therapies for gastrointestinal disease, is up nearly $1/share following its mid-February announcement that data from a successful study of drug candidate EVK-001 were accepted for presentation at Digestive Disease Week 2016. CorMedix Inc. (CRMD:NYSE.MKT), working on a catheter lock solution for the prevention of catheter-related blood infections, has seen its stock increase nearly $1/share since late February, when it presented a report on its 2015 milestones and 2016 objectives.
Disclosure:
1) Tracy Salcedo compiled this article for Streetwise Reports LLC, publisher of more