Pipelines Are ESG
ESG is in the eye of the beholder. There are multiple lists of stocks that score well on Environmental, Social and Governance metrics. My favorite is Lockheed Martin (LMT), a perennial member of the Dow Jones Sustainability Index. If building weapons to blow up people and property can be done in a sustainable way, then ESG is a generous mistress (see Pipeline Buybacks and ESG Flexibility).
There are currently 138 ESG ETFs traded on U.S. markets, with almost $90BN in AUM. The most important thing about ESG investing is that it's growing faster than the market. A cynic might regard the rush by CEOs to demonstrate ESG-ness as driven by asset flows rather than altruism. ESG-driven investors can note with satisfaction the market-beating performance of such funds. The largest ESG ETF is the iShares ESG Aware MSCI USA ETF (ESGU), with $15BN in AUM.
The pipeline sector offers 7% yields, growing free cash flow and strong recent performance. It has been out of favor more often than not in recent years, but Joe Biden's arrival at the White House has ushered in rising energy prices with less growth spending (see Is Biden Bullish For Pipelines?). Investors are warming to policies that encourage parsimonious funding of new projects, something that eluded them during Donald Trump's presidency.
Some may avoid pipelines because of historic volatility, although operating performance last year was scarcely affected by COVID. The energy transition deters others, although a pragmatic desire not to wreck the economy means natural gas retains its bright future as part of the solution to reducing emissions. A third cohort thinks fossil fuel companies are bad, even though it's how the world has reached today's living standards. There's a belief that the energy sector has much to apologize for.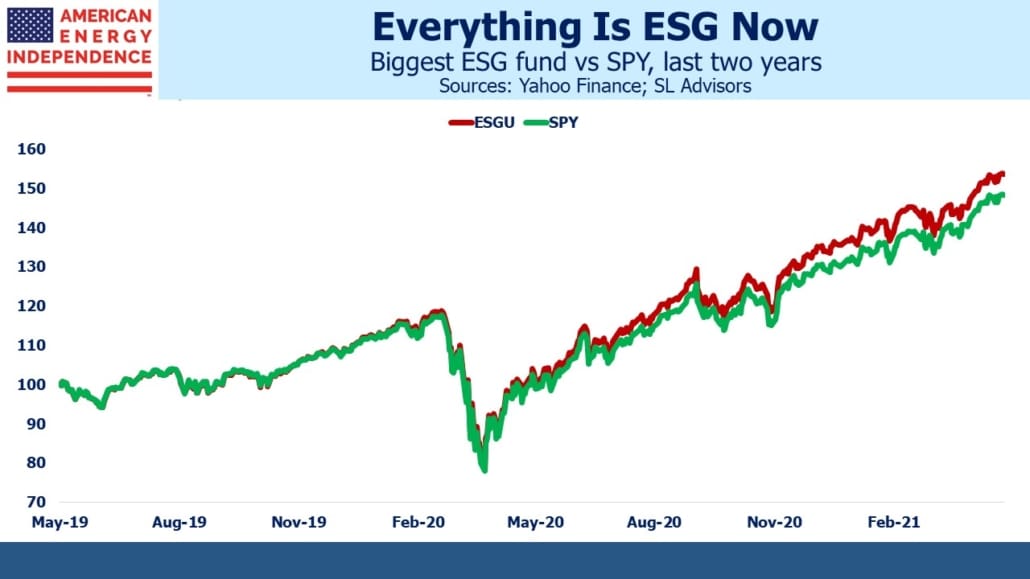 It may surprise this last group to learn that ESGU has a 2.5% weighting to energy, virtually indistinguishable from the S&P500's 2.6%. ESGU holds Kinder Morgan (KMI), Cheniere (LNG), Oneok (OKE), Targa Resources (TRGP) and Williams Companies (WMB), all components of the American Energy Independence Index. Relative to the S&P500 it has modest overweights in Chevron (CVX) and Exxon Mobil (XOM). It also overweights Nextera Energy (NEE), one of the largest producers of electricity from natural gas.