Payrolls: Neither Good Nor Bad, Just More Uncertain
The BLS giveth and the BLS taketh away. That's not really what has happened, of course, but for many, it can seem that way. February's payroll report obviously stands in striking contrast to January's. The latter was a blowout, over +311k (revised), hyped near and far as proof of decoupling, the US economy the only clean shirt. In comes the latest number, equally a blowout if in the opposite direction, +20k, poof goes the narrative.
Sure, there was snow and lingering shutdowns and all sorts of factors – just like there are in each and every month. The real truth of the matter is the payroll reports are noisy. Just look at the confidence intervals (at only 90%) for the monthly change. What the BLS actually says with its headline, +20k in February 2019, is that if they resample the data from the beginning 100 times, in 90 of them they would expect the net change to be somewhere between -95k and +135k.
You should never take a single month's number too seriously. With that in mind, you should always expect the good blowout months to receive undue attention and be made to inappropriately extrapolate a booming economy.
What we care about is the average across several months.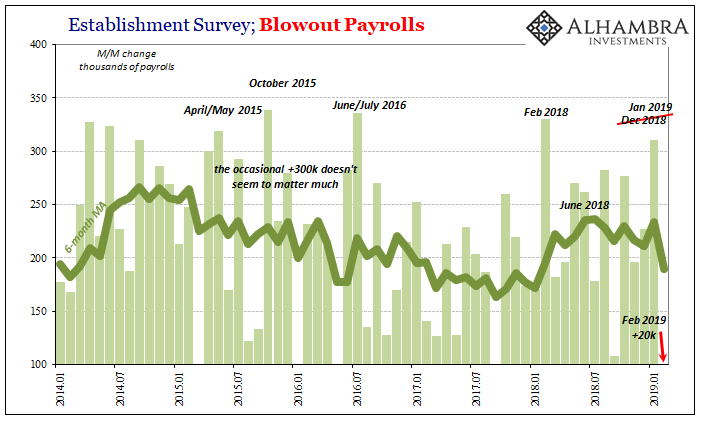 More and more we are starting to see the outlines of some softening in the labor market. We can't really know by how much because of both the noisiness of the data (even spread out across something like a rolling 6-month interval) as well as what revisions might due to the estimates if things really are turning out badly.
Even if we leave out February's number, or account for it being revised higher over the next few months (which is as likely as not), the average headline change has stalled and the best case has very gently reversed. The second half of 2018 for the Establishment Survey is very reminiscent of the second half of 2014. Big surprise.
As of the latest benchmarks, it was March 2015 which introduced Euro$ #3 as a possibility in the payroll data. You can see it plainly on the chart above, though I hadn't marked it, the month which moved the average lower and started to indicate the slowing of employment growth which would last several years. It was the ultimate product of a very near recession stain on the very dirty US economic shirt.
Disclosure: This material has been distributed for informational purposes only. It is the opinion of the author and should not be considered as investment advice or a recommendation of any ...
more