Our World This Week: The Cat's Out Of The Bag
INFLATION: THE CAT IS OUT OF THE BAG
Over in the US, the core CPI just hit the highest level in nearly 30 years:
Not to mention the fact that food prices are up 40% in some cases over the past year.
But don't fret. The pointy-shoed experts have it all under control (or so they say):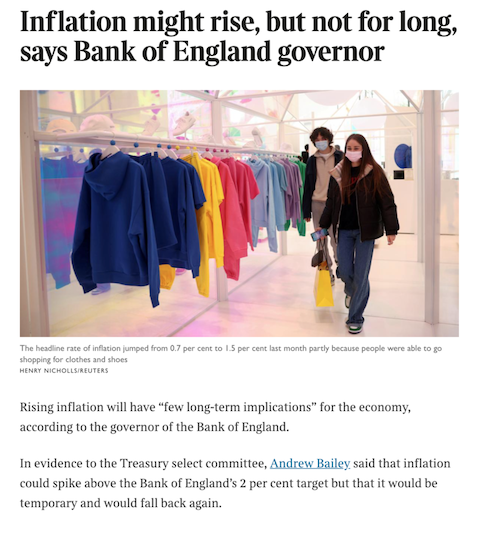 As far as markets go, the "irony" of the prevailing belief that any inflation will be temporary is that the weighting to sectors which are the best inflation hedges (commodities) is the lowest in about 100 years. In other words, we are at the point in history in which investors are the least prepared for inflation.
---
THE NEXT LEG UP IN GOLD
These days, the average investor is too enamored chasing the next Dogecoin, hot SPAC deal, or hype-up growth stock to even bother paying attention to gold, even though the shiny metal is hovering near all-time highs. But, as Resource Insider's Jamie Keech explains in his new article, the price of gold is destined to soar even higher, thanks to two powerful tailwinds:
"Today, at $1,900/oz Au, we're still in the nascent stages of a buyer's market, though few have woken up to this fact.

You don't need a Ph.D. in economics to understand what's driving this trade. You just need to understand two simple concepts:

Real Rates; and
The U.S. Fiscal Deficit."
---
CORPORATE VIRTUE SIGNALING
We highlighted the virtue signalling hypocrisy of big brands in Insider Weekly late last year. As a refresher, at the time, The North Face rejected an order for jackets from an oil company simply because it was an oil and gas company. The way we saw it then (and still do):
The truth is, take away oil and coal and you take away North Face's products. What a bunch of virtue signalling twats. We have had a guts full of this hypocrite world we live in. We are going to profit handsomely from it, but to be honest we'd be content without the profit and a world not completely mad.
Disclaimer: This is not intended to render investment advice. None of the principles of Capex Administrative Ltd or Chris MacIntosh are licensed as financial professionals, brokers, bankers or even ...
more