Not Exactly Paradox, Reflation In Oil Deflation In Copper
The PBOC really needn't have conducted the last few of its RRR raises. By the time they were in the books, Chinese inflation was already well underway toward being tamed. Though their CPI wouldn't register for a few more months still, peaking in July 2011, commodities had already turned decidedly downward.
Copper went first, hitting its high on Valentine's Day. Oil would keep going further still, but ultimately turning around in May 2011. By the time the sharp liquidations rocked global markets (again) in late July and early August, these were already warnings as to the eurodollar erosion underneath the whole time.
While that's pretty straightforward, it's what happened after that is interesting and perhaps relevant to today. From a unified deflationary front, copper and oil began to part ways later in 2011. Both rebounded from the depths of serious selloffs through October that year, but there was far more enthusiasm within the crude market than for copper.
Over the next several years, copper would continue to display the deflationary trend while WTI sort of went sideways to slightly lower. The result was a pretty stunning dichotomy, this divergence from the two most important economic commodities around. That it lasted as long and got as far apart as it did I believe tells us something useful.
(Click on image to enlarge)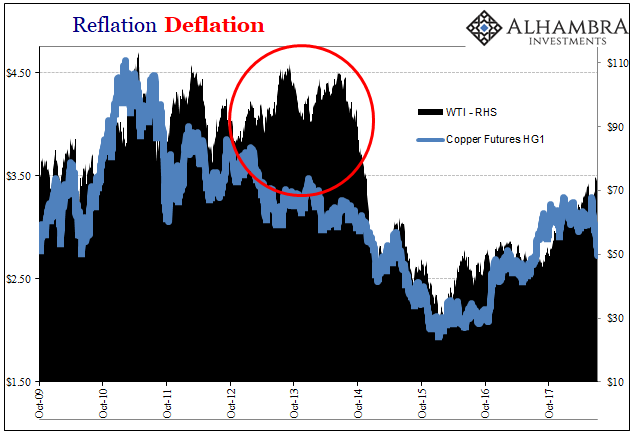 (Click on image to enlarge)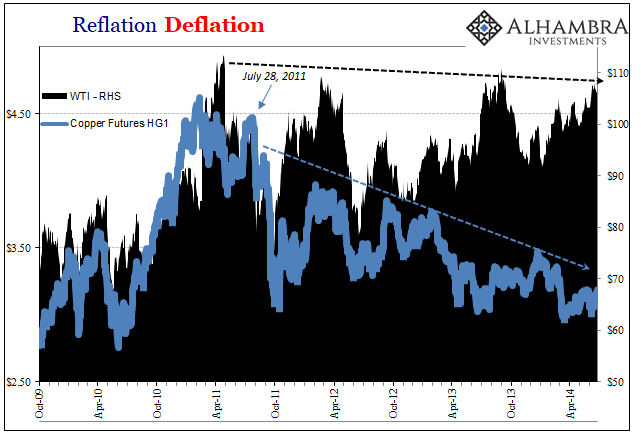 I don't think it was quite as I've drawn and described them above, either, particularly the oil part. Rather, this post-2011 period should be divided further still into two separate trends; one more consistent with copper and the other moving opposite to it.
(Click on image to enlarge)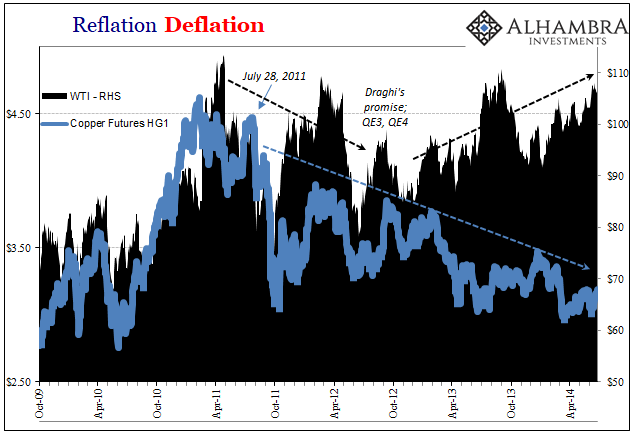 The net result is the overall sideways pattern of crude oil peaks, but it's a very different interpretation given what's in between.
Recall what was going on in 2012 beyond central bankers and their constant activity. Europe fell into outright recession. The US only narrowly avoided one. China experienced a sharp slowdown that pushed its economy from one looking like it would easily achieve pre-crisis growth levels to one where there was serious doubt as to when that couldhappen.