Natural Resource Partners LP Is A Strong Buy
Natural Resource Partners LP (NRP) is a master limited partnership that engages principally in the business of owning and managing coal royalty properties in the three major coal-producing regions of the United States.
Recommendation: We continues with a STRONG BUY recommendation on Natural Resource LP for 2017-01-03. Based on the information we have gathered and our resulting research, we feel that Natural Resource LP has the probability to OUTPERFORM average market performance for the next year. The company exhibits ATTRACTIVE P/E Ratio and Momentum.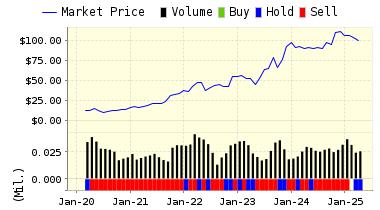 ValuEngine Forecast

Target
Price*

Expected
Return

1-Month

33.71
1.69%

3-Month

33.51
1.09%

6-Month

34.06
2.74%

1-Year

39.92
20.43%

2-Year

28.58
-13.80%

3-Year

21.86
-34.05%
Market Overview
Summary of VE Stock Universe

Stocks Undervalued

34.26%

Stocks Overvalued

65.74%

Stocks Undervalued by 20%

14.15%

Stocks Overvalued by 20%

30.97%
Sector Overview