Natural Gas Is November's Winner
Citibank published some interesting research recently, making the case for higher natural gas prices in the months ahead. Oil production in the U.S. has fallen sharply as a result of Covid. Gasoline demand has recovered from its low point in April, but remains about 9% below normal.
Natural gas demand has shown much less impact, because it's not used in transportation. The chart shows that it's running the same as a year ago, although last week power consumption dipped. Power outages from Tropical Storm Isaias may have been partly to blame. (UNG)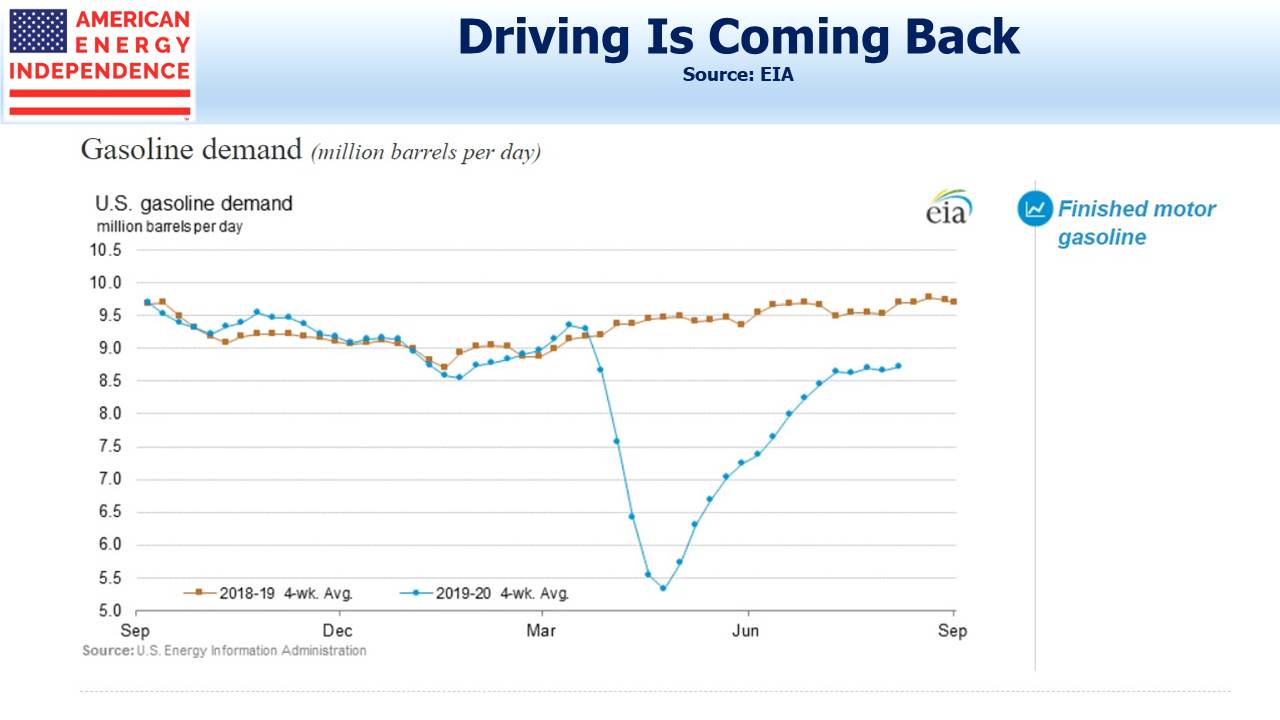 Citi's forecast of higher natural gas relies on two factors: the drop in oil production has also reduced output of associated gas, which was most common in the Permian in west Texas. Oil prices drive the economics of drilling in that region. The resulting gas production was pressuring prices as well as causing more flaring (watch Stop Flaring).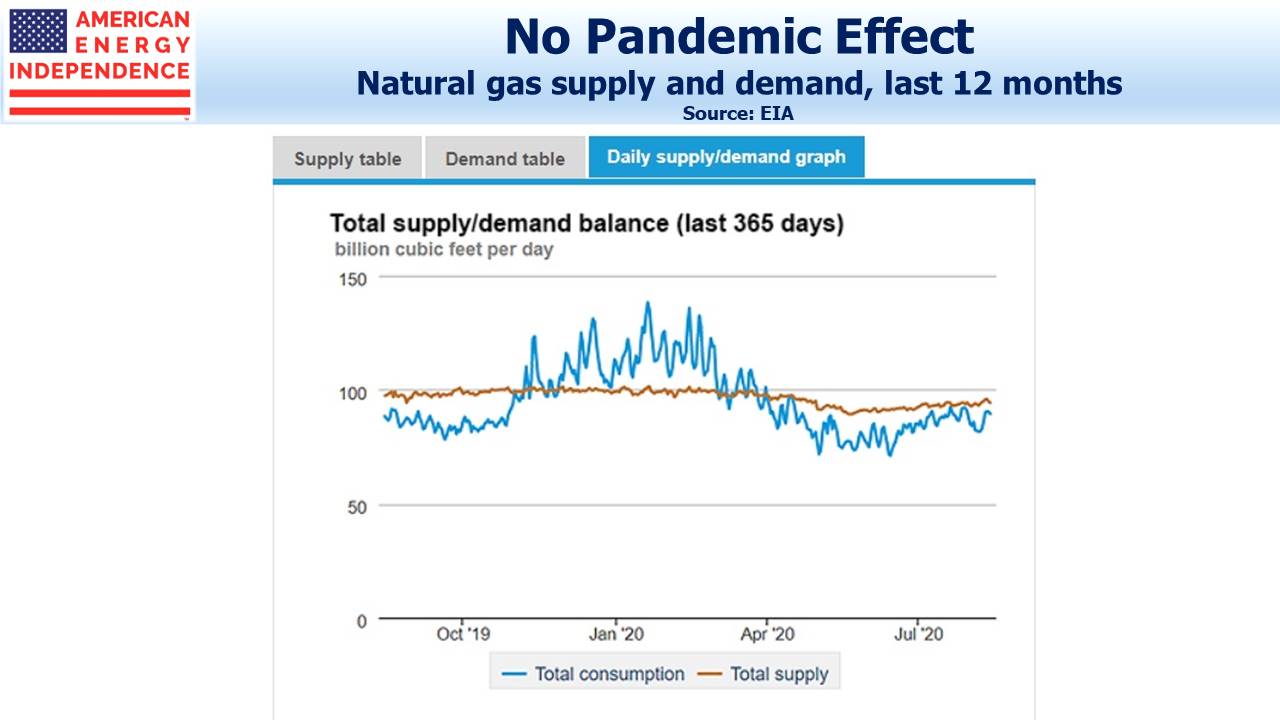 The second factor relies on a Biden administration, which is looking the more likely outcome based on recent opinion polls. The thinking is that a Federal initiative to lower CO2 emissions will start with accelerating the phase-out of coal-burning power plants. This trend has been under way for several years, and represents the easiest steps an incoming President Biden could take to fulfill campaign pledges on clean energy.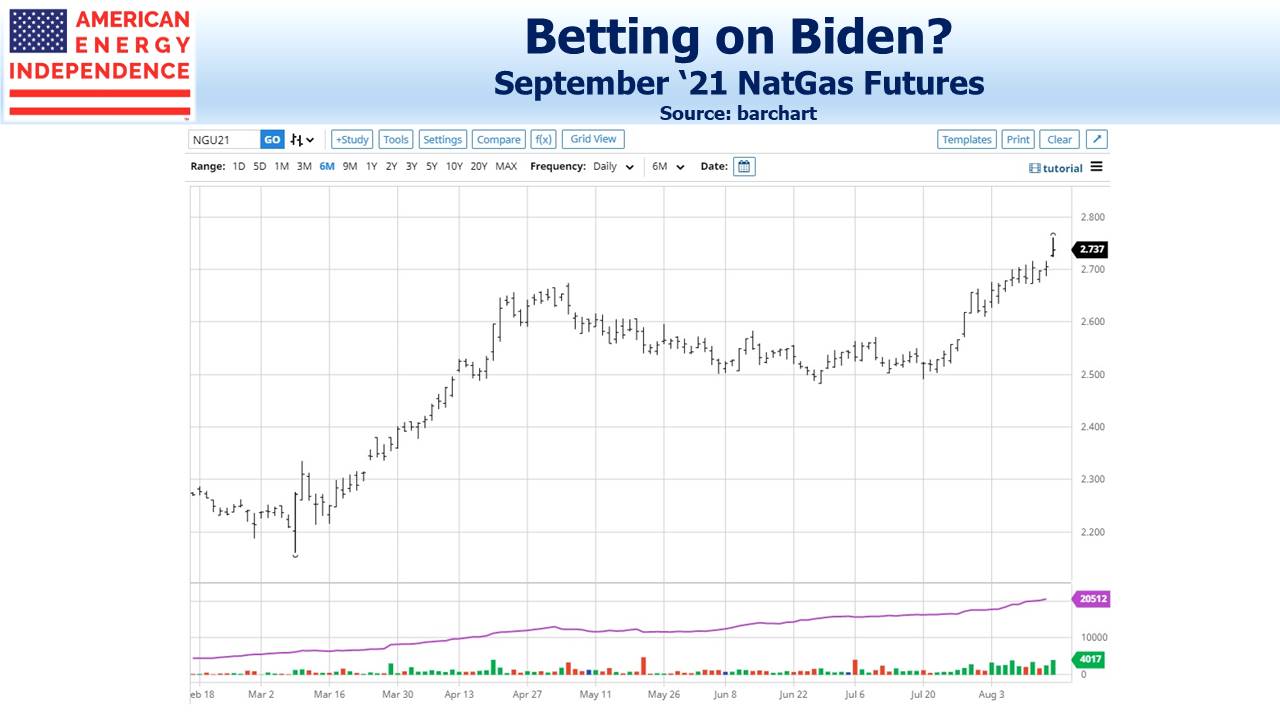 Deferred natural gas futures pushed higher in recent weeks, reflecting higher prices a year out at the same time as opinion polls continue to show Biden in front.
Natural gas power plants typically release half the CO2 emissions of coal for equivalent energy production, and are also free of particulate matter and other pollution such as nitrogen oxides, sulfur dioxide, particulate matter, mercury and other hazardous substances that the local population inhales.
The Biden Plan for Climate Change targets "net-zero emissions no later than 2050." However, the Biden-Sanders Unity Task Force says, "Democrats commit to eliminating carbon pollution from power plants by 2035." A Biden administration would be under pressure from extreme liberals to adopt the more aggressive target, which Citi (C) believes is likely.
The information provided is for informational purposes only and investors should determine for themselves whether a particular service or product is suitable for their investment needs. Graphs and ...
more