Nasdaq Price Forecast: Time To Pile In For New Record Highs?
The Nasdaq price had a bit of a downer yesterday as it stopped an impressive rise to the 15120 level by dropping fast to the 14956 mark. Although several of the top US tech companies reported impressive results, the Nasdaq and other indices were still considerably down, perhaps in anticipation of a hike later on.
Today's US GDP announcement is undoubtedly the highlight of the day and is much awaited. If this exceeds expectations, then we might well be in for a considerable rally in the Nasdaq price as it seeks to reach new highs. However, there remain other dampers on a bullish run for the Nasdaq price including the interminable question of high inflation.
Short Term Forecast For Nasdaq Price – Another Hike To 15K?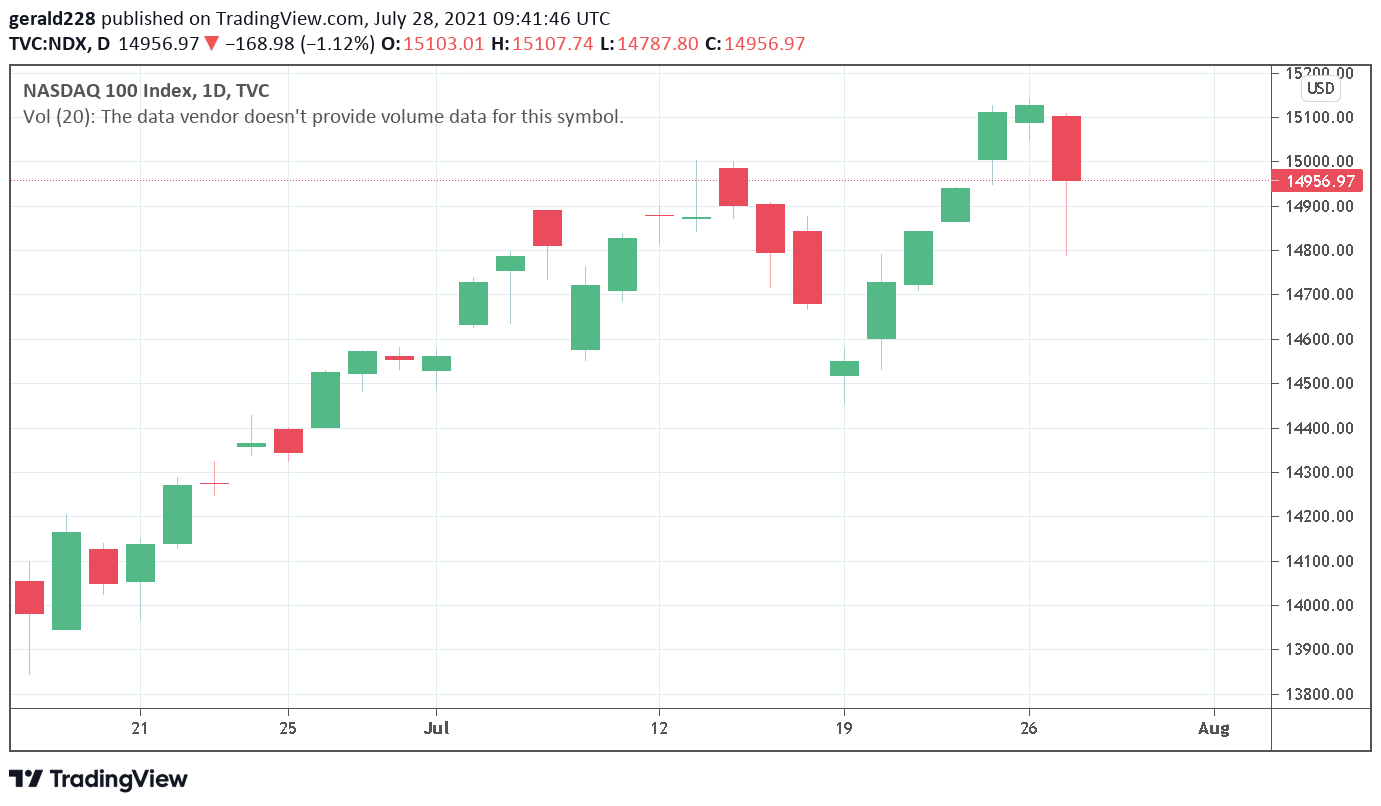 With economic indicators showing that the US economy is ready to continue expanding considerably, the Nasdaq price should once again supersede the 15K mark easily over the next days. One has to consider that the NDX was up for six straight sessions in a row and jumped by around 4% over this period.
The Nasdaq price was at the 14558 mark on July 19 and then began its inexorable ascent to the 15120 level on 26 July. That's a rise of 4.5% which shows the bullish tendency of the index. The retracement on 27 July could also have been profit-taking by investors who were looking for consolidating their short-term gains.
The next few sessions should prove crucial to demonstrate what direction the market will take. With the US GDP announcement imminent, it will be interesting if bulls continue to propel the Nasdaq price into record territory. Bears could however also chime in and keep suppressing the price level down to the 14500-14800 mark but that looks highly unlikely at this point.
With the Nasdaq at record highs, it remains a distinct possibility that the upcoming Q2 earnings could continue to push prices even higher. Incidentally, however, Amazon shares have been negative more than 60% after its earnings announcements. The market usually reacts positively to results from Apple, Microsoft and Google so it remains to be seen what the Nasdaq price will make from the Apple results.
Disclaimer: Foreign exchange (Forex) trading carries a high level of risk and may not be suitable for all investors. The risk grows as the leverage is higher. Investment objectives, risk ...
more