Modeling The USGC Refining Market
I had planned to continue to discuss the impact of oil prices beyond the obvious. In the first report on the impact of oil prices in the non-obvious areas, I discussed the likely impact to the Renewable Fuel Standards. I was hoping to follow up that report with the impact on condensate value as a result of the crude oil collapse. However, this has lead us into reviewing our refining models and also how the refining industry will likely have to evolve to handle the RFS.
As with many things in the energy market, you start with a hypothesis and investigate it only to be compelled to look at other areas in the market place. We are almost ready to release our first oil product, Oil Market Analysis (OMA), but first we had to make sure the refining models represented the USGC and was designed to incorporate the impacts of RFS. In this article, I have decided to go ahead and give you a tour of my problem solving methods when it comes to modeling USGC Refining Markets.
A key path for how I analyze the energy markets is to take a walk back in time.
Historical Changes in Refining
The yields of the USGC refiners have changed. Distillate yields rose while gasoline yields had the largest drop off.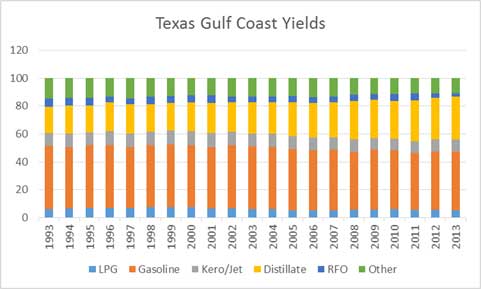 This was not a result of refiners' strategy from the 90's nor was it because of the crude slate changes. The primary driver for this change came from the market price change starting in 2005.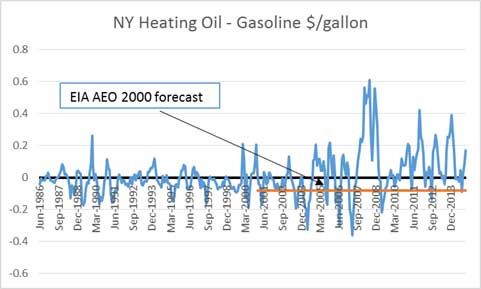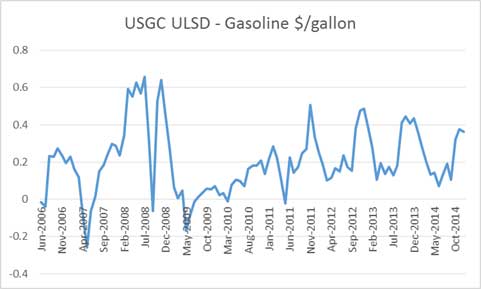 The EIA Annual Energy Outlook (AEO) was forecasting distillate spread to gasoline to be negative until the 2010 AEO release. The current AEO 2014 shows the spread averaging over $0.3/gallon. As with all free markets, they adapt to the pricing incentive. This change necessitates the adaption of the USGC refining configurations. This is also one of the reasons condensates are poor crudes relative to other crudes in the market as the distillate yield is very small.
At All Energy Consulting we understand supplying you with forecasts is only one step of the process and may even be the smallest value of the process. The real value comes from the interaction with ...
more