Mispriced Delusion
Recency bias is one thing. Back in late 2006/early 2007 when the eurodollar futures curve inverted, for example, it was a textbook case of mass delusion. All the schoolbooks and Economics classes had said that it couldn't happen; not that it wasn't likely, it wasn't even a possibility. A full-scale financial meltdown was at the time literally inconceivable in orthodox thinking. A global panic, some sort of unserious joke.
Because of that hardened attitude, what followed was an almost perverse emotional response from those who believed in this. Central banks couldn't possibly let things go so astray. Yet, the more everything was ripped apart the more fervently they held to the same belief. Bernanke said subprime was contained and only a very few responded with "how would he know?"
If there are rationalizations that hold up asset bubbles, these rationalizations put them to shame.
Again, it was recency bias in 2008 so what is everyone's excuse in 2018? No one can make the case that bad things don't happen because since 2007 bad things keep happening. There's now a mappable regularity to it.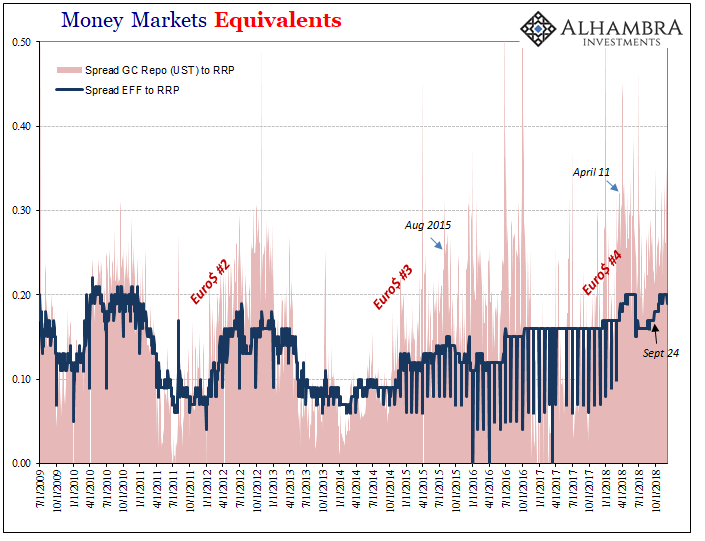 Eurodollar futures are again front and center right where they should be. They've been arguing against this whole "strong" economy nonsense all along, even during the rip-roaring inflation hysteria of late 2017. The flat UST curve was nothing compared to the eurodollar futures curve.
Now the curve is substantially inverted and in the short run contracts. Predictably, denial is rampant nurtured by what is an intellectual disease.
Money markets appear to have completely nixed the idea of Federal Reserve interest-rate hikes in 2019, although the outlook may not be so simple.

Some say the recent repricing may have gone too far, and one observer suggests that the signals across different fixed-income markets are more mixed.
Note the word "mixed" common in use again. I wrote a few days ago what the word really means in this context:
Disclaimer: All data and information provided on this site is strictly the author's opinion and does not constitute any financial, legal or other type of advice. GradMoney, nor Jennifer N. ...
more