Masimo (MASI)

On June 11, 2015, I purchased shares of Masimo (MASI) in my Covestor Growth and Momentum model at a price of $36.67. Masimo (MASI) closed at $38.48 down $(.13) today of (.34)% (7/6/15). Let's take a closer look at this company and I shall share with you some of my thoughts about what was behind my decision to buy.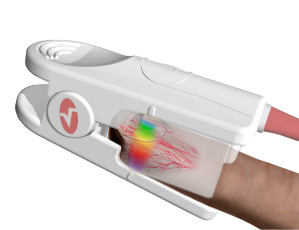 According to the Yahoo "Profile" on MASI, the company
"...develops, manufactures, and markets noninvasive monitoring technologies worldwide."
The company has devices that moitor oximetry, oxygen saturation, pulse rate, perfusion index, respiration rate, and even non invasively measure hemoglobin and EEG signals--among other abilities.
When I first came across this company, I immediately thought of the recent Apple Watch and speculation about non-invasive measurement of health data. In fact, Apple has actually hired some personnel from Masimo for the Apple Watch. I actually am not sure how this helps Masimo to lose one of the medical specialists, but clearly the company is in the right place with the right type products that may well have increasing application.
For the most part, I don't really like story stocks. I like to pick stocks with real earnings, real revenue growth and bullish price charts. (Don't we all?) So let's take a look at the numbers that MASI has recorded.
On May 6, 2015, Masimo reported 1st quarter results. First quarter profits came in at $20.5 million or adjusted earnings of $.41/share exceeding Zacks estimates of $.36/share. Revenue for the quarter came in at $154.5 million, also exceeding Zacks estimates of $152.1 million. Revenue for the quarter increased 11% over prior year's results and adjusted eps increased to $.41/share from $.31/share last year. The company also raised guidance for 2015 results to $608 million in revenue (from previous guidance of $605 million), and earnings to $1.33/share (from previous guidance of $1.30).
Disclaimer: Please remember that I am an amateur investor, so please remember to consult with your professional investment advisers prior to making any investment decisions based on information in ...
more