Making LNG Cleaner
In November, Engie (ENGIY), a French utility, pulled out of discussions with NextDecade Corp (NEXT) to import up to $7BN of Liquified Natural Gas (LNG). It was a big blow to NEXT, which is seeking partners to underwrite its construction of an LNG export facility in Brownsville, TX. Engie concluded that the natural gas sourced by NEXT would be tainted by its involvement in fracking, methane leaks and flaring. It wasn't consistent with their energy transition goals (UNG).
Last week, NEXT launched a new business, NEXT Carbon Solutions (NCS). Their intention is to use Carbon Capture and Sequestration (CCS) to keep 90% of the CO2 generated by their proposed LNG plant as it chills methane in preparation for transfer onto an LNG tanker.
It's a natural response to the market. Engie's decision was a wake-up call. Natural gas has a clear edge over coal when it's burned to generate electricity. But the flaring and methane leaks that are part of natural gas production worldwide are a consideration for some buyers.
Liquification of natural gas uses a lot of energy. NEXT plans to use natural gas to power this process, and then capture and store the resulting CO2 emissions in former gas wells. The geology of south Texas is well suited to this. By installing the CCS equipment when the LNG liquification facility is built, there are substantial savings compared with adding CCS to an existing facility. NEXT intends to make the clean credentials of its product a competitive advantage.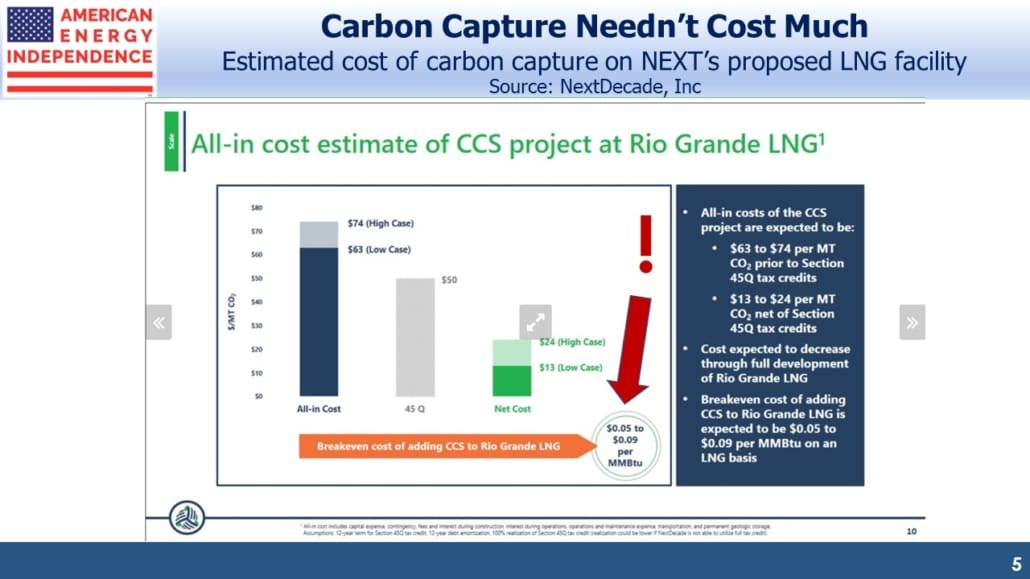 Interestingly, the added cost is modest, maybe 2% of the price of natural gas based on its U.S. benchmark once tax credits are added. It's less than 1% of its ultimate delivery cost to European buyers
NEXT is going further, by planning to use Responsibly Sourced Gas (RSG). This will be natural gas whose production has been independently certified as not associated with routine flaring and reliant only on electricity from renewables.
Their goal is to deliver natural gas to customers in Europe and Asia that has generated almost no Global Greenhouse Gases (GHG) on its way to the LNG tanker. Will it make a difference? NEXT is convinced it will.