Major Asset Classes Had A Rough Time Last Week: Everything Fell
Red ink splattered near and far in last week's trading for the major asset classes, based on a set of exchange traded funds at the close on Friday, May 14.
Inflation-indexed Treasuries posted the smallest setback: a fractional loss that's effectively no change. Despite the weekly downtick, iShares TIPS Bond ETF (TIP) remains close to a record high, as the weekly chart below shows.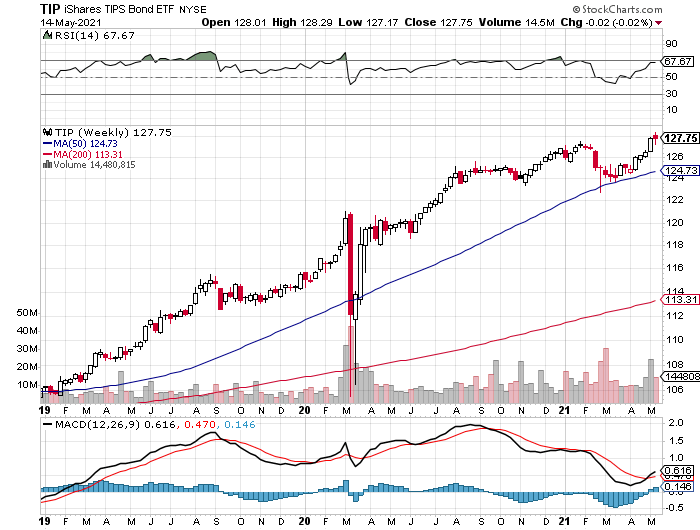 Thanks to higher inflation expectations, inflation-indexed Treasuries are in high demand. "The U.S. is about to sell 10-year inflation-linked debt [this] week, keeping the spotlight on a corner of the bond market that's rarely garnered this much attention in the almost quarter-century since its debut," Bloomberg reports.
Heightened fears about the risk of raging consumer-price gains as growth rebounds are driving investors of all stripes to search for cover in Treasury Inflation-Protected Securities, a market that's grown to $1.6 trillion. Traders talk of new entrants like retail buyers and global macro strategists — what the veterans are dubbing the "tourist crowd." Cash has also been flowing into the largest exchange-traded fund for TIPS, part of the rabid demand that's driven inflation expectations over the next half-decade to a 16-year high.
Stocks in emerging markets suffered last week's biggest decline for the major asset classes. Vanguard FTSE Emerging Markets (VWO) tumbled 3.2%, leaving the ETF near its lowest level of the year. Several factors are weighing on sentiment for this slice of global markets, Barron's observes. "Inflation—and the possibility of higher US rates and a stronger dollar—combined with a slowdown in China's credit cycle could spell trouble for emerging markets broadly."
US stocks (VTI) and bonds (BND) also fell last week, posting relatively middling losses.
The Global Markets Index (GMI.F) lost ground last week, too, sliding 1.2%. This unmanaged benchmark holds all the major asset classes (except cash) in market-value weights via ETF proxies.