Learning From The Past, Part 5b [Institutional Stock Version]
<< Read Learning From The Past, Part 5a
<< Read Learning From The Past, Part 4
<< Read Learning From The Past, Part 3
<< Read Learning From The Past, Part 2
<< Read Learning From The Past, Part 1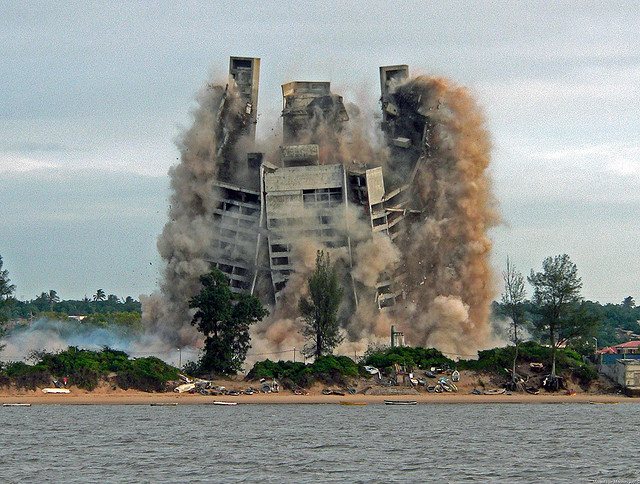 Photo Credit: Ian || Watching Capital Implode is a Marvel to Behold!
This is one of the many times that I wish RealMoney.com had not changed its file structure, losing virtually all content prior to 2008. (It is also a reason that I am glad I started blogging. It's more difficult to lose this content.) When I was a stock analyst at Hovde Capital Advisors, I made 2 humongous blunders. I wrote about them fairly extensively at RealMoney as the situation unfolded, so if I had those posts, it would make the following article better. As it is, I am going to have to go from memory, because both companies are no longer in business. Here we go:
Scottish Re
Sustainable competitive advantage is difficult to find in insurance. Proprietary methods are as good as the employees creating and using them, and they can leave when they would like to. This applies to underwriting, investing, and expense management. What else is there in an insurance company? There are back end processes of valuation and cash flow management, but those financial reporting processes serve to inform the front end of how an insurer operates.
One area that had and continues to have sustainable competitive advantage is life reinsurance. An global oligopoly of companies grew organically and through acquisitions to become dominant in life reinsurance. Their knowledge and mortality databases make them far more knowledgeable the life insurers that seek to pass some of the risk of the death of their policyholders to them. They can be very profitable and stable. I already owned shares of RGA for Hovde, and in 2005 wanted to expand the position by buying some of the cheaper and more junior company Scottish Re.
Full disclosure: still long RGA for my clients and me.
more