Jeb Handwerger: Fed Interest Rate Increase Could Be Best Thing To Happen To Gold
A true contrarian knows that when everyone says an interest rate hike by the Federal Reserve would kill stocks, that is the best time to double down on junior mining names. In this interview with The Gold Report, Gold Stock Trades author Jeb Handwerger shares the names of the companies he thinks could do well through the drill bit or by acquisition regardless of when the inevitable turnaround comes.
The Gold Report: Common wisdom says that when the U.S. Federal Reserve raises interest rates later this year, it will prove negative for gold. Do you agree?
Jeb Handwerger: I think it'll be the opposite. Money printing and easy credit has fueled the stock market rally and beaten down commodities. Investors flocked to dividend-paying stocks, and became speculative in tech, which has led to huge overvaluations similar to the late 1990s dot-com debacle. We've had a four-year parabolic rise in the Dow without a meaningful correction. Most investors who have been in this business for a while know that every four years you get a bear market with about a 30–50% correction. Rising interest rates may be the catalyst that causes investors to flee the general stock market, which has proven attractive in a low rate environment. Higher interest rates concurrent with a pickup in inflation could result in a rush to a safe haven in commodities and wealth from the earth—natural resources and precious metals, which is historically a hedge against a pickup in inflation.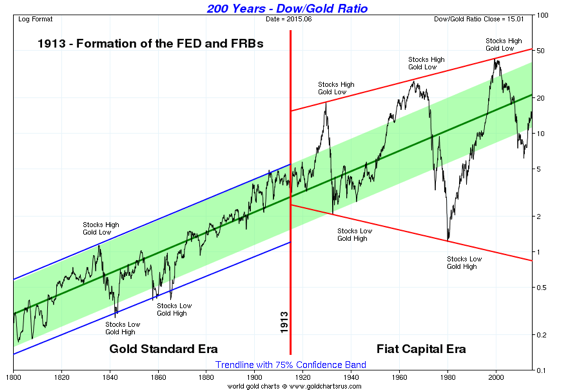 The Dow-gold ratio is a critical tool to see the inverse relationship between stocks and gold. When stocks move higher investors abandon gold and vice versa. Notice the pattern since 1913 when the Federal Reserve was created. The stock booms and busts are much more dramatic. In the 20th century we saw the Dow-gold ratio move close to parity during the Great Depression and in 1980 when interest rates soared to record territory.
Notice in the 1970s there was a much more severe decline than in the 1930s as money printing and debt soared after gold was completely abandoned during the Nixon Administration. Eventually this will revert back to 1:1 or possibly lower sometime in the next 10–20 years. Investors must be prepared for such a scenario as the supply of global fiat money is much higher than in the past. It may not occur as fast as people expect it to, but over the next four to five years, we could eventually see the Dow-gold ratio correct.
Notice the recent uptick in favor of the Dow. It looks quite similar to what happened in the 1970s when investors were suckered back into stocks only to witness a major parabolic move in gold from the sidelines. This move higher in the Dow could be a suckers' rally and that is what we're preparing for. The balancing will probably come from a combination of a real spike in gold prices after underinvesting in resource exploration constricts gold supplies and the popping of our current stock market bubble, 2000 dot-com style. It has to happen eventually.
The broad overvaluation in banking and technology is not supported by fundamentals. Mobile app companies are getting billion-dollar valuations with no revenues; that's a sign that we're near a market top. Quantitative easing and negative interest rates are some of the causes of the inflated market prices. Once rates start moving back up again, that's when we'll see precious metals start moving again as in the 1970s. Gold will top again as it did in the 1980s with record high interest rates, not negative interest rates. Rising rates might be the catalyst for investors to rotate into the commodities, particularly into precious metals.
TGR: We are also in the middle of an annual summer seasonal low. How are you positioning yourself to take advantage of the opportunities you're seeing right now?
JH: There are two periods where you get bargains in the junior mining sector: December tax-loss selling and the summer doldrums, characterized by a lack of market activity due to investors being on summer vacation. But summer is actually one of the best times to buy because that's when explorers and developers, especially the ones in the snowy north with a limited work year, have the most news flow. Investors who buy now and then wait until September or October can see huge upside.
Disclosure: JT Long conducted this interview for Streetwise Reports LLC, publisher of The ...
more