Inflation Breakdown Europe
We've seen all this before, almost exactly the same. Back in the middle of 2011, European officials remained fully confident even though things were already working backward. The ECB had in May 2010 "bailed out" markets as well as PIIGS, or so the media claimed. All that was left was time.
On their side was Brent oil. Jean-Claude Trichet, Europe's top central banker at the time, was more worried about the inflationary consequences of crude than he was the grand deflationary aspects of European banking. Despite his embarrassing "rate hike" in the middle of 2008, Trichet let the ECB do it again in April 2011.
By June of that year, he wanted everyone to know, he made it his business for everyone to know, that the risks to Europe's economy were all on the upside. Booming even.
In those circumstances, the central bank must prevent increases in the prices of raw materials from being incorporated into the long-term inflation expectations which could trigger second round effects on wages and prices.
Oil first, wages second, consumer prices thereafter. The following month, July 2011, two completely unrelated things happened almost simultaneously: the ECB kept to its super positive view and struck another "rate hike", while at nearly the same moment the global monetary system plunged into renewed disorder. In many ways, all that count, it has never been the same.
One way in which we know this is the core European inflation rate. Stripping out Brent (as well as food, alcohol, and tobacco), the HICP index sunk following the eurodollar breakdown in 2011 and has never come back. There was a minor, very small uptick in the earlier months of 2017 during Reflation #3 but it wasn't meaningful (though that didn't stop the hyping).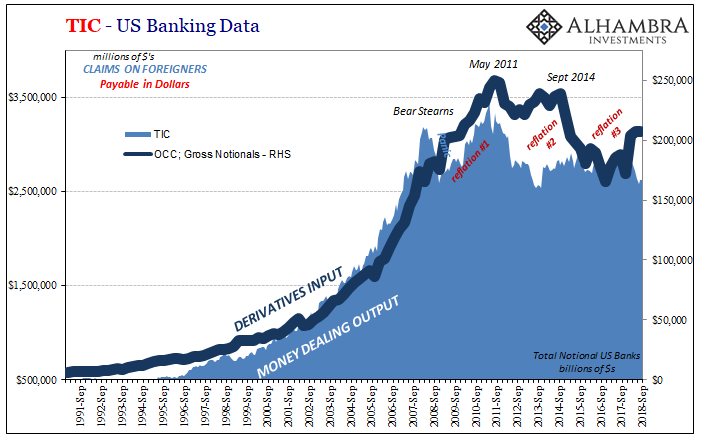 The ECB like the Federal Reserve is trapped on Step 1. Just as in 2011, there's the tantalizing Brent boost keeping the headline consumer price index growing just about where the central bank(s) wants it. But, despite almost two years of "booming" growth, that's all there is to it.