Income, Education And Inequality In The "Recovery": Prepare To Be Surprised
Note to the higher education industry: issuing diplomas doesn't magically create new jobs in the real world.
By virtually any standard, wealth inequality has soared to historic levels in the six years of "recovery" since the Great Recession of 2008-09. Economist Emmanuel Saez, who has long collaborated with Thomas Piketty, described the recent extremes of wealth inequality in a recent paper Striking it Richer: The Evolution of Top Incomes in the United States, which provides an in-depth look at the widening gulf between the top 1% and the bottom 90% from 2009 to 2012.
Here is a chart of the top 10% share of income, based on their research (the note in red marking the beginning of financialization in 1982 is my own):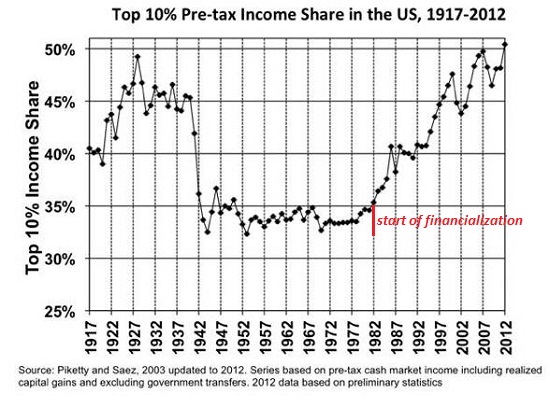 As author David Cay Johnston noted in an insightful review of Piketty's book Capital in the Twenty-First Century, Trickle-Up economics: "The top 1 percent of Americans raked in 95 cents out of every dollar of increased income from 2009, when the Great Recession officially ended, through 2012. Almost a third of the entire national increase went to just 16,000 households, the top 1 percent of the top 1 percent, Piketty and Saez's analysis of IRS data shows."
Inequality Has Actually Not Risen Since the Financial Crisis: We would naturally expect those with the highest incomes to have fared best in the past six years and those at the bottom to have fared the worst financially--but this not entirely true. Most income analyses, it turns out, do not factor in government-funded social welfare transfers, tax credits and entitlements. Once these sources of income are added, the bottom 90% saw no decline in income at all from 2007 to 2011, while the top 1% suffered a 27% decline and the top 5% took a 7% hit.
"Pretax income for the middle class and poor dropped substantially from 2007 to 2011 – about 10 percent for most groups. Yet including taxes and transfers, incomes fared better: Average income for the bottom fifth of earners rose 2.6 percent, to $24,100, and the average for the middle fifth fell only 2 percent, to $59,000. Such stagnation is hardly good news, but it's a lot better than a large decline."