Hedge Fund Chief Warren Irwin's Blockbuster Uranium Call And His Best Metal And Oil Plays
TM editors' note: This article discusses a penny stock and/or microcap. Such stocks are easily manipulated; do your own careful due diligence.
The event-driven hedge fund Rosseau LP has beat its benchmark by over 50% since inception in 1998, and its founder and CIO Warren Irwin says it does so by going deep, looking at very specific events or situations that are special within industry sectors. Irwin made his name by shorting Bre-X some 20 years ago and hasn't looked back. In this interview with The Gold Report, Irwin gives us a peek into Rosseau's portfolio, discussing opportunities that he is excited about in metals, uranium and oil.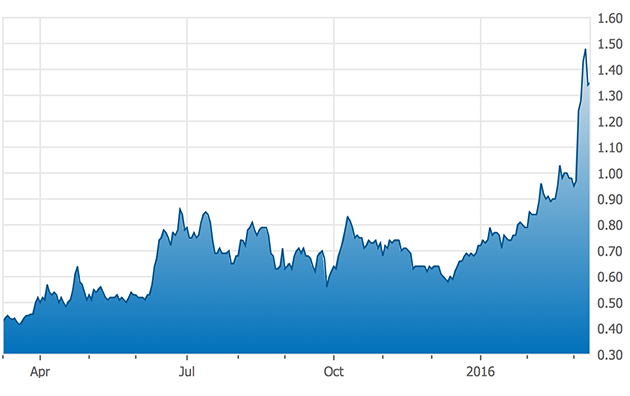 NexGen Energy One-Year Chart
The Gold Report: Warren, I just got your latest partnership numbers. It looks like you're off to a great start for the new year, up 20.38% through February. I think we first met around 2006 when you were up 121%. That was quite the year.
Warren Irwin: Yes. We have a shot at a 100% year this year, too.
TGR: Would you describe for our readers your investment approach and what makes you different from a lot of other people?
WI: What makes us different is Rosseau Asset Management does heavy, in-depth research for very specific events or situations that are special within industry sectors. Because we spend so much time on the names, we run a reasonably concentrated book. For example, we are able to go into the gold sector and pick the top two or three situations where companies are either drilling out properties and creating resources or making big discoveries, something unique to the company itself rather than making a raw bet on the price of gold.
TGR: When you say a relatively small book, during a given year, how many positions might you have?
WI: We try to keep the number at or below 20 names. One thing that helps us a lot, too, is our hold periods are quite long, usually three to five years and sometimes longer.
TGR: Let's get to some of those names. What are some companies that you are excited about?
WI: I'll start with NexGen Energy Ltd. (NXE:TSX.V; NXGEF:OTCQX), which just put out its maiden resource estimate. NexGen is a perfect example of an event-driven situation in that, although the fundamentals for uranium look very good over the next few years on a supply-demand basis, the commodity hasn't started to run yet. What is fascinating is NexGen has managed to find a massive new uranium discovery in the Athabasca Basin. It's very exciting and could be worth, at the end of the day, multiple billions of dollars.
TGR: The day of the news release, NexGen had a pretty big pop on volume, going up $0.27/share.
WI: Yes. It's a unique discovery. My original estimate from our proprietary resource model was 200 million pounds (200 Mlb) U3O8. The NI 43-101 did indeed come in around those levels at 202 Mlb. The market was actually expecting a lot less than that. We have long since touted 200 Mlb, and we were right on the money with that. We plotted every single drill hole and went very in-depth with our model to determine the size of the discovery. Having our own model is extremely time-consuming but allows us to really understand what the company is doing.
NexGen Energy's Athabasca Projects
The current winter drill program is underway. We believe NexGen has the potential to add between 100 and 200 Mlb to that resource. So there is a potential for a doubling of the resource over the winter drill program. Long term this has the potential of being the largest uranium mine in the world.