Golden Surprise
I want to open up part of my weekend report discussing GOLD, SILVER, and THE MINERS. I have been saying that using Cycle Timing (among other things), we are due for an UPSIDE SURPRISE. Let me get right into the discussion that I had with my premium readers this past weekend…
USD DAILY – This was July 15 and if you read the chart, I thought that the USD could bounce once more, but then drop. Why? LOOK AT THAT MACD WEAKNESS and overhead resistance.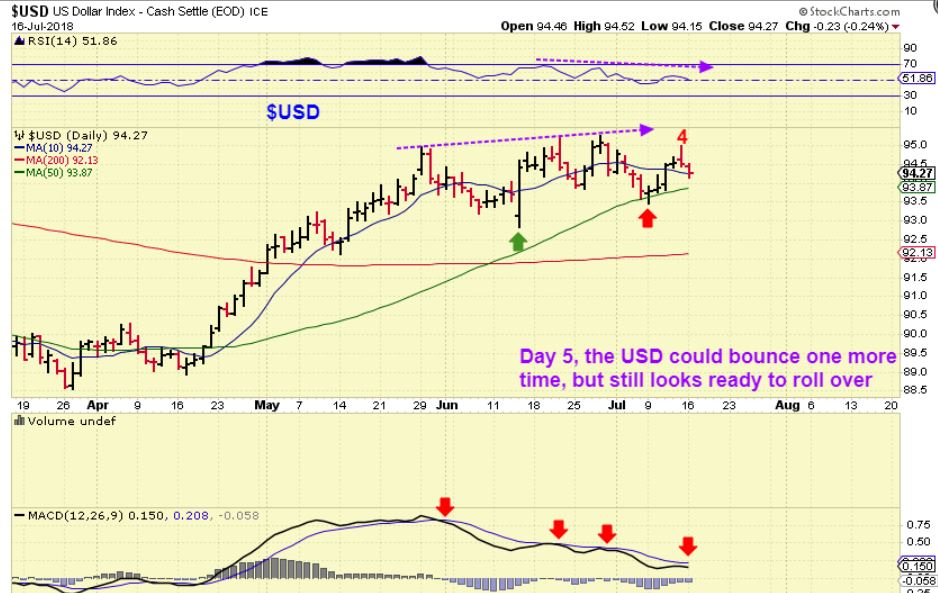 USD DAILY JULY 19 – So we got the bounce and the USD was rejected at resistance. A bear wedge was also now being pointed out by me. A drop in the USD is good for GOLD…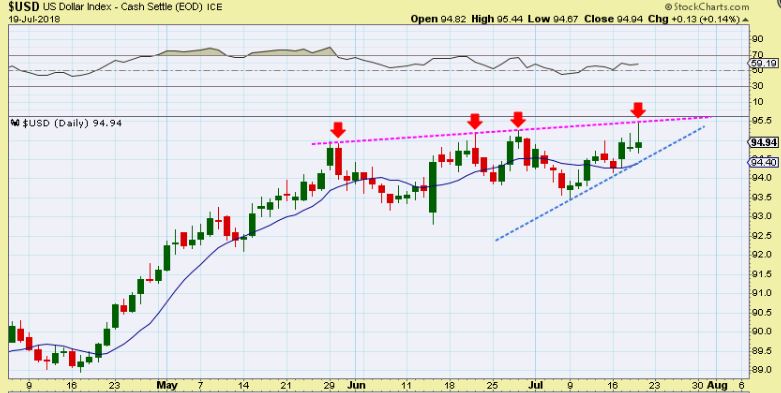 USD DAILY NOW – Friday showed that day 8 was likely the top, The USD Dropped below the 10sma. I see a swing high and this is overbought. The USD selling off should help Precious Metals…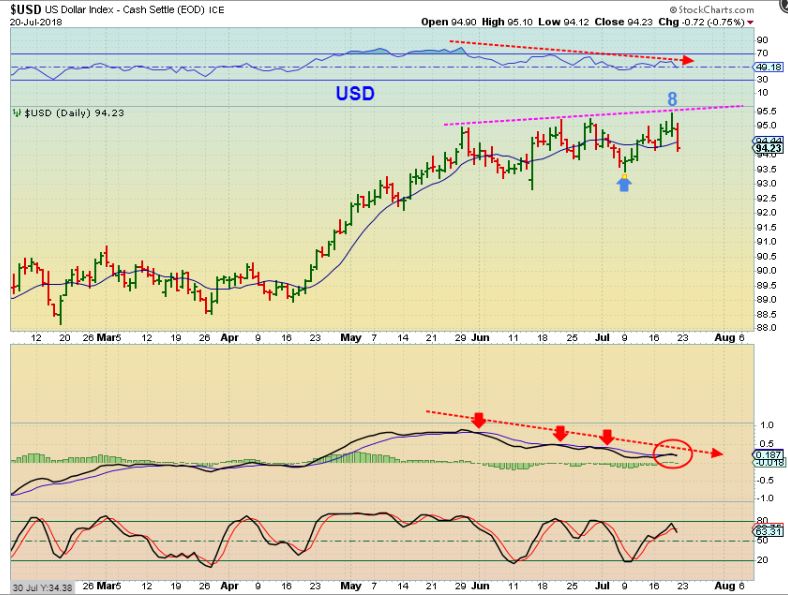 USD WEEKLY – Rejected again and again at the double resistance on a weekly, it looks like the USD is ready to finally drop ( and GOLD should rally). What? The Long awaited ICL in Gold? I think so. Let's discuss Precious Metals now that we've seen the US Dollar situation…
PRECIOUS METALS
GOLD KEEPS DROPPING, BUT I HAVE SEEN THIS BEFORE MANY TIMES. I really have. Often people keep trying to buy the dips & remain very bullish when an ICL is due, but they must keep getting stopped out until fear prevents them from believing that GOLD is still a good buy. This is the very kind of selling that is designed to "Flush out the weak hands" and to "Change the bullish Sentiment by emotionally scaring people away" while bigger players can enter.
You will read many reasons why 'Precious Metals are toast', 'Gold is an Old relic with no value', etc. etc. at an ICL. Ignore the crowd mentality, an ICL will form and Gold is going to rally.
COT – The COT , as of last Tuesday, was slightly better than last Julys ICL, and better than Decembers 2017 too. Gold dropped a bit more last week, so it probably even got better.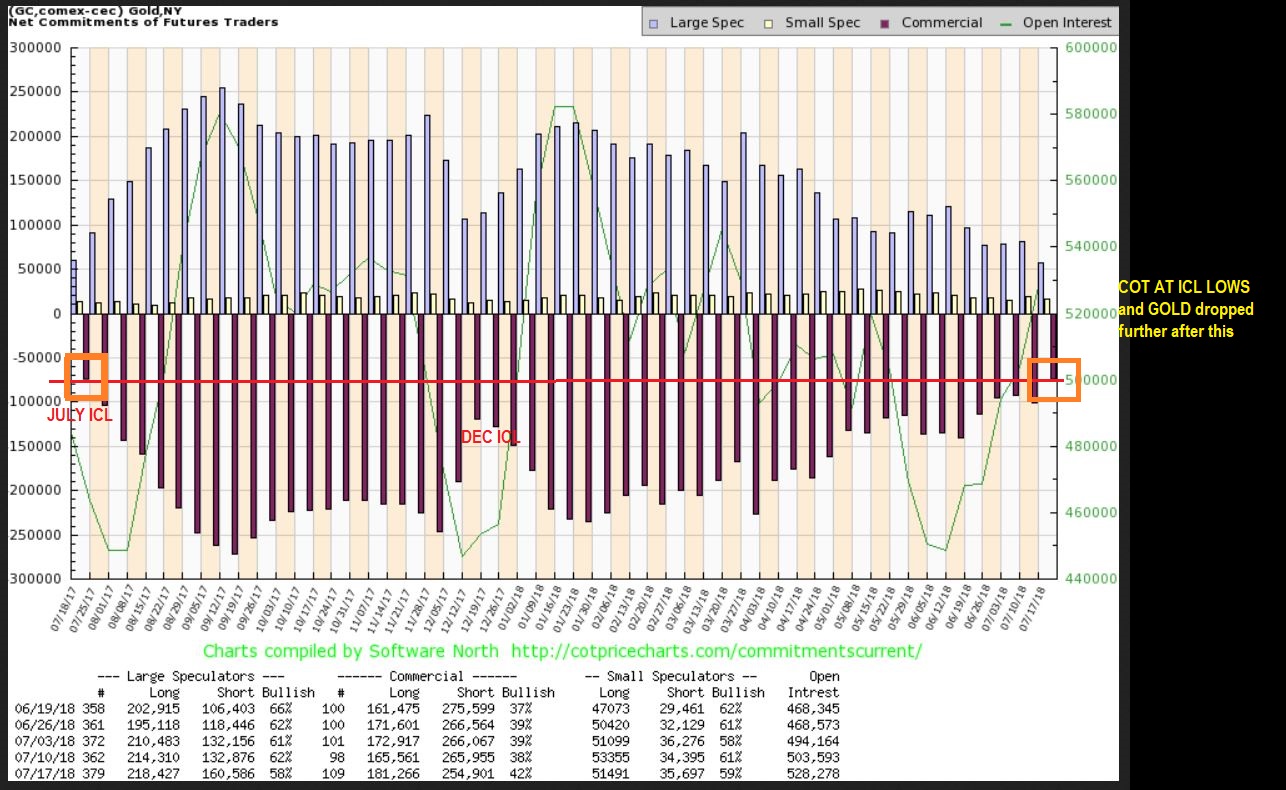 GOLD DAILY – Gold put in a reversal on Friday. Look at the steep drop of the last 3-4 weeks, but my propitiatory indicators are not dropping. That is BULLISH, we should be at or close to the lows.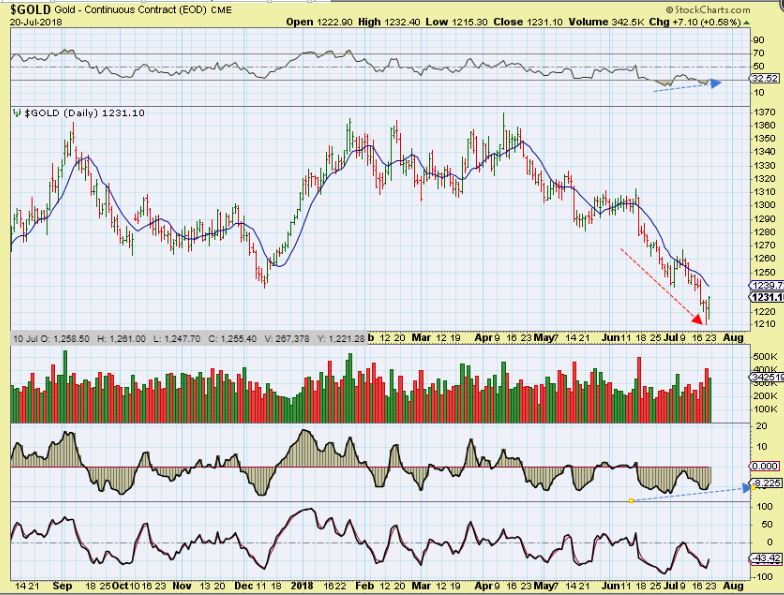 CLOSE UP GOLD DAILY – FRIDAY REVERSAL – Here is the reversal Friday.
1. The lows of Thursday were not taken out, and the highs were, that is a swing low.
2. If Gold moves higher, we get further confirmation
3. Remember that the USD looks set to drop on a daily & weekly
4. We are LATE in our cycle timing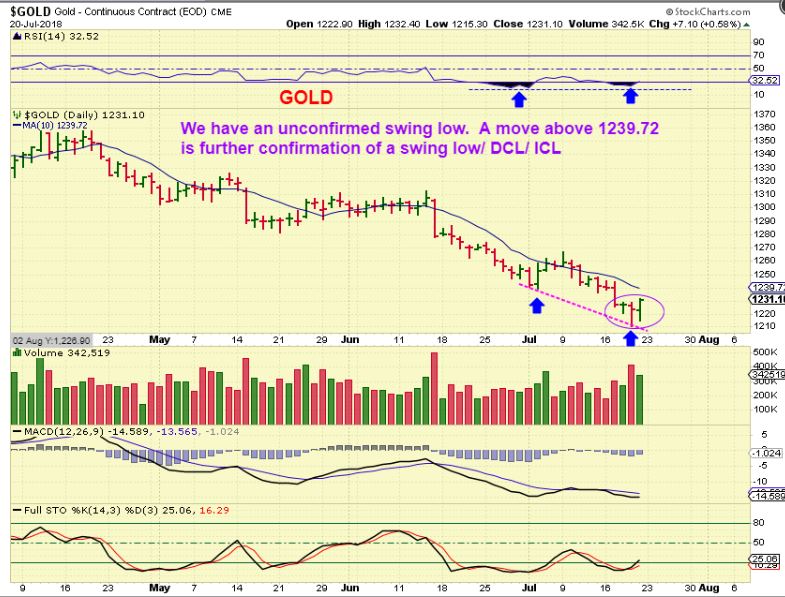 GOLD WEEKLY – A very Nice Reversal Candle on the weekly chart. I am using Green Arrows to show that once the lows are in, you get 'weeks' of upside as it slingshots out of the lows. That would make my day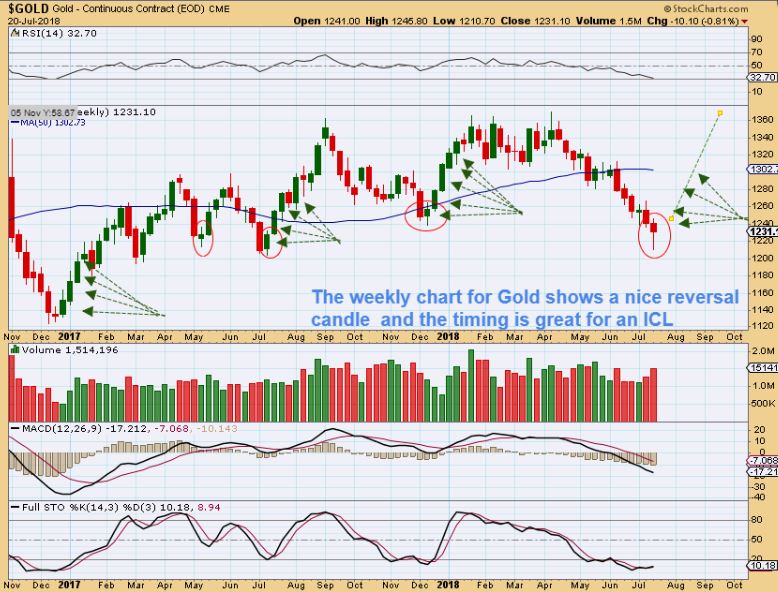 SILVER WEEKLY – Reversal Candle on Silvers weekly chart too.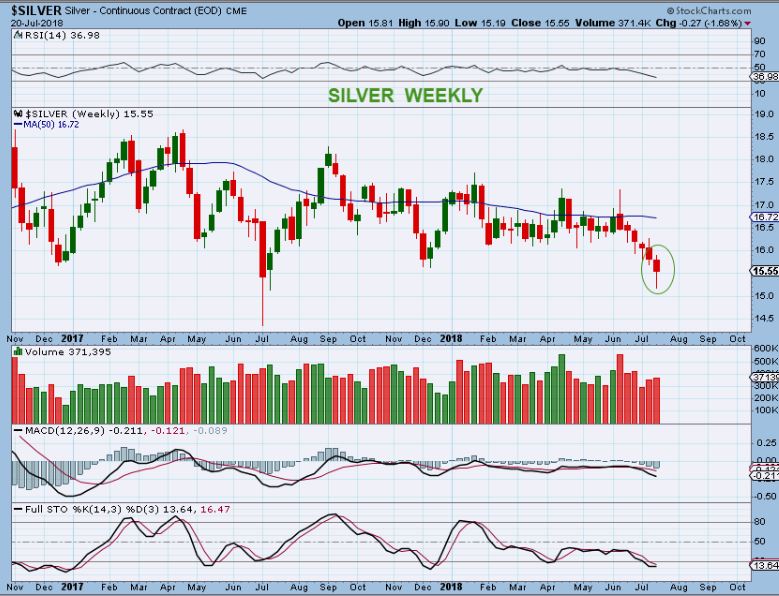 GDX WEEKLY – Miners started to sell off, but nothing like Gold. THAT is a big deal. We could see Miners do a quick FLUSH below the lower trend line, but so far Miners have been resisting Golds sell-off.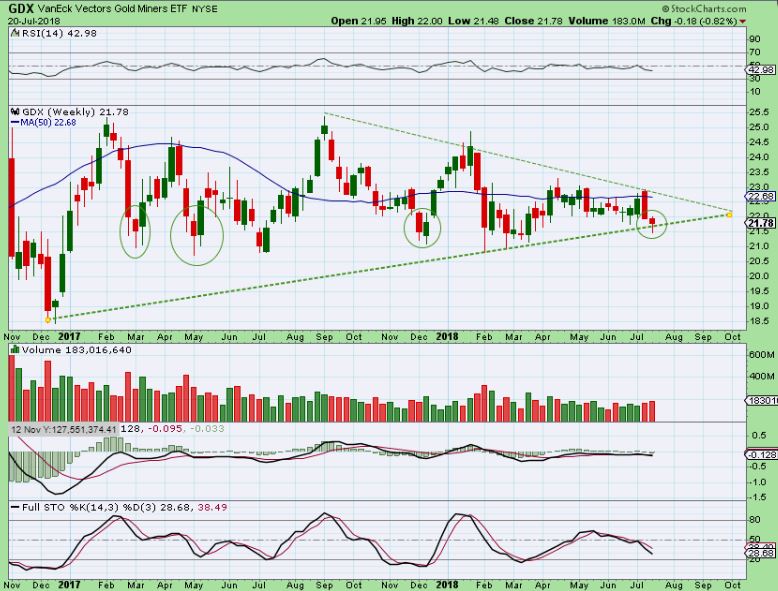 GDXJ – GDXJ Is on support at this point.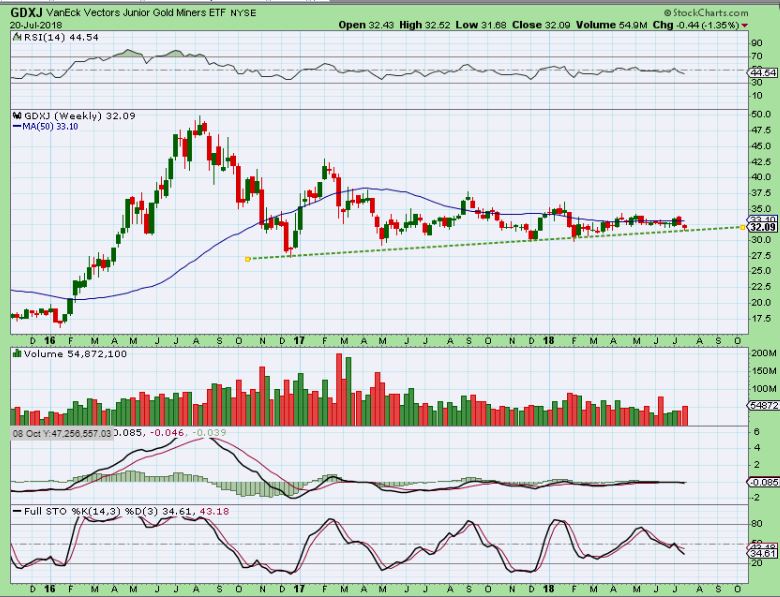 And then you have the Miners, which I have tried to put on display here to show how they are being accumulated despite the Metals selling off. I have pointed out strong Miners racing higher as Gold sells off, like KL, GORO, RGLD, etc.
GORO-– Would you know by looking at this miner that Gold has been selling off?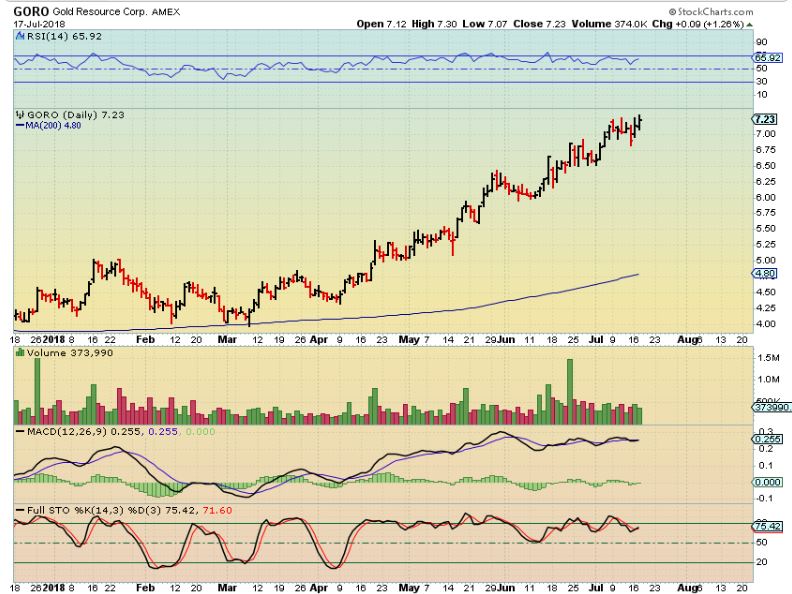 Now let's take 1 more quick look, I am now going to show you some of the Miners that may still be near or at their lows, because they could quickly play catch up with a GOLD ICL. Then our weekend wrap up is finished.
TRX – When I say Jim Sinclair, what do you think of? Yes, Gold. I have owned Tanzanian Royalty in 2018. As Gold sold off to new 1 yr lows, this is actually trending higher. That was a solid reversal at support on Thursday, July 19. Also, the rally from March lows to May highs was roughly a 100% gainer for the alert trader. I sold that rally to lock in gains but re-entered recently.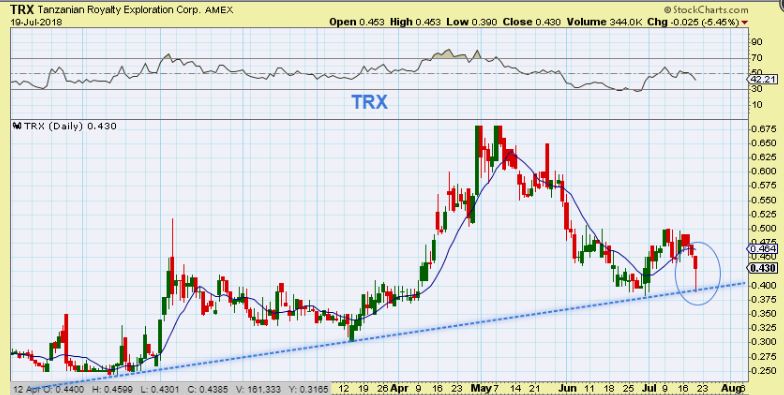 DRD WEEKLY – I mentioned that I bought DRD a couple of days ago, and now I see the weekly chart as a break out & back test. It was up 6% last week.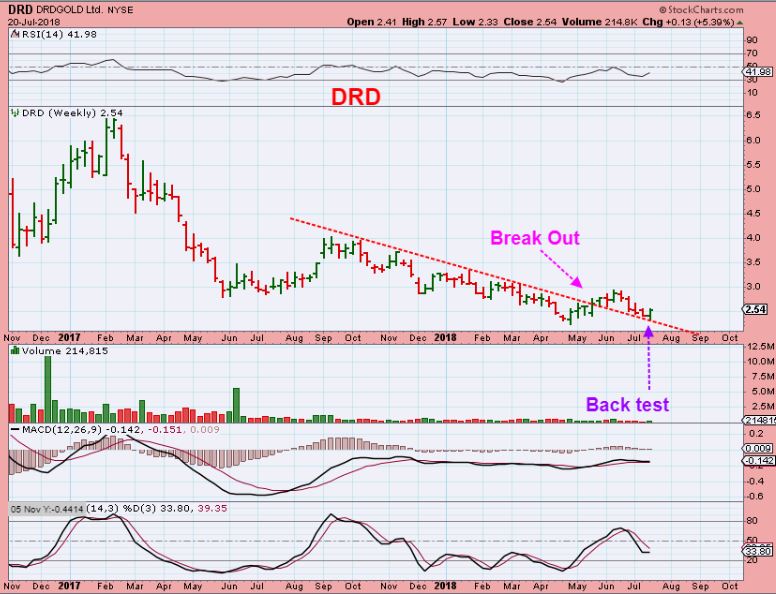 MUX WEEKLY – The weekly chart of MUX does not look like "Gold has been selling off and will not stop" like you read in 'popular' bearish reports. It has been slowly rising for weeks and Popped this week 10%. The Weekly RSI is over 60. This is not bearish action at the lows, it is bullish, even though GOLD is at 1 year lows.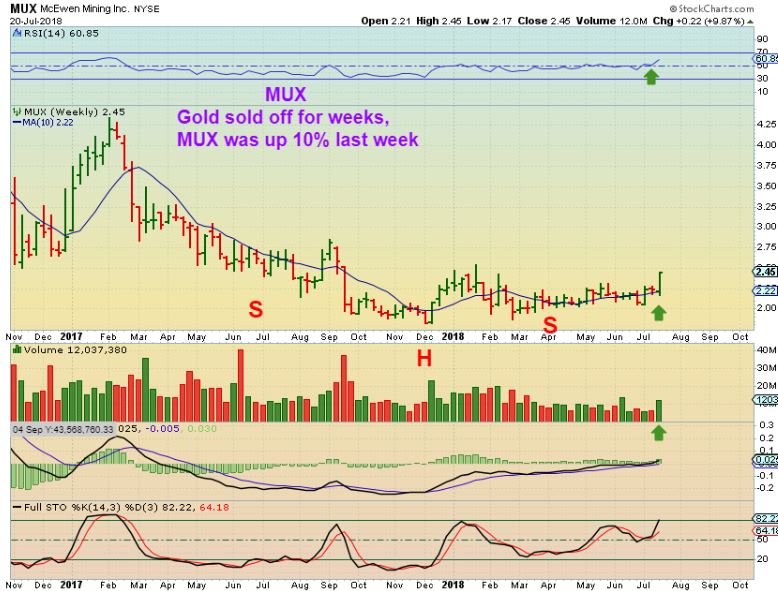 EGO WEEKLY – I see EGO as a large inverse H&S too, and it closed above the 10ma on a weekly chart. If the RSI on a weekly basis is about to cross the 50% as Gold sells off to 1 yr lows, that is also Bullish action, not bearish.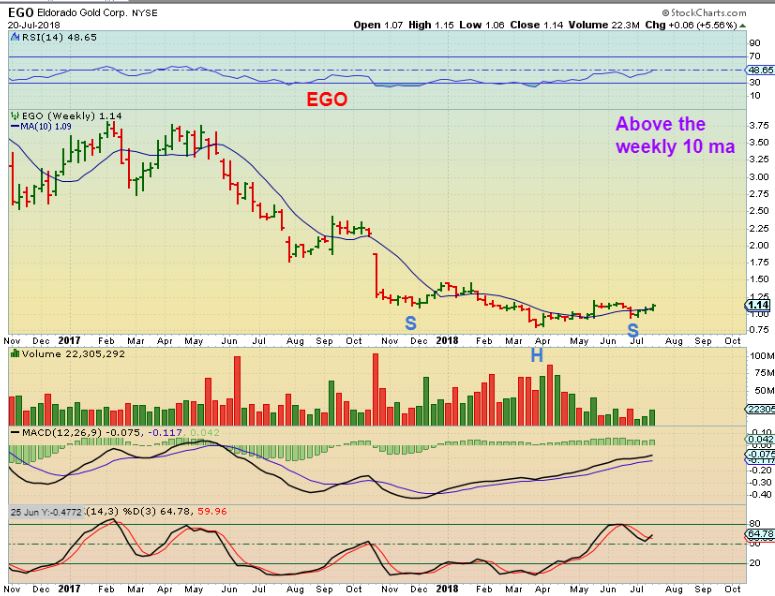 I AM BULLISH. MANY MINERS ARE SETTING UP NICELY. Our Current set up in Gold looks Bullish too. We are due for an ICL in Gold & we have a reversal late in our daily cycle as of Thursday. On top of that, the USD is set to drop into a DCL, and it is even coming due for an ICL over time.
The slingshot has been stretched back over the past few weeks, I'd love to see Gold start to Make Our Day this week! We will watch for some upside follow through to 'confirm' whether or not GOLDS LOWS are in place. It does look very good, with Miners leading the way and the USD topping.
---
SIDENOTE: Recap & Review of 2 other sectors.
AKS – Last week I mentioned that I liked other metals too. I used this chart of AKS and mentioned to see X, CLF, CLD.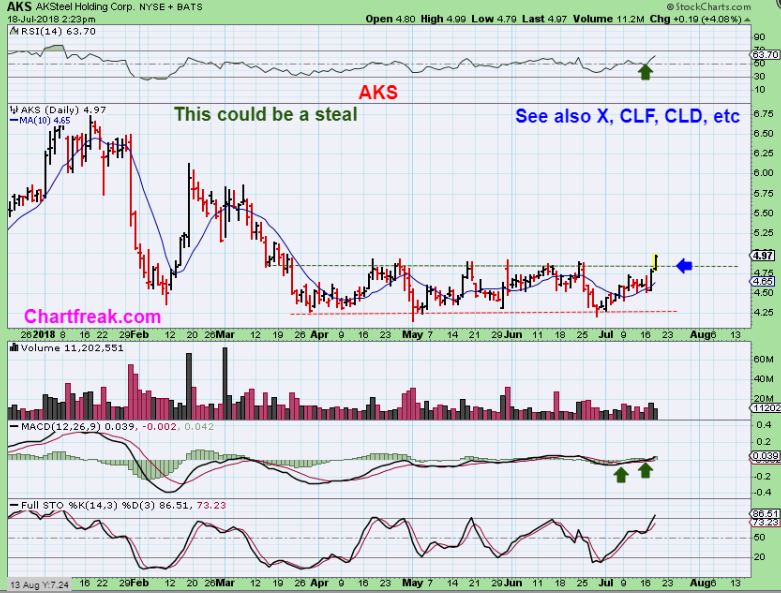 CLF – CLF had some pretty sweet follow through Friday, so the other Metals may still have some too.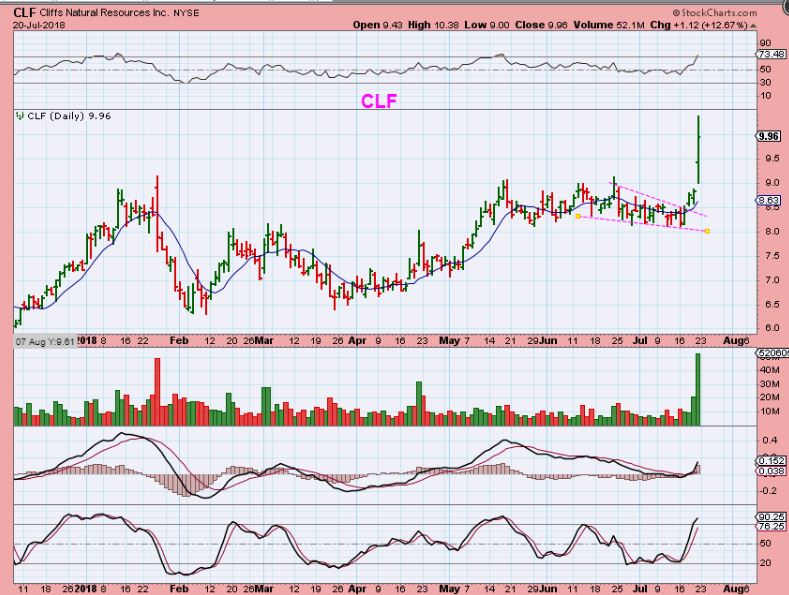 And the URANIUMS were pointed out weeks ago as having bullish set ups. This was UUUU breaking out in June…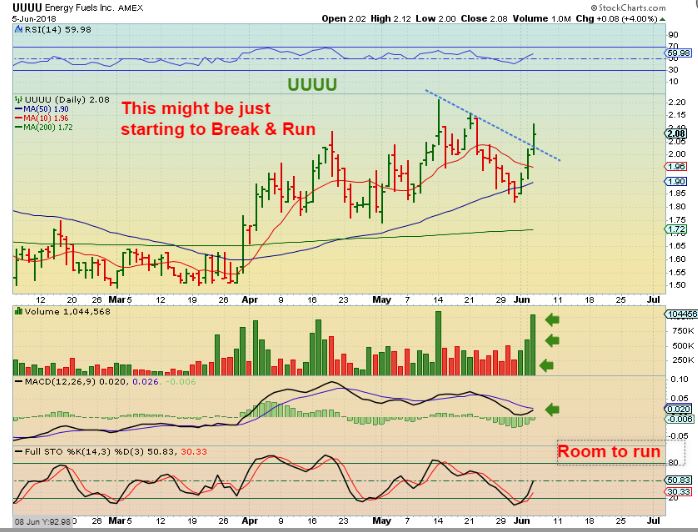 UUUU – 3 weeks ago, UUUU was up 25%, and then consolidated. Others did this also.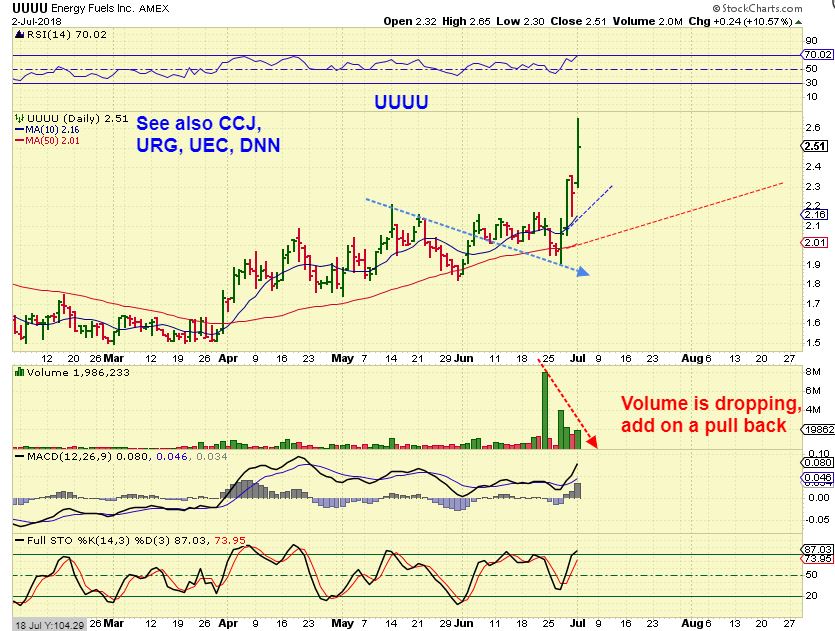 UUUU – After consolidating, and quite frankly, looking a bit ugly Wednesday on that POP & DROP, it put in a reversal candle Thursday and popped 13,50% Friday. This is a bullish set up.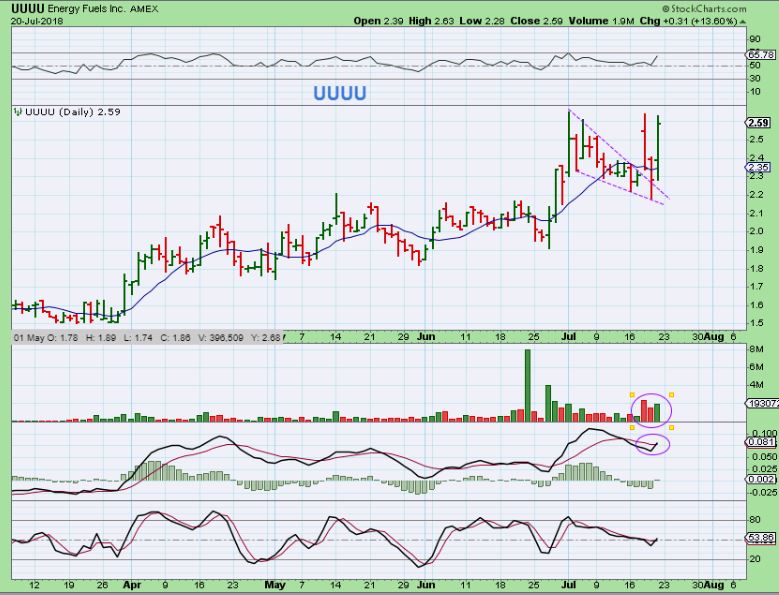 If you think that this type of technical analysis, cycle timing, and reporting could help you with your investing, why not give us a try?