Gold Prices Hold 2019 Opening Range, RSI Responds To Bullish Formation
Gold trades within a narrow range as there appears to be a diminishing threat for a U.S.-China trade war, but recent price action keeps the topside targets on the radar as the Relative Strength Index (RSI) responds to the bullish formation carried over from late-2018.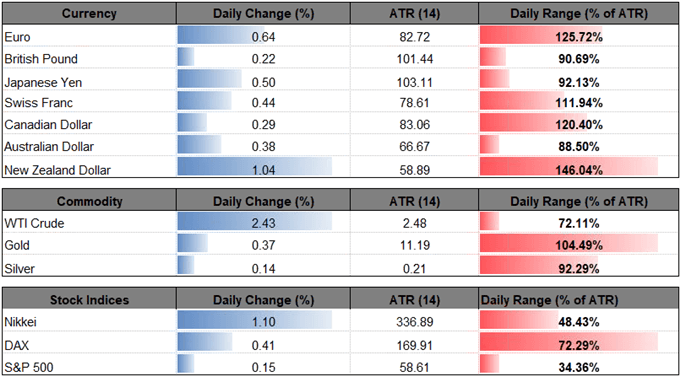 GOLD PRICES HOLD 2019 OPENING RANGE, RSI RESPONDS TO BULLISH FORMATION

The near-term advance in gold appears to have stalled ahead of the June-high ($1309) as U.S. President Donald Trump tweets that 'talks with China are going very well,' and the mild improvement in investor confidence may keep the precious metal under pressure as global equity prices extend the rebound from earlier this week.
In turn, a further pickup in risk-taking behavior may drag on the price for bullion especially as the People's Bank of China (PBoC) appears to be on track to reduce the Reserve Requirement Ratio (RRR) ahead of the Lunar New Year, but waning expectations for higher U.S. interest rates should keep the precious metal afloat as the ongoing stalemate in Congress clouds the outlook for growth and inflation.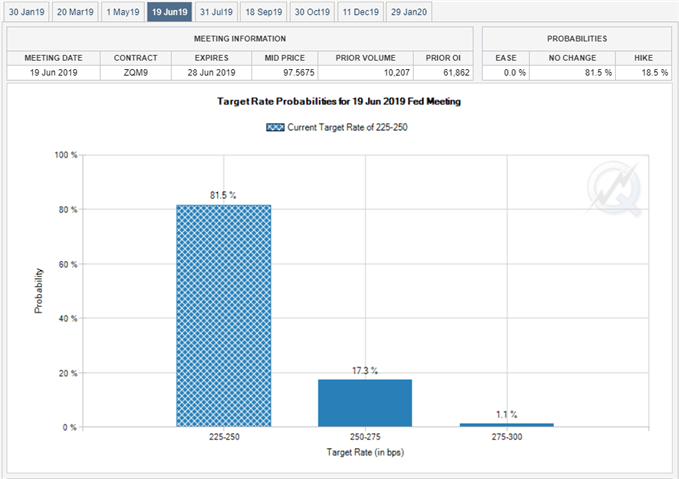 A growing number of Federal Reserve officials appear to be scaling back their willingness to implement higher borrowing costs as Atlanta Fed President Raphael Bostic warns a 'prolonged shutdown would push back the types of growth the Fed has projected,' and the Federal Open Market Committee (FOMC) may have little choice but to adopt a less-hawkish tone at the next interest rate decision on January 30 as the uncertainty surrounding fiscal policy puts pressure on the central bank to conclude the hiking-cycle ahead of schedule.
With that said, the current environment may continue to boost the appeal of gold as Fed Fund Futures still show Chairman Jerome Powell & Co. on hold throughout the first half of 2019, but there appears to be a broader shift in retail sentiment as traders fade the stickiness in gold prices.