EC

Gold: Lose A Battle To Win The War
Gold scored some victories over the past days, but it's playing a risky game. One misstep and the yellow metal might lose the war.
Sometimes, a good strategist needs to give up a few battles to eventually win the war. Or, at least, convince their enemy that they're defeated while preparing a counterattack. Just the same, a chess player may need to sacrifice a piece in order to checkmate a king. Sun Tzu has spoken, and the Art of War translates well here.
In the world of trading, the same rules often apply. A good investor needs to give up a few unfavorable days to eventually score a final victory. Again, controlling one's emotions and adhering to patience are key. These principles are important when waiting out gold's temporary upswings in a medium-term downswing, and also when waiting for gold's eventual ascent. Don't let short-term intraday moves cloud your vision.
Yesterday (May 11), I wrote that the rally in gold and stocks might have just burnt itself out, and the markets didn't wait long to agree with me.
Is it 100% certain that the top is in? Absolutely not, as there are no certainties in any market, and sound position management should be utilized at all times. But based on what happened yesterday, and what we saw in today's pre-market trading, the odds that the corrective top is already in have greatly increased.
Let's take a look at the charts for details, starting with the stock market.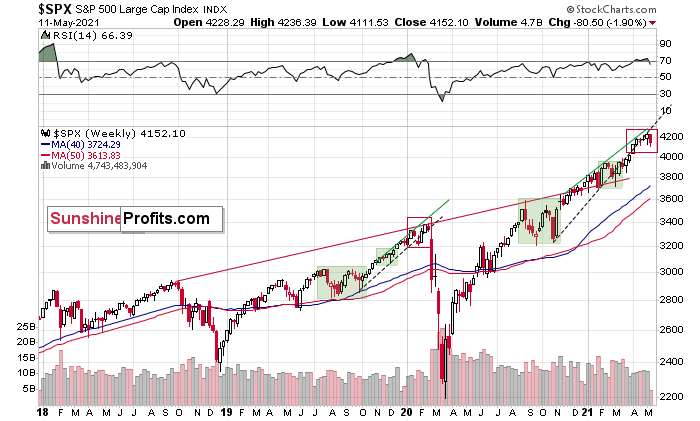 The Influence of the Stock Market
The markets are self-similar (which is another way of saying that they have a fractal nature), which generally means that while the history tends to rhyme, it also tends to rhyme in similar shapes of alike or various sizes.
For example, the rally from 2018–2020 seems very similar to the rally from 2020 to the present.
Both rallies started after a sharp decline, and the first notable correction took the form of back-and-forth trading around the previous high. I marked those situations with green rectangles.
Then the rally continued with relatively small week-to-week volatility. I created rising support lines based on the final low of the broad short-term consolidation and the first notable short-term bottom.
This line was broken, and some back-and-forth trading followed, but it was only about half of the previous correction in terms of price and time.
Disclaimer: All essays, research and information found on the Website represent the analyses and opinions of Mr. Radomski and Sunshine Profits' associates only. As such, it may prove wrong ...
more